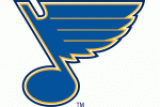 St. Louis Blues
Year of foundation: 1967
Colours: blue, gold, white, dark blue
Club status: active
Address: St. Louis Blues Hockey Club
Scottrade Center
1401 Clark Avenue at Brett Hull Way
St. Louis, MO 63103
Phone: +1 314 622 2500
Email: customerservice@stlblues.com
Did you find any incorrect or incomplete information? Please, let us know.
Season 2022-2023
This club in 2022-2023: NHL
Current roster
season 2022-2023
* no longer in the club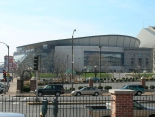 Adress: 1401 Clark Avenue,
St. Louis, Missouri 63103
Capacity: 19150
Opened in: 1994
Founded in 1967, joined NHL during the original expansion from six to twelve teams. Moved to their current arena in 1994.
1999-00 NHL Presidents' Trophy
League winners:
from 1998 to present: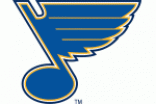 No Olympics for Sobotka
St. Louis Blues and Czech Republic forward Vladimir Sobotka suffered a knee injury (fractured patella)82 seconds before the end of the match against Carolina Hurricanes and will miss Olympic Games in Sochi, the first one for twenty-six years-old player. In this season Sobotka has 25 points (7 goals and 18 assists) in 46 games. Coach Alois Hadamczik will decide the name of the substitute next week before departure to Sochi. Calgary Flames' Jiri Hudler is the main candidate
(02 Feb 2014)
Sergei Zubov will work for St. Louis Blues
St. Louis Blues announced two-time Stanley Cup winner Sergei Zubov became Consultant for hockey operations. In addition, he will serve as a scout.
"Sergei is a respected player in our league and in Europe. He will monitor the young players in Europe" commented Blues' General Manager Doug Armstrong
(27 Oct 2012)
Perron returns on ice
After almost 13 months out with a concussion, St. Louis Blues forward David Perron will return on ice Saturday for Blues' home game against the Chicago Blackhawks.
Perron missed 97 games since being injured on a high check from Joe Thornton in the game against S. Jose Sharks on Nov. 4, 2010. 'It's been a long road, obviously," Perron said at Associated Press. 'I didn't expect it to be that long, obviously, in a short career so far. I'm just glad to be back to 100 percent healthy now and ready to go.'
(03 Dec 2011)
St. Louis win 1,500th game in team history
The St. Louis Blues became the 9th NHL franchise in history to win 1,500 games with 3-0 victory over the Canucks in Vancouver. The organization joined the prestigious club of the Boston Bruins, the Buffalo Sabres, the Chicago Blackhawks, the Detroit Red Wings, the Montréal Canadiens, the New York Rangers, the Philadelphia Flyers and the Toronto Maple Leafs. Together with Philadelphia, the Blues are the second youngest team with 1,500 victories(est. 1967). The youngest club is the Buffalo Sabres(est. 1970).
(29 Oct 2011)
Historic rosters:
Historic statistics:
Past results:
League standings:
Fast facts
season 2022-2023
St. Louis Blues participates in season 2022-2023: NHL
Gary Graham parted ways with EIHL side Nottingham Panthers this morning. Read more»
With a 5-2 win for Cardiff and 4-1 win for Angers they will take their place in the Superfinal. Read more»