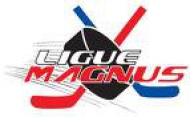 It's play-off time in Ligue Magnus !
Regular season in Ligue Magnus is over. Defending champion, Gap, finished first in the rankings just before 2015 runner up, Epinal. Favorites Rouen and Grenoble finished respectively 5th and 4th and will play each other in quarterfinals.
It's a tough season in Ligue Magnus. At the end of current season, the French top league will be reduced to only 12 teams. Purpose is to bring more professionalism and more games as next season will feature a 44 games regular season with 12 team playing each other four times instead of only two today. Therefore there is a fierce competition this season not to be among the bottom two teams who will be relegated in division 1. The team ranked 12th will also play against Division 1 winner in win or die play-down series.
8 teams have already avoided that fate as they advanced to quarter finals. Among them, Gap and Epinal, who competed in entertaining seven-games 2015 play-offs final series, confirmed their status this year, finishing the regular season 1st and 2nd. They are followed by Angers (3rd), Grenoble (4th) who took part to the CHL this year and Rouen (5th) the 2016 Continental Cup winner. All three teams were among the favorites this season. Brest (6th) and Strasbourg (8th) are among the nice surprises of the season as most observers were expecting them to fight until the very end of the season to avoid relegation. Amiens (7th) has secured a play-offs spot as well, as expected but head coach Barry Smith was replaced behind the bench before the end of the season.
The quarter finals will feature some interesting match-ups in best-of-seven series (starting February 19th) :
Gap (1) – Strasbourg (8)
Epinal (2) – Amiens (7)
Angers (3) – Brest (6)
Grenoble (4) – Rouen (5)
The most expected showdown will be obviously the one between Grenoble and Rouen as both teams were projected to end up higher in the rankings. One of the season favorite will face an early exit while the other one will likely face defending champion Gap in semi-finals. The road to the Magnus cup will be tough.
The play-down round robin will be also tough. Most expected Bordeaux (9th), newly promoted team with high ambitions this season, to be part of the play-offs. Instead they will have to fight to avoid going back straight to Division 1. Chamonix (10th) had a very bad start at the beginning of the season but finally woke up a bit too late. Briançon (11th), 2014 French champion, now needs to fight to survive in Ligue Magnus. Six games suspension of goalie Sebastien Idoff proved to be too much at the time the 'Diables Rouges' were still fighting for a play-offs spot and head coach Patric Wener was fired.
Lyon (12th) managed to stay in Ligue Magnus this season after winning the play-down series against Caen. It will be another fight for the Lions this year to avoid relegation after two seasons in Ligue Magnus. It will be without head coach François Dusseau who was replaced by injured player Mitja Sivic behind the bench. Morzine-Avoriaz-Les Gets (13th) struggled all season long until head coach Tom Hartogs was also fired. Mirsolav Frycer took over and results finally improved… Will it be enough to avoid relegation? Dijon (14th) was very successful these past seasons with Jarmo Tolvanen behind the bench. His departure during the offseason proved to be a big loss for 2015 semifinalist who will have a big challenge to stay in Ligue Magnus next season.
The play-down round robin starts with the following ranking (taking into accounts the results of each team between each other) :
Bordeaux 22 pts

Chamonix 19 pts

Lyon 16 pts

Morzine-Avoriaz-Les Gets 13 pts

Briançon 11 pts

Dijon 9 pts
After 10 more games, 3 teams will secure their spot in 2016-17 Ligue Magnus, one will play a spot against Division 1 winner and two will be relegated in Division 1.
Regular season Top 3 top scorers :
1. Maxime Lacroix (Angers)  47 pts (22+25)
2. Eric Chouinard (Grenoble) 43 pts (23+20)
3. Joël Champagne (Amiens) 42 pts (16 + 26)
Regular season Top 3 goaltenders :
1. Andrej Hocevar (Epinal) 92.5%
2. Ervīns Muštukovs (Grenoble) 92.3 %
3. Matija Pintaric (Dijon) 91.1%
Current events
External links

Czech Rep.: Tipsport extraliga | 1.liga | 2.liga

Slovakia: Tipsport Extraliga | 1.liga

Sweden: SHL | HockeyAllsvenskan
Other: EBEL | Belarus | Croatia | Denmark | Estonia | France | Great Britain | Iceland | Italy | Latvia | Lithuania | MOL-liga | Norway | Poland | Romania | Serbia | Slovenia | Spain | NHL | AHL |
League standings
Game fixtures
League leaders
IIHF President expressed a clear position on the situation in Ukrainian hockey during a meeting with the Federation Read more»
Ted Brithen scored three goals when Rögle beat another Swedish team, Frölunda, in the first of two games in the Champions Hockey League semi finals. Red Bull München and Tappare were supposed to play in Münich but that game was canceled ... Read more»