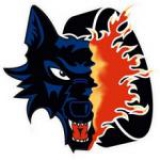 Grenoble Brûleurs de Loups
Did you find any incorrect or incomplete information? Please, let us know.
Season 2023-2024
Current roster
season 2023-2024
* no longer in the club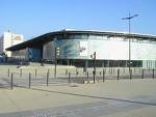 Adress: Patinoire d'agglomération Polesud
Avenue d'innsbruck
38100 Grenoble
Phone: +33 04 76 392 500
Email: polesud_accueil@lametro.fr
Capacity: 3496
Opened in: 2001
The name comes from an event recorded by Cardinal LeCamus in 1672 at St Christophe en Oisans, see the book from Thomas Pfeiffer, Le Brûleur de loups, Lyon, 2004, and Sur les traces des brûleurs de loups, Paris, 2009. According to the Cardinal, members of his parish became fed up with wolves plaguing and harassing their livestock. One night, peasants cornered a pack into a small section of forest and burned them alive. The story still circulates in Grenoble popular folklore
Notable players:
from 1963 to 1966: Grenoble Hockey Club
from 1966 to 1968: H.C. Grenoble-Villard-de-Lans Ours Dauphinois
from 1968 to 1992: Grenoble Hockey Club
from 1992 to present: Grenoble Brûleurs de Loups
France Championship: 1981, 1982, 1991, 1998, 2007,2009Vice-champion : 1968, 1977, 1983, 1990 et 2004.Coupe de France: 1994, 2008,2009Coupe de la Ligue: 2007,2009Champions' Trophy: 2008, 2009
League winners:
from 2011 to present: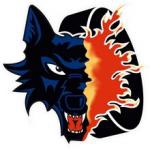 Surprises in Coupe de France
The second round of Coupe de France, played between October 23 and 24, left two big surprises: the two major winners of the competition, Rouen Dragons and Grenoble Brûleurs de Loups, were both eliminated: current title holder Lyon HC knocked out Ligue Magnus leader Grenoble by winning 2-1, while Rouen lost 6-3 with 2nd Division team HG Dunkerque. All the others Ligue Magnus teams advanced to third round, except Bordeaux, eliminated by Anglet
(25 Oct 2018)
Grenoble win Coupe de France
In the traditional venue of Paris-Bercy, in front of 11.300 spectators, Grenoble Bruleurs de Loups win its 4th Coupe de France by beating 3-2 at overtime traditional rival Rouen Dragons, taking revenge after the defeat 4-2 of last season final.
Grenoble scored twice in first 5 minutes with Bostjan Golicic and Eric Chouinard. Rouen tied game - Marc Andrè Thinel and Chad Langlais the scorers - before the decisive goal in the overtime, again by Grenoble captain Chouinard.
Winner team goalie Lukas Horak was named final MVP
(19 Feb 2017)
Courbevoie withdrawn, Grenoble punished
CO Courbevoie announced the club won't partecipate in next France Division 1 season and auto-relegated to Division 3. Consequently, applying the regulation, Federation fined the club with 6.000 euro and ousted from Division 3 final round and the promotion for upcoming season.
Following the report of National Monitoring and Management Control Commission (CNSCG) Grenoble was fined and sanctioned for violations of administrative rules, financial tax or statutory and concealment of official documents.
Thus the club received a withdrawal of 6 points in next Magnus Ligue and two years suspension from Coupe de France
(28 Jul 2016)
Rouen held the Cup
Rouen Dragons wins for the second consecutive year Coupe de France beating 4-2 (2-0,0-2,2-0) traditional rival Grenoble at Paris Bercy Arena in front of 10.020 spectators. It's the sixth national cup for Rouen. Forward Yorick Treille, one goal and one assist, was named game MVP
(03 Jan 2016)
Movements of coaches in France
Ligue Magnus ended last week but teams are already building rosters for next season, beginning from the bench: after a brilliant playoffs campaign Dijon lost coach Jarmo Tolvanen, signed in Norway by Stjernen, and promote to headcoach former assistant Jonathan Paredes. Grenoble not renewed the contract with Canadian Richard Martell, replacing him with former Briançon coach Edo Terglav. Rouen named headcoach former goalie Fabrice Lhenry. Finally, Tom Hartogs (Morzine) and François Dusseau (Lyon) were confirmed for one season more
(08 Apr 2015)
Grenoble won Coupe de la Ligue
In front of 2500 spectators in Meribel, Grenoble won its fourth Coupe de la Ligue winning 3-2 against traditional rival Rouen, equalizing club from Normandy in Ligue Cup won.
"My players have made sacrifices, blocked shots and worked hard in the defensive zone. They deserved the win" said Canadian Grenoble coach Richard Martel
(31 Dec 2014)
Rouen and Grenoble reached Coupe de la Ligue final
Dragons Rouen and Grenoble Brûleurs de Loups qualified for Coupe de la Ligue final, held in Meribel next 30 Dicember. Since the creation of the competition in 2007, teams wil battle for the third time to win the trophy: in 2007 Grenoble won 2-1, in 2010 Rouen won 6-4.
In the semifinals Rouen lost first game 2-1 but crashed 6-0 Gap in 2nd leg, while Grenoble won 3-1 at Epinal and lost 4-5 in return match against Epinal advancing for goal difference
(02 Dec 2014)
Coupe de la ligue first round completed
The coupe de la ligue first round is now completed. In groups A (Angers, Rouen) & C (Grenoble, Briançon), the top favorites emerged and advanced to the quarter finals. In groups B and D, it was a 3 team fight to get to the next level. The big surprise was finally in group B with qualifications of Epinal and Strasbourg while the top favorite Amiens is eliminated. In group C, Dijon ended up first while Chamonix and Morzine were tied for 2nd. Chamonix finally advance thanks to a better goal difference. The quarter final match-ups will be the following : Strasbourg - Angers ; Rouen - Épinal ; Briançon - Dijon ; Grenoble - Chamonix
(16 Oct 2013)
French League Cup semifinals determined
Rouen, Grenoble, Angers and holders Briançon are the French Coupe de la Ligue Semifinalists. SemifinalsRouen - Grenoble and Briançon - Angers are scheduled for 27 November and 04 December. Follow Coupe de la Ligue with complete boxscores here
(15 Nov 2012)
Alexandre Rouleau suddenly retires
French-Canadian defender Alexandre Rouleau suddenly announces his retirement from active hockey to become General Manager of QMJHL Val d'Or Foreurs, the team where he spent four seasons before to play in France for five seasons, one in Briançon and four in Grenoble. Last april he signed a two-years contract with Allsvenska's Vasteras but he didn't appeared at training camp. Vasteras management is considering to sue Rouleau.
(10 Aug 2012)
Historic rosters:
Historic statistics:
Past results:
League standings:
Fast facts
season 2023-2024
Kaunas City celebrate the qualification to the second round of Continental Cup with a ten-goals victory over Skautafelag Rejkyavik Read more»
Estonian champion wins KHL Zagreb ensuring first place for the home team Read more»