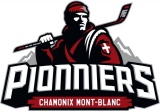 Pionniers Chamonix
Short name: Chamonix
Name in original language: Chamonix Hockey Club
Year of foundation: 1910
Colours: yellow,blue
Club status: active
Address: Pionniers de Chamonix Mont-Blanc
Société Anonyme Sportive Professionnelle
153 rue de l'Arve
74950 SCIONZIER
Phone: +33 04 50 53 30 48
Fax: +33 04 50 53 61 63
Email: contact@pionniers-chamonix.com, chcmineurs@wanadoo.fr (Juniors)
WWW: Chamonix
Did you find any incorrect or incomplete information? Please, let us know.
Season 2023-2024
Current roster
season 2023-2024
* no longer in the club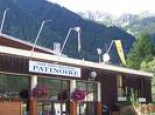 Adress: 165, route de la Patinoire
74400 Chamonix
Phone: +33(0)4 50 53 12 36
Capacity: 1700
Opened in: 1962
Played in Magnus Ligue merged with Morzine-Avoriaz in 2016-17 season but separated in the summer of 2017
Notable players:
from 1910 to 1988: Hockey Club Chamonix-Mont-Blanc
from 1988 to 2001: HC Huskies de Chamonix
from 2001 to 2017: Chamonix HC Les Chamois
from 2017 to present: Pionniers Chamonix
France Champion: 1923, 1925, 1927, 1929, 1930, 1931, 1939, 1942, 1944, 1946, 1949, 1952, 1954, 1955, 1958, 1959, 1961, 1963, 1964, 1965, 1966, 1967, 1968, 1970, 1971, 1972, 1973, 1976, 1979
Coupe de France : 1972, 1973, 1974
League winners:
from 2011 to 2017: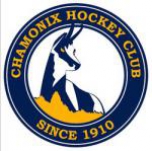 from 2017 to present: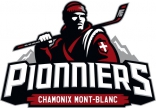 Santino Pellegrino left Chamonix
Announced as new coach of Chamonix Pioniers at the end of July, Italo-Canadian coach Santino Pellegrino left the team citing familiar reasons.
Chamonix is now looking for a new coach
(06 Aug 2017)
Dijon relegated in Division 2, Chamonix back in Magnus
After the validation od Financial Commission of Magnus Ligue, Les Ducs de Dijon lost their licence for playing in Magnus Ligue and the club didn't submit neither guarantees to play in Division 1, so the Federation decided to demote the club in Division 2, the third level of French hockey.
Chamonix, relegated after the last season, is bring back in Magnus even if without the fusion with Morzine-Avoriaze, that will compete in Division 3.
Cergy-Pontoise will replace Chamonix in Division 1
(22 Jul 2017)
Chamonix and Morzine join forces
As anticipated after the end of season, the reduction of Ligue Magnus to 12 teams and the gradual professionalization of clubs encourage two traditional clubs to join forces to be more competitive: HC Chamonix and Morzine-Avoriaz merged and created the new Chamonix-Morzine Pionniers that will play at Centre sportif Richard-Bozon in Chamoniz while trainings and possibly play some games will be at Skoda Arena in Morzine. Chamonix coach Stephane Gros will be the headcoach
(02 Jul 2016)
Nice admitted to Magnus Ligue
Following the merging between two teams competing in Magnus Ligue, Chamonix and Morzine-Avoriaz, the Franch Federation announced Division 1 champion HCA Nice was chosen to be the 12th club in the French top division. Nice lost 2-4 and 4-5 the promotion/relation series against Morzine. The admission is still contioned by the respect of sporting and economic criteria to be examined in a meeting between Nice board and Federation in next future. The best placed between relegated teams - HC Lyon - will take the place of Nice if Federation does not deem satisfactory the economic conditions. It's still to be decided which team, between the relegated Mont-Blanc and Toulouse or Division 2 champion Clermont-Ferrand, will replace Nice in Division 1
(27 May 2016)
The new season begins!
Yesterday three friendly games opened the 2015-16 of icehockey! Threre were games in Belarus, Kazakhstan and France: chack all the result on the most complete collection of pre-season games on eurohockey
(16 Jul 2015)
Rouen wins Coupe de la Ligue
By winning 6-4 against underdog Chamonix in Meribel in front of 2500 spectators, the Rouen Dragons won 2013-14 French Coupe de la Ligue. It is the fourth cup for the club, and the second consecutive. Rouen forward Anthony Rech was named MVP of the final game.
(07 Jan 2014)
Coupe de la ligue first round completed
The coupe de la ligue first round is now completed. In groups A (Angers, Rouen) & C (Grenoble, Briançon), the top favorites emerged and advanced to the quarter finals. In groups B and D, it was a 3 team fight to get to the next level. The big surprise was finally in group B with qualifications of Epinal and Strasbourg while the top favorite Amiens is eliminated. In group C, Dijon ended up first while Chamonix and Morzine were tied for 2nd. Chamonix finally advance thanks to a better goal difference. The quarter final match-ups will be the following : Strasbourg - Angers ; Rouen - Épinal ; Briançon - Dijon ; Grenoble - Chamonix
(16 Oct 2013)
Chamonix big beat France U20 in Coupe de la Ligue opening
Chamonix thrashed 13-3 France U20 in the first game of Coupe de la Ligue, even without their best players, serving the national team. New Canadian Kévin Gadoury, signed from 2nd Division Courbevoie, was the star of the game scoring three goals and serving four assists.
coupe de la Ligue is organized in four preliminary groups based on geographic proximity. Chamonix and France U20 are in Group D along with Morzine- and Dijon.
Follow Coupe de la Ligue on eurohockey.com!
(26 Aug 2013)
Historic rosters:
Historic statistics:
Past results:
League standings:
Fast facts
season 2023-2024
Pionniers Chamonix participates in season 2023-2024: Ligue Magnus
Kaunas City celebrate the qualification to the second round of Continental Cup with a ten-goals victory over Skautafelag Rejkyavik Read more»
Estonian champion wins KHL Zagreb ensuring first place for the home team Read more»