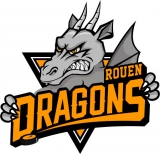 Rouen Dragons
Short name: Rouen
Name in original language: Rouen Hockey Elite 76
Nickname: Les Dragons de Rouen
Year of foundation: 1982
Colours: yellow,black
Club status: active
Address: Rouen Hockey Elite 76
25 rue Jean-Philippe Rameau
76 000 Rouen
Phone: +33 02 35 88 96 88
Fax: +33 02 35 07 48 91
Email: c.roche@rhe76.com, billetterie@rhe76.com (Tickets)
WWW: Rouen Les Dragons
Did you find any incorrect or incomplete information? Please, let us know.
Season 2023-2024
Current roster
season 2023-2024
* no longer in the club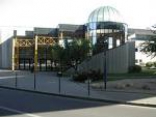 Adress: Centre Sportif Dr Duchêne - Ile Lacroix
76000 Rouen
Phone: +33 02 35 07 94 70
Email: lclatot@rouen.fr
Capacity: 2747
Opened in: 1992
Champion France: 1990, 1992, 1993, 1994, 1995, 2001, 2003, 2006, 2008, 2010
Champion France D1: 1985
Coupe de France: 2002, 2004, 2005
Coupe de la ligue: 2008, 2010
League winners:
from 1982 to 2015:
from 2015 to present: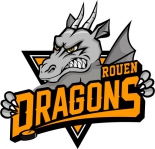 Surprises in Coupe de France
The second round of Coupe de France, played between October 23 and 24, left two big surprises: the two major winners of the competition, Rouen Dragons and Grenoble Brûleurs de Loups, were both eliminated: current title holder Lyon HC knocked out Ligue Magnus leader Grenoble by winning 2-1, while Rouen lost 6-3 with 2nd Division team HG Dunkerque. All the others Ligue Magnus teams advanced to third round, except Bordeaux, eliminated by Anglet
(25 Oct 2018)
Grenoble win Coupe de France
In the traditional venue of Paris-Bercy, in front of 11.300 spectators, Grenoble Bruleurs de Loups win its 4th Coupe de France by beating 3-2 at overtime traditional rival Rouen Dragons, taking revenge after the defeat 4-2 of last season final.
Grenoble scored twice in first 5 minutes with Bostjan Golicic and Eric Chouinard. Rouen tied game - Marc Andrè Thinel and Chad Langlais the scorers - before the decisive goal in the overtime, again by Grenoble captain Chouinard.
Winner team goalie Lukas Horak was named final MVP
(19 Feb 2017)
Gap wins the last edition of Coupe de la Ligue
Current Magnus Ligue champion Gap wins the Coupe de la Ligue beating 4-2 Rouen Dragons in the final, played at Meribel arena in front of 2.500 spectators. It was the last edition of the trophy played since 2006 but cancelled per decision of French Federation. Rouen and Grenoble are the major winners with four titles, but Dragons also lost three finals, giving the team from Normandy the record of 7 appareances in the last act in 10 editions of the trophy. It was the first Cup for Ga that lost against same Rouen the Champions' game at the begin of current season.
(17 Feb 2016)
Rouen held the Cup
Rouen Dragons wins for the second consecutive year Coupe de France beating 4-2 (2-0,0-2,2-0) traditional rival Grenoble at Paris Bercy Arena in front of 10.020 spectators. It's the sixth national cup for Rouen. Forward Yorick Treille, one goal and one assist, was named game MVP
(03 Jan 2016)
Continental Cup Finals will be held in France
The Rouen Dragons will host this year's edition of the IIHF Continental Cup Super Final. Between the 8th and 10th of January the 13-time French champion will face off against Asiago Hockey (Italy), Herning Blue Fox (Denmark) and GKS Tychy (Poland). It is already the fourth time that the winner's plate will be awarded in Rouen.
(01 Dec 2015)
Movements of coaches in France
Ligue Magnus ended last week but teams are already building rosters for next season, beginning from the bench: after a brilliant playoffs campaign Dijon lost coach Jarmo Tolvanen, signed in Norway by Stjernen, and promote to headcoach former assistant Jonathan Paredes. Grenoble not renewed the contract with Canadian Richard Martell, replacing him with former Briançon coach Edo Terglav. Rouen named headcoach former goalie Fabrice Lhenry. Finally, Tom Hartogs (Morzine) and François Dusseau (Lyon) were confirmed for one season more
(08 Apr 2015)
Rouen won Coupe de France
Ninth final for Dragons Rouen and fifth victory of Coupe de France: by winning Amiens - played its first final - 5-3 in Marseille in front of 3500 spectators, Rouen won its first trophy in the season. Julien Desrosiers was awarded as MVP of the game
(27 Jan 2015)
Grenoble won Coupe de la Ligue
In front of 2500 spectators in Meribel, Grenoble won its fourth Coupe de la Ligue winning 3-2 against traditional rival Rouen, equalizing club from Normandy in Ligue Cup won.
"My players have made sacrifices, blocked shots and worked hard in the defensive zone. They deserved the win" said Canadian Grenoble coach Richard Martel
(31 Dec 2014)
Rouen and Grenoble reached Coupe de la Ligue final
Dragons Rouen and Grenoble Brûleurs de Loups qualified for Coupe de la Ligue final, held in Meribel next 30 Dicember. Since the creation of the competition in 2007, teams wil battle for the third time to win the trophy: in 2007 Grenoble won 2-1, in 2010 Rouen won 6-4.
In the semifinals Rouen lost first game 2-1 but crashed 6-0 Gap in 2nd leg, while Grenoble won 3-1 at Epinal and lost 4-5 in return match against Epinal advancing for goal difference
(02 Dec 2014)
Rouen wins Coupe de la Ligue
By winning 6-4 against underdog Chamonix in Meribel in front of 2500 spectators, the Rouen Dragons won 2013-14 French Coupe de la Ligue. It is the fourth cup for the club, and the second consecutive. Rouen forward Anthony Rech was named MVP of the final game.
(07 Jan 2014)
Historic rosters:
Historic statistics:
Past results:
League standings:
Fast facts
season 2023-2024
Kaunas City celebrate the qualification to the second round of Continental Cup with a ten-goals victory over Skautafelag Rejkyavik Read more»
Estonian champion wins KHL Zagreb ensuring first place for the home team Read more»