SCL Tigers
Year of foundation: 1946
Colours: yellow, red
Club status: active
Address: Hohle Gasse 5
CH-3550 Langnau i. E.
Phone: +41 34 408 35 35
Fax: +41 34 408 35 45
Email: info@scltigers.ch
WWW: SCL Tigers
Did you find any incorrect or incomplete information? Please, let us know.
Season 2024-2025
Current roster
season 2024-2025
* no longer in the club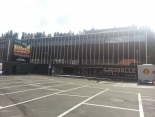 Adress: Ilfis Stadion AG
Güterstrasse 14
CH-3550 Langnau i. E.
Phone: +41 34 402 19 01
Capacity: 6050
Opened in: 1976
Retired numbers:
12 Todd Elik
17 Daniel Aegerter
26 Martin Gerber
44 Walter Gerber
Notable players:
from 1946 to 2000: SC Langnau
from 2000 to present: SCL Tigers
NLB: 1961, 1987, 1998
Amateur champion: 1953, 1992, 1994
League winners:
from 1946 to present: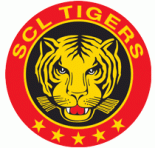 Five clubs interested in promotion in NLB
Five clubs of NLB have submitted the application to play in the NLA in case of on promotion this season: HC La Chaux-de-Fonds, HC Visp SC Langnau Tigers, HC Olten and SC Langenthal Olten.
These clubs will play the promotion/relegation series against last club of NLA as winner of NLB
(19 Nov 2014)
Langnau replaced Tomas Tamfal with Bengt-Ake Gustafsson
SC Langnau tigers announces the club fired head coach Tomas Tamfal and his assistant Urs Bärtschi, replacing them with a Swedish duo: Bengt-Ake Gustafsson as new head coach and Peter Andersson as assistant. Gustafsson coached Langnau between 1999 and 2001 and will have his son Anton in the roster. Peter Andersson worked recently as assistant coach at MODO
(15 Oct 2013)
Langnau Tigers changes coaches
Down 2-1 in the promotion/relegation series against Lausanne, Langnau Tigers try a desperate move "freezing" coach Alex Reinhard and sending back to junior team assistant Konstantin Kurashev. Sport Director and former coach Jacob "Köbi" Kölliker will lead team in last games, assisted by Alfred Bohren.
(10 Apr 2013)
SCL Tigers release head coach
The Swiss team SCL Tigers, last in National League A, with only 16 points in 28 matches and thus a 29-point deficit towards the playoff spots, decided to release their head coach John Fust. Only one win in the last 13 matches was by far not enough for the Swiss-Canadian. He is not fired though and the club is looking for another task for him. His assistant Alex Reinhard was promoted to the position as head coach while Konstantin Kurashev, by now responsable for youth development, becomes the new assistant.
(09 Dec 2012)
Köbi Kölliker new Sport Director at Langnau
Former Switerland and Germany headcoach Jacob "Köbi" Kölliker becomes new Langnau Tigers Sport Director. He is back in Langnau where he worked as headcoach between 1993 and 1999 and GM in 1999/2000.
(07 Nov 2012)
Game number 1000 for Jörg Reber
SC Langnau Tigers home defeat against EHC Biel marked NLA game number 1000 for Tigers defender Jörg Reber.
He debuted in NLA during SC Bern 1991-92 title campaign, playing also for Rapperswil, Bienne, La Chaux-de-Fonds, Kloten and Langnau. Last season Reber, 37, was a key player in Langnau great season, finishing league as NLA top scorer among defensemen
(03 Jan 2012)
Historic rosters:
Historic statistics:
Past results:
League standings:
Fast facts
season 2024-2025
Cardiff Devils won by one-goal-difference against home side Grenoble and advances to the Continental Cup Superfinals along with Nomad Astana Read more»
Kazakh champion closes the Continental Cup semifinals round with a perfect record, by beating HK Zemgale in the last game Read more»