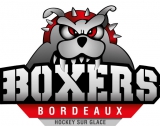 Bordeaux GHC
Short name: Bordeaux
Name in original language: Bordeaux Gironde Hockey sur Glace
Nickname: Les Boxers
Year of foundation: 1986
Colours: red, black
Club status: active
Address: 95 Cours du Maréchal Juin
33000 Bordeaux
Phone: +33 06 63 63 73 22
Fax: +33 05 56 75 95 24
Email: ptiboxer@free.fr
WWW: Bordeaux GHC
Did you find any incorrect or incomplete information? Please, let us know.
Season 2022-2023
Current roster
season 2022-2023
* no longer in the club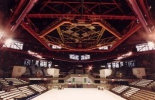 Adress: 95 cours du maréchal Juin
33000 Bordeaux
Phone: +33 05 57 81 43 72
Capacity: 3535
Opened in: 1981
from 1986 to 1992: Girondins de Bordeaux
from 1992 to 1995: Aquitains de Bordeaux
from 1995 to 1999: Dogues de Bordeaux
from 1999 to present: Bordeaux GHC
from 1999 to 2014: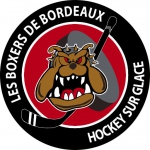 from 2014 to present: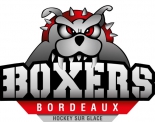 Surprises in Coupe de France
The second round of Coupe de France, played between October 23 and 24, left two big surprises: the two major winners of the competition, Rouen Dragons and Grenoble Brûleurs de Loups, were both eliminated: current title holder Lyon HC knocked out Ligue Magnus leader Grenoble by winning 2-1, while Rouen lost 6-3 with 2nd Division team HG Dunkerque. All the others Ligue Magnus teams advanced to third round, except Bordeaux, eliminated by Anglet
(25 Oct 2018)
Reigning champion Gap eliminated
The current Ligue Magnus champion Gap Rapaces was knocked out in the first round of playoffs by Boxers Bordeaux in just 4 games, losing 4-3 game #4. Gap finished third in the regular season and faced 6th seed Bordeaux, being eliminated at quarterfinals after two titles and a semifinals in the last 3 years.
Rouen leading 3-1 against Angers while it's 2-2 in the series between Mulhouse and Grenoble and Amiens and Lyon.
Follow Ligue Magnus playoffs on eurohockey.com !
(01 Mar 2018)
Philippe Bozon will coach Bordeaux
Boxers de Bordeaux announce Philippe Bozon will be the head-coach of the team from next season. Former national team player, Bozon coached Lugano and Sierre in Switzerland, France U20 and Epinal in France. With Epinal he reached Magnus Ligue finals last season, lost by Gap
(20 Mar 2016)
Bordeaux promoted to Ligue Magnus
A goal at overtime by Thomas Decock gives Bordeaux the victory 4-3 in game #4 of the finals against Anglet, the title of French Division 1, the second level of French hockey, and th promotion to Ligue Magnus. Game #4 was re-played after the stoppage of the match, originally played on first of April, due to a problem with the ice of Anglet arena.
During the summer Bordeaux, after the defeat in the finals of the past season, adopted a professional structure and began the league as the favourite.
In Ligue Magnus, Bordeaux replaces relegated Caen
(03 Apr 2015)
Martin Lacroix new coach at Bordeaux
Boredeaux Boxers announces the appointment of Canadian Martin Lacroix as new headcoach. Lacroix worked in last two seasons at Cergy.
(16 Apr 2013)
Historic rosters:
Historic statistics:
Past results:
League standings:
Fast facts
season 2022-2023
After a 4-years hiatus, a Kazakh club could be back in Russian Second League Read more»
The 5th season of Ice Hockey Championship was played at Altit Fort, Hunza in -15 C temperature. SCO male team won the Championship against defending champions team of Serena Hotels. ... Read more»