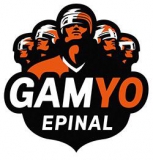 Gamyo Épinal
Short name: Epinal
Year of foundation: 1992
Colours: orange,red,white
Club status: ceased (bankruptcy after 2017-2018 season)
Address: Gamyo Épinal
2 Quai Colonel Serot
BP14 88000 Épinal
France
Phone: +33 03.29.34.88.12
Fax: +33 03 29 34 55 66
WWW: Gamyo Epinal
Did you find any incorrect or incomplete information? Please, let us know.
Season 2022-2023
Current roster
season 2022-2023
* no longer in the club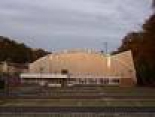 Adress: Faubourg Bas de Poissompré
88000 Epinal
Phone: +33 03 29 68 50 52
Capacity: 1400
Opened in: 1970
from 1906 to 1984: SHS Epinal
from 1984 to 1996: ARSG Épinal
from 1996 to 1997: Renards Épinal
from 1997 to 2014: IC Epinal Les Dauphins
from 2014 to present: Gamyo Épinal
2002-2003: Champion de France Division 1
2008-2009: Trophée Marcel Claret, fair-play
League winners:
from 2011 to 2014: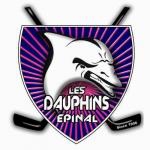 from 2014 to present: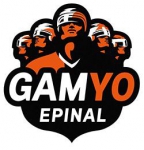 Epinal hires Brad Gratton as new coach
After a brilliant 2015-16 season, when team finished 2nd in the standing and lost in playoofs semifinals, Gamyo Epinal, currently 8th in the standing, fired coach Stephane Barin, replacing him with Canadian Brad Gratton, who coached mainly in Denmark during the career. Gratton left Odense Bulldogs after last season, with a Danish Cup won with the club
(26 Dec 2016)
Philippe Bozon will coach Bordeaux
Boxers de Bordeaux announce Philippe Bozon will be the head-coach of the team from next season. Former national team player, Bozon coached Lugano and Sierre in Switzerland, France U20 and Epinal in France. With Epinal he reached Magnus Ligue finals last season, lost by Gap
(20 Mar 2016)
Rouen and Grenoble reached Coupe de la Ligue final
Dragons Rouen and Grenoble Brûleurs de Loups qualified for Coupe de la Ligue final, held in Meribel next 30 Dicember. Since the creation of the competition in 2007, teams wil battle for the third time to win the trophy: in 2007 Grenoble won 2-1, in 2010 Rouen won 6-4.
In the semifinals Rouen lost first game 2-1 but crashed 6-0 Gap in 2nd leg, while Grenoble won 3-1 at Epinal and lost 4-5 in return match against Epinal advancing for goal difference
(02 Dec 2014)
Philippe Bozon will coach Epinal
French Philippe Bozon, 47, is the new coach of Epinal. Club previously signed Dan Brooks but later American coach chose the position of assistant coach at SC Bern. Bozon coached France U20 last season
(25 Jul 2014)
Coupe de la ligue first round completed
The coupe de la ligue first round is now completed. In groups A (Angers, Rouen) & C (Grenoble, Briançon), the top favorites emerged and advanced to the quarter finals. In groups B and D, it was a 3 team fight to get to the next level. The big surprise was finally in group B with qualifications of Epinal and Strasbourg while the top favorite Amiens is eliminated. In group C, Dijon ended up first while Chamonix and Morzine were tied for 2nd. Chamonix finally advance thanks to a better goal difference. The quarter final match-ups will be the following : Strasbourg - Angers ; Rouen - Épinal ; Briançon - Dijon ; Grenoble - Chamonix
(16 Oct 2013)
Epinal will play in Magnus Ligue
Épinal has been validated to play in Ligue Magnus under conditions of signing financial targets which includes them paying a fine.
(29 Jul 2013)
New coach at Epinal
Epinal announces the appointment of 45-years old Canadian Claude Bouchard as new headcoach. Bouchard coached Jonquière Élites of QAAA in last three seasons and previously was on Val-d'Or Foreurs bench where won QMJHL league in 2000-2001
(07 Jun 2013)
Epinal changes coach
Italo-Canadian Santino Pellegrino quits his charge as headcoach of Epinal for personal reasons. Ligue Magnus club announces the new coach will be German-Canadian Alex Stein,41, until last October on Swiss NLB Thurgau bench
(09 Jan 2013)
Historic rosters:
Historic statistics:
Past results:
League standings:
Fast facts
season 2022-2023
After a 4-years hiatus, a Kazakh club could be back in Russian Second League Read more»
The 5th season of Ice Hockey Championship was played at Altit Fort, Hunza in -15 C temperature. SCO male team won the Championship against defending champions team of Serena Hotels. ... Read more»