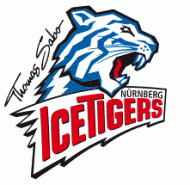 Augsburg loses a great occasion
The Franconian - Swabian clash ends in glory for the Ice Tigers
It's Friday night, and the Arena Nürnberg becomes once again the stage for an heated ice hockey game: this time the opponents hail from Augsburg, and both teams seriously want to erase their latest bleak and unconvincing performances giving a great display of power in front of their fans (which include a sizeable group directly coming from the Swabian capital). Still, it is also a good occasion to see the second best scorers of the league facing each other: Augsburg's Jon Matsumoto and Nuremberg's Patrick Reimer, who both totalised 29 points up to this match.
1ST PERIOD
A failed occasion comes almost immediately for the home team, which nevertheless finds itself in a power-play situation after a 2-minute penalty inflicted to Augsburg's Bretton Stamler. A score follows quickly, but a video review is called: luckily for the Ice Tigers, the response is ultimately positive, and the goal by Leonard Pföderl is validated.
A rather impressive series of shots-on-goal follows, but the home teams seem to lack enough accuracy to widen and deepen its advantage. Anyways, Steffen Tölzer -something of a living landmark for the Panther, with whom he played for thirteen seasons- is sent to the penalty box just six minutes before the end of the first period, causing another power-play advantage for the Ice Tigers., albeit a scoreless one.
2ND PERIOD
Right into the second period Augsburg suddenly awakens, and Tyler Beskorowany's net gets hit by a sharp shot by Alexander Thiel, until last season part of Düsseldorf's roster, assisted by Matt Mackay and by a former Ice Tiger, Polish-born right wing Adrian Grygiel. Still, Nuremberg obtains a fundamental goal at the middle of the game thanks to an awesome solo effort by Steven Reinprecht: the former Avalanche player (and Stanley Cup winner) is, thus, at his tenth goal of the season.
Despite that, Augsburg seems a completely differemt team now, and only Beskorowany's skills prevent Nuremberg from getting really dangerous goals.. until a really controversial 4-minute penalty to Marcus Weber, which proves itself fruitless for the Panther but which is followed by another one, this time on Kyle Klubertanz. Still, Augsburg just doesn't seem to be able to exploit these many occasions.
3RD PERIOD
Almost five minutes inside the third period, Augsburg gets the equalizer with a score by Bretton Stamler; moreover, Nuremberg gets penalized and Leonhard Pföderl gets sent to the penalty box: this causes yet another goal for the Panther: again, a review is called, but the score by T. J. Trevelyan (assisted by former Schwenninger Wild Wings' Matsumoto) is confirmed, giving Augsburg a really important advantage.
With less than six minutes to go, Evan Oberg gets a 5-minute penalty after a really bad foul: this is possibly not enough for the Swabians, which go on in playing a really rough game until another penalty is served, this time to Canadian Brady Lamb, with a subsequent goal scored by Leonhard Pföderl assisted by Dany Heatley.
Just a handful of seconds later, the Ice Tigers go back to the lead, with an awesome shot by the captain Patrick Reimer assisted by derek Joslin and Steven Reinprecht. It is obviously not enough for the Franconian team, which scores yet again with Kurtis Foster in an even lesser time frame!
It's the end for Augsburg, which eventually sinks a last time with an empty net after a shot by Marius Möchel assisted by Matt Murley: even a last-second goal by Panther's doesn't change their depressing situation, and they ultimately pay off their excessive violent and irregular play going home with an uncomfortable 6-4, while the Ice Tigers earn three really essential points.
Current events
External links

Czech Rep.: Tipsport extraliga | 1.liga | 2.liga

Slovakia: Tipsport Extraliga | 1.liga

Sweden: SHL | HockeyAllsvenskan
Other: EBEL | Belarus | Croatia | Denmark | Estonia | France | Great Britain | Iceland | Italy | Latvia | Lithuania | MOL-liga | Norway | Poland | Romania | Serbia | Slovenia | Spain | NHL | AHL |
League standings
Game fixtures
League leaders
A new Extraliga and Vysshaya League are born aiming to increase competitiveness Read more»
The Champions Hockey League Board cancelled the Wild Card for Belarusian champion Read more»