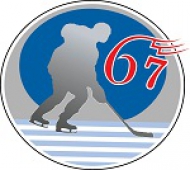 67th Korea Domestic Championship Day 2
more balanced games, Yonsei and Kyung Hee come up winners
The second day of the Korea Domestic Championship proved to be more interesting than the first. There are really only about three games in the championship that mean anything. The games between the university teams and the game between Anyang Halla and High1. The rest are foregone conclusions as the talent imbalance is just too great. The games played today essentially decided the second place teams and who will play next Wednesday against High1 and Halla.
The scheduling issue was also discussed Stine Choi, from the Korea Ice Hockey Association, who made himself available during the game. The schedule is a result of commitments with local media as well as ice time availability at the rink. Despite it being a major tournament in Korea, the popularity of figure skating puts a lot of demand on the rink, making weekend games difficult at Mok-dong. In the future there is hope that other venues might be sought as alternatives.
The university game between Yonsei and Korea Universities drew a decent sized crowd of a few hundred people. Mr. Choi said that during regular season play the Mok-dong Arena, which can hold a few thousand people is often quite packed.
Hanyang vs Kyung Hee 0-4
Both university teams in this group have smaller rosters. Hanyang has 14 players, while Kyung Hee has 15 on theirs. Despite being shut-out, Hanyang did not lack for effort. They out-shot Kyung-hee 37-19. Hanyang also had 3 power play opportunities that were wasted. In fact, they seemed to have everything going for them, but they were unable to solve Kyung Hee's goalie, Hyun-ho Yong.
Yong got lots of support from his teammates. Captain Hyun-jong Yong had a goal and 2 assits, Dae-hun Kwon had 2 goals and an assist and Young-jae Lee added a goal. Kyung Hee seemed to be well in the driver's seat after their 5-1 loss to High1 yesterday. Yae-ju Jeon had lead the charge for Hanyang with 8 shots, but came up dry.
Hanyang will play High1 on Monday night and Kyung Hee should play Halla on Wednesday.
Korea vs Yonsei 3-6
Korea played a very close game until a break down in the third period from a couple of lucky bounces.
Yonsei started the scoring just five minutes in, but Korea responded quickly, with a goal from Jin-hui Ahn. Yonsei's second goal as Hee-ong Kim was skating wide to try and avoid the Korea defender, as he was pushed behind the red line, he somehow managed to find Jung-yeon Yum in front of the net who gave them a 2-1 lead.
In the second Ahn scored again for Korea tying it up. After two periods Korea had been out-shot 21-17 and the play and score were both tight. Both teams had a couple of power play chances but were unable to capitalize. Yonsei played a very aggressive power kill which made it hard for Korea to set-up.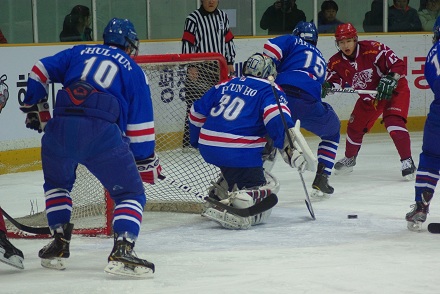 In the third, Sang-hoon Sin put Yonsei back on top. Sang-hoon is the brother of Sang-woo Sin, #18 on Anyang Halla. A common naming convention for siblings in Korea is to share one of the syllables of their name. Sang-won Yoon scored a shot time later for Yonsei making it 4-2 but Korea didn't give up. On the power play Kwan-ki Min scored but that was as close as they'd get. Four minutes later, Ji-man Yoon put them up 5-3 and with 3 seconds left Captain Young-jun Lee scored on the empty net.
Frustrations were high as Korea Captain Hyung-yoon Sin slammed his stick down and left the ice. One of the assistant captains had a long discussion with the referee as they'd felt that Yonsei had been interfering with them in their end and prevented their chance to score by holding and grabbing them along the boards. After the final buzzer a small bump escalated into a shoving match and a couple of players paired off and started throwing some punches. They were separated before too long and the Korea university coach instructed his players to line-up and shake hands.
Korea will play Halla on Monday evening. Yonsei will play High1 on Wednesday barring a major upset Monday night.
Current events
External links

Czech Rep.: Tipsport extraliga | 1.liga | 2.liga

Slovakia: Tipsport Extraliga | 1.liga

Sweden: SHL | HockeyAllsvenskan
Other: EBEL | Belarus | Croatia | Denmark | Estonia | France | Great Britain | Iceland | Italy | Latvia | Lithuania | MOL-liga | Norway | Poland | Romania | Serbia | Slovenia | Spain | NHL | AHL |
League standings
Game fixtures
League leaders
Full analysis of the last 10 seasons of the Ukrainian ice hockey championships Read more»
Full analysis of the last 10 seasons of the Ukrainian ice hockey championships Read more»