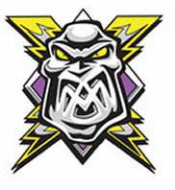 Can the Storm turn around a poor start to the season?
Can the Storm turn around a poor start to the season?
The results are finally starting to come and it seems that Manchester Storm are at long last coming out of their collective shells. But the truth remains that even with one less team in the league this season, the team based in Altrincham are still in 9th place in the league. The question is, can they do better?
This season has been a stop start one for the Storm to say the least. 12 losses and two overtime losses tell the story of the season so far. The only thing that's been consistent about the Storm is their inconsistent form in front of goal although adding Henrik Samuelsson was supposed to alleviate this particular problem. But one thing we've learned in sport is that it's not over until it's over.
Take the Storm's illustrious neighbours at Old Trafford for example. Earlier this year, there was an air of doom and gloom about Manchester United, with many questioning whether or not Ole Gunnar Solksjaer could take them back to the top. Two big wins over both Spurs and Man City and suddenly everything is looking good again.
The games over the last few weeks may not have provided the results the fans wanted but anyone watching the Storm on the ice will see that their performances have improved ten-fold. They're starting to gel as a team and were unlucky in many of their recent defeats. But patience pays off and, by sticking to the game plan, the Storm seem to have finally turned a corner.
Forward Mario Puskarich has been in excellent form with a goal and three assists over two games that saw him crowned the club's player of the week. Two wins and a defeat sees the Storm now only a point from the playoff places and only three points from fifth position. Although a first leg defeat to the Steelers in the cup wasn't ideal, it's really the league that the Storm remain focused on.
The performance the team put in against Glasgow Clan is indicative of the motivation this roster has to make it to the playoffs. It was an eleven goal thriller that had to go to overtime before the Clan managed to score the decisive goal. More performances like that on the ice and there's no doubt that this team will move up the table.
So can they finish higher than they did last season? You better believe it. In fact, we fancy the Storm to make the playoffs and surprise everyone by making it to the semis. You read it here first!

Czech Rep.: Tipsport extraliga | 1.liga | 2.liga

Slovakia: Tipsport Extraliga | 1.liga

Sweden: SHL | HockeyAllsvenskan
Other: EBEL | Belarus | Croatia | Denmark | Estonia | France | Great Britain | Iceland | Italy | Latvia | Lithuania | MOL-liga | Norway | Poland | Romania | Serbia | Slovenia | Spain | NHL | AHL |
League standings
Game fixtures
League leaders
Canada takes gold after thrilling final against Russia. Sweden grabs bronze. Read more»