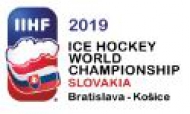 France are relegated after Great Britain win in Overtime.
There was little Entente Cordiale between these two teams as France and Great Britain fought for the right to stay in Pool A and go to Switzerland next season.
Although the first period was without a goal, it was certainly not without excellent scoring chances. The first of these came in the opening minute when Ben Davies stole the puck inside his line and raced up ice on a clean breakaway. As he went in on goal, though, he made a drop pass to two French players trying to chance him down, a perplexing decision given he had a clear chance on Florian Hardy, we can only surmise he thought Ben Lake was nearer to him than he actually was.
Soon after Ben Bowns made a great save from Texier then Tim Billingsey threw himself in front of a Fleury shot to prevent a certain goal.
After failing to convert on two more good scoring chances early, the British found themselves down 1-0 when Anthony RECH wired a shot over Bowns's glove off a great pass from Antonin Manavian at 3:36. Worse was to follow when a shot through traffic by CHAKIACHVILI found its way past Bowns. Then GB shot themselves in the foot: they had conceded goals in bunches before and when RECH made it three just 6 seconds after the face off GB must have felt a sense of deja vu.

However, unbowed they got on the board late in the period Britain when they created a turnover inside the French end, and Ben O'Connor took a quick shot form the point. It bounced here and there, winding up on the stick of Robert DOWD who swept it into the open net.
Then three minutes later, off another French turnover in its own end, Mike HAMMOND scored his fourth of the tournament to make it a one goal game going into the break.
The third period was a tense affair with chances at both ends but with less than five minutes remaining FARMER circled the net,after a good feed from Davey Phillips, and banked a shot off Hardy to tie the game up.
In a frenetic overtime period France came very close on two occasions to winning the game but were denied by heroics from Bowns and his defence.
Then after 2.03 mins of overtime Jonathan Phillips held the puck on the boards and saucered a pass across to Ben DAVIES to backhand past Hardy.

Czech Rep.: Tipsport extraliga | 1.liga | 2.liga

Slovakia: Tipsport Extraliga | 1.liga

Sweden: SHL | HockeyAllsvenskan
Other: EBEL | Belarus | Croatia | Denmark | Estonia | France | Great Britain | Iceland | Italy | Latvia | Lithuania | MOL-liga | Norway | Poland | Romania | Serbia | Slovenia | Spain | NHL | AHL |
League standings
Game fixtures
League leaders
Sheffield Steelers (EIHL) added a second defenceman as injury cover. Read more»
As Elite Ice Hockey in the United Kingdom 2019/20 season is still in its infancy, one thing is clear – the sport in the UK is in rude health. Read more»