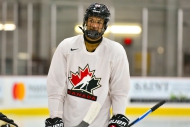 Canada Crushes Belarus Despite Crazy Start
Canada has snagged their second victory of the 2018 Under-18 World Hockey Championships with an 8-3 decision over Belarus on Friday evening.
Canada has snagged their second victory of the 2018 Under-18 World Hockey Championships with an 8-3 decision over Belarus on Friday evening.
It was expected that there would be a lot of goals in the game, but if you bet on Belarus trailing by just a goal in a five-goal game after 10 minutes of play, you'd be pretty rich right now. Canada got off to a great start after Serron Noel left a drop pass to Jack McBain at 1:19. McBain, who always seems to play well for Canada in international action, would slide the puck over an unsuspecting Nikita Tolopilo, giving Canada the 1-0 lead.
But 30 seconds later, Belarus scored one back. Ilya Usov would score Belarus' first goal of the tournament after scoring on a great feed from Alexander Shkrabov, putting the underdogs on the board early in the battle.
Canada would score twice more in just over a minute of play to take the 3-1 lead after three minutes of action. For the third time in the tournament, Raphael Lavoie would find a way to score after beating Ivan Salauyou on the rush in front of the net, restoring Canada's lead. 2020 NHL Draft star Alexis Lafreniere would score 57 seconds later, using his powerful wrist shot to beat Tolopilo and chase him out of the net after three goals on just six shots.
The scoring wasn't done. At 6:48, Alexei Protas went high on Colten Ellis after a nice feed from Ilya Kazyanin, bringing Belarus back within a goal. But Canada scored two more before the first was complete, with Noel and Jared McIsaac scoring before the end of the first to make it 5-2. Canada would score another three goals while Belarus found the net just once more, with Canada holding on for the 8-3 victory to keep the lead of Group A.
Slovakia 5, Czech Republic 2
Slovakia has won their first victory of the 2018 U18's, with 2019 NHL Draft prospect Michal Mrazik scoring twice to lead the way.The Czechs were hoping Lukáš Dostál could get the job done in net, given the fact that he was one of the best goalies heading into the tournament. But his tournament would start off poorly with four goals against in just 14 minutes of action, with Dostál getting replaced by Daniel Dvorak. It was a big win for the Slovaks, who came out on top of their rivals despite the Czechs having a stronger history in junior hockey events.
USA 8, Switzerland 5
2019 NHL Draft prospect Jack Hughes was on top of his game once again, scoring two goals and an assist in an 8-5 victory over Switzerland. The win was anything but easy, however, with the Americans blowing a three-goal lead before eventually trailing 5-4 to the Swiss. Oliver Wahlstrom would tie the game at five apiece in the second before Hughes eventually got the game-winner, with Mattias Samuelsson and Tyler Weiss adding goals to extend the overall lead.
Finland 7, France 0
France didn't have high expectations after a 7-1 loss to Russia on Thursday, but a 7-0 loss to Finland won't help their spirits. Ville Petman and Kaapo Kakko led the way with three points each, while Anton Lundell, who had four points yesterday in a huge performance for the 2020 NHL Draft prospect, scored a goal as well. Valentin Duquenne once again played the entire game for France, making 43 saves after a 49-stop outing the night before, giving him 93 saves over two games.
Follow me on Twitter, @StevenEllisNHL.

Czech Rep.: Tipsport extraliga | 1.liga | 2.liga

Slovakia: Tipsport Extraliga | 1.liga

Sweden: SHL | HockeyAllsvenskan
Other: EBEL | Belarus | Croatia | Denmark | Estonia | France | Great Britain | Iceland | Italy | Latvia | Lithuania | MOL-liga | Norway | Poland | Romania | Serbia | Slovenia | Spain | NHL | AHL |
League standings
Game fixtures
League leaders
As the pandemic continues to ravage ice hockey throughout the world the Scottish Ice Hockey Association decided enough is enough. Read more»
The IIHF Council decided unanimously today to initiate another series of tournament cancellations for the 2020/21 season, following recommendations of the IIHF COVID-19 Expert Group. ... Read more»