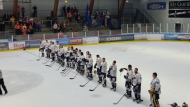 Fireworks in Rungsted
After spectacular 40 minutes, a decisive penalty in the last period gives HK Kurbads a crucial victory in Continental Cup Semifinals
After the impressive debut of Yunost Minsk, trashing Sheffield Steelers, host Rungsted and Latvian champion Kurbads Riga play a decisive game for the ambitions of both teams, now considering the Belarusian as the favourite for the first place. Dainsh Cup winner Rungsted Seier Capitals, at the debut in an European competition, wants to emulate rivals Herning and Odense, taking Danish hockey at the Superfinals for the third consecutive season. Kurbads made a sensation in the second round, knocking out favourite GKS Tychy.
In a beautiful atmosphere, with a decent number of noisy Latvian fans, the game is immediately interesting, with the home team taking advantage from a power play to open the score after 01:15: the pass of Mattias Persson finds William Boysen alone for an easy finishing. After the goal the home team seems for a couple of minutes to easily taking the control of the game, but Kurbads reorganizes the lines putting pressure on Danish, finding the net at 08:16 with Janis Sprukts after a very well-played power play: former Florida Panthers forward has an easy task in netting a smart pass by Sandis Zolmanis. At 12:08 another show by Latvian players on superiority: the puck goes quickly from Gricinskis to Straupe; the pass of number 7 crosses the ice finding on the other side Aleksandrs Galkins for the final sentence. Shocked, Rungsted resurfaces at minute 16 with two consecutive shots from the blue blocked by Calpa. Too little for causing anxiety in Latvian fans that can jubilate again at 16:06 watching Martins Lavrovs netting the third goal. On the verge of a disaster, uncapable to react, for one of the mystery of the sport, Rungsted doesn't sink, finding immediately the second goal with Emil Christensen with an individual move and unexpectedly manage to tie the game 30 seconds before the first siren with a precise shot of Bergman Robin for the joy and the sigh of relief of fans.
After the thrills of first period, the central one is more balanced, with not great chances for both team in the first 10 minutes, before two great opportunities wasted by Rungsted in a minute: Marcus Nilsen all alone fires on Calpa at 34 and a minute after same Calpa makes a great save closing the door deflecting an attempt of Nikolai Gade. Rungsted now leads the game and finds the deserved advantage at 34:32 with a precise shot by Brandon Nash, impossible to catch for Calpa. But as in the first period, incredibly the best momentum of a team suddenly finishes when the dying opponent seems at the last gasp: what Rungsted did in the first period, Kubads repeat in the second: at 35:22 an incredible mistake by Emil Chistiansen offers a puck impossible to miss to Gatis Gricinskis and a minute later Edgars Brancis finds a poisonous deflection beating Sebastian Feuk for the fifth goal. Before the end of the period Calpa denies twice the tie at Boysen.
The last period begins with moments of tension for a rough check by Marco Illeman on Sandis Zolmanis, the Latvian forward is back on ice after some lines changes earning a capital four minutes power play for his team, perfectly exploited: Janis Sprukts (46:16), Martins Gipters (47:21) and a deflection of Martins Lavrovs on a wanderer puck at 48:26 dig a three-goals lead crucial for the game. Before the final siren Feuk is decisive on Gricinskis and Strupe to keep the gap of four goals
Current events
External links

Czech Rep.: Tipsport extraliga | 1.liga | 2.liga

Slovakia: Tipsport Extraliga | 1.liga

Sweden: SHL | HockeyAllsvenskan
Other: EBEL | Belarus | Croatia | Denmark | Estonia | France | Great Britain | Iceland | Italy | Latvia | Lithuania | MOL-liga | Norway | Poland | Romania | Serbia | Slovenia | Spain | NHL | AHL |
League standings
Game fixtures
League leaders
A short Cup competition involving four teams is to be played from next week in England. Read more»
The resumption of ice hockey in Britain begins this weekend. It will be in the form of a short seven week competition known as the Spring Cup. Read more»