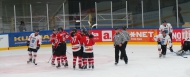 Donbas takes three points
In the game between the underdogs of the group, Ukraine champion earns probably the only points of the Continental Cup campaign in Riga
A couple of years ago this game would be finished with a double digit score, but a lot has happened in the meantime and today Estonian champion Narva PSK and Donbas Donet'sk open as underdogs the second round of Continental Cup in brand new Kurbads arena, in the Latgale suburb of Riga, in the comeback of European tournament in Latvia after the 2009 edition, played in Liepaja. Nothing strange to be considered not favourite for the Estonian team, very strange for the champion of Ukraine, until some years ago playing in KHL before the civil war devastating the East part of Ukraine. To worsen things, the new age limit decided this season by Ukrainian League, and proposed by same Donbas, turns the Ukrainian championship in a junior league.
The idea that the Continental Cup weekend will be an outing in Riga for both teams is confirmed by a first period with poor hockey on ice, confusing moves and slow skating: Donbas opens the score after 2 minutes on power play with Sergei Kuzmik finishing a pass from Aleksandr Alexandrov. Ukranian team has multiple chances to double the score but the inaccuracy of forwards and the ability of goalie Anatoli Sizov keep the score open until 12.21 when, in the only real offensive move, Narva ties game for the joy of noisy Estonian fans: Dyachenko rebounds on Anohhin and Ilja Iljin is the most reactive to tap the puck in the net.
The central period sees Donbas goalie Dyachenko more busy, poked especially with long-range shot: Kuznetsov, Kirill Iljin and Alexander Bogdanov have chances to score: less active but more effective Donbas double the score after a messy move in front of the cage, finished by Ivan Savchenko at 35:51.
The most beautiful goals coming in the last period: a missile from the blue by Dmitri Ignatenko gives Donbas the double advantage at 44:37, reduced by a beautiful shot from the angle by Kirill Iljin one minute later. After the goal, however, Narva isn't able to siege the Ukranian cage, despite a couple of power-play and after two great chances wasted by Luhovy and Kuzmik, suffers the fourth goal, scored by Ivan Savchenko, deflecting a wondering puck in front of the cage, validated after a video review.
Donbas earns the first point in the competitions, by beating possibly the weakest team, while Narva, likewise, lost probably the only chance to leave the tournament not as bottom team.

Czech Rep.: Tipsport extraliga | 1.liga | 2.liga

Slovakia: Tipsport Extraliga | 1.liga

Sweden: SHL | HockeyAllsvenskan
Other: EBEL | Belarus | Croatia | Denmark | Estonia | France | Great Britain | Iceland | Italy | Latvia | Lithuania | MOL-liga | Norway | Poland | Romania | Serbia | Slovenia | Spain | NHL | AHL |
League standings
Game fixtures
League leaders
After two years of preparation, next November the new multi-national tournament will see the light Read more»
KHL President Alexei Morozov said non-Russian clubs will start the season in Russia and may stay there until the issue of crossing borders between states is resolved. Read more»