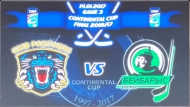 Shootouts deadly again for Beybarys
Kazakh team undeservedly lost after a dominated game and it's eliminated from the race for the title
Last chance for Beybarys to get back on track and stay alive in the race for the silver plate, but Kazakh team has a complicate challenge against Nottingham Panthers, energized after the convincing victory against Odense. Kazakh coach Istomin mixes the lines, moving Konstantin Baranov on first line and switching the position between Eli Sherbatov and Aleksandr Zhurun. Corey Neilson, with a roster plagued by injuries, align the same lines of yesterday victorious game.
The game begins with a good rhythm, the first chance is for Beybarys, a shot by Zubkov rebounded by Wiikman. Surviving a power play, the Kazakh raise the pressure sieging the Panthers' cage, well defended by Wiikman: Vak and Vishnovsky tries are rebounded by the Finnish goalie. Despite the more puck possession by Beybarys, it's Nottingham to have the best chance with Robert Farmer netting a beautiful counter-attack, but the goal is disallowed for the position in the crease of Panthers forward. Beybarys fruitful the pressure at 16:51 on power play Dmitri Stepanov finds the right angle to beat Wiikman from the distance. Before the end of period Nottingham takes advantage of a double superiority, beating Adam Svoboda with a beautiful shot by Jason Williams.
In the second period at 22:40 Chris Lawrence runs over goalie Adam Svoboda who was out of the cage to recover a puck: the rough impact forces Svoboda to get out the ice, replaced by back-up Artem Mikushin, very reactive on Lawrence at 29. After a quite phase, Wiikman makes a great save on a one-timer by Vishnyakov with 2 minutes to play to finish a period without many emotions.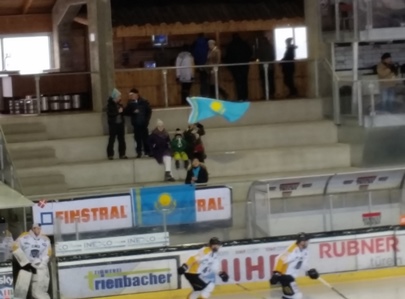 Loyal Kazakh fans

Also the third period is controlled by Beybarys: Nottingham has a chance with Lee at 50, deflected by Mikushin while Wiikman has more work on Vak, Vishnyakov and Korobov. When the game seems next to overtime, it comes the move of the champion: at 53:30 a shot by Robert Farmer is rebounded with difficult by Mikushin, the puck rears and falling is touched by Brian McGrattan in the net. A capital goal found by Panthers in a difficult moment, with Beybarys pressuring the British. But the joy of fans lasts one minute: Dmitri Stepanov beats Wiikman taking a wandering puck after a confusing move in front of Panthers' cage. The last two minutes, played by Panthers shorthanded, are suffering for British fans: Wiikman saves twice on long-range shot keeping the team alive until overtime. In the prorogation Mikushin makes a great save on Williams in a period better played by Panthers, with Wiikman decisive with the pad on Malyushkin and Deryabin from the blue. Game is again decided at shootouts, the second consecutive for Beybarys: Vishnyakov misses the net, Mikushin stops Williams, Wiikman deflected on Spiridonov, Carter beats Mikushin, Vak scores deking Wiikman and finally Lawrence scores giving Panthers the victory that eliminates a worthy Beybarys
MVP: Dmitri Stepanov – Miika Wiikman

Czech Rep.: Tipsport extraliga | 1.liga | 2.liga

Slovakia: Tipsport Extraliga | 1.liga

Sweden: SHL | HockeyAllsvenskan
Other: EBEL | Belarus | Croatia | Denmark | Estonia | France | Great Britain | Iceland | Italy | Latvia | Lithuania | MOL-liga | Norway | Poland | Romania | Serbia | Slovenia | Spain | NHL | AHL |
League standings
Game fixtures
League leaders
Canada takes gold after thrilling final against Russia. Sweden grabs bronze. Read more»