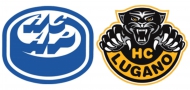 A brilliant night all over southern Switzerland
The second round of the quarter-finals (and of the relegation round) is a convincing one for both the Ticinesi
It's been an interesting night all over Switzerland: tonight's National League A round saw every team leading the series widening its advantage on their direct opponent, while the relegation round gave us some surprises as well. Let's focus on the two teams from the Italian-speaking region of the country, HC Lugano and HC Ambrì-Piotta.
At the Resega ice rink, Lugano defeated EV Zug 4-2 after an exciting game where the second period played by the Bianconeri really made the difference: after a first fraction of the game where the two teams were tied 1-1, the home team scored again with Damien Brunner, and despite another goal by Bouchard, it was able to score again immediately after, thanks to a brilliant score by Martensson (who also scored the first goal for the Ticinesi), thus closing the second third of the match 3-2. Alessio Bertaggia was also a key player, and behaved effectively as he had already done in the first game of the series.
In the closing period, Zug tried to apply some pressure on Lugano, but was never really effective and all the goal attempts ended up quite far from goalie Elvis Merzlikins. A decisive penalty obtained by Kienzle gave Lugano the final point on the score sheet, while their opponents played the few remaining minutes in a state of deep frustration and helplessness.
At the Valascia, the other arena in Ticino,  the atmosphere was quite different: half empty because of a snowstorm, the rink was even more torn by doubts and restlessness after last Thursday's defeat against Biel, which put Ambrì in serious threat. Still, tonight's opponent Lausanne was quickly shut, with the Biancoblù convincingly winning 3-1 and scoring two brilliant goals scored one after another by Grassi and Emmerton at the end of the central period. Thanks to this victory and to Langnau being defeated at home, Ambrì would be able to obtain, in case of a win against the latter next Tuesday, its final and certain survival in the NLA. The two bottom teams of this mini-relegation round (where everyone keeps the points earned during the main round) will have, indeed, to face each other again, with the losing club again on the ice against the winner of the second-tier competition, the National League B. 
Current events
External links

Czech Rep.: Tipsport extraliga | 1.liga | 2.liga

Slovakia: Tipsport Extraliga | 1.liga

Sweden: SHL | HockeyAllsvenskan
Other: EBEL | Belarus | Croatia | Denmark | Estonia | France | Great Britain | Iceland | Italy | Latvia | Lithuania | MOL-liga | Norway | Poland | Romania | Serbia | Slovenia | Spain | NHL | AHL |
League standings
Game fixtures
League leaders
Ahead of the coming World Championships the EIHL is to host a new mini series. Read more»
A short Cup competition involving four teams is to be played from next week in England. Read more»