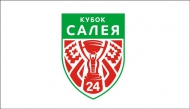 Fifth Cup for Yunost
By beating Dinamo Maladzyechna in a tight final series, Yunost Minsk has become the biggest winner of the trophy
The 2015 edition of Belarus Cup, named after Ruslan Salei, in memory of the defender tragically passed away in Yaroslavl plane crash, was decided in a tight home/away final series between the major winner of the competition, Yunost Minsk, and the Dinamo Maladzyechna, for the first time finalist of the trophy. A goal by Aleksandr Abakunchik at minute 25 of the first final, played last October 06 at Chizhovka Arena Minsk was enough to bring the trophy back to the capital, after the victory of Neman Grodno last season. In the second final, played yesterday at Ice Palace in Maladzyechna a unusual 0-0 score secured the advantage of Yunost because the rules of competition says the winner will be determined with the best goal difference. Thus Yunost Minsk grabbed the fifth National Cup, after those won in 2004, 2009, 2010 and 2013. Vadim Salei, Ruslan Salei brother, attended the award ceremony.

"The match was really hard-fought For many of our young players this is the first trophy, a good motivation for them. Our opponent looked better, especially in the second period. I am glad that our goalie closed both games without suffering goals against a very good team." said Yunost coach Mikhail Zakharov.
"In a game like that, every goal weight in gold.We needed to score. Today we just did not have a little bit of luck. The puck rolled on the ribbon, just needed to score one goal, then the game would have turned out quite differently. I think today we played pretty well. The only thing I would like to apologize to the fans. We really wanted to win today." commented Dinamo defender Andrei Filichkin
Yunost captain Oleg Shafarenko won his fourth Cup, a record for a player: "To lift the cup after a game like this with the result 0:0 it's strange, it's the first time in my career. we can say: we played football today! The game, to be honest, was not very beautiful. But it's a final with a Cup for grabs. Dinamo is made by young, ambitious guys. Maybe they still lack of a little bit of skill, but is a good team with a competent coach. For me, this is the fourth Cup of Belarus. I'd say the most memorable final. I'm the major winner?Thank you, I'll know (laughs) "

Czech Rep.: Tipsport extraliga | 1.liga | 2.liga

Slovakia: Tipsport Extraliga | 1.liga

Sweden: SHL | HockeyAllsvenskan
Other: EBEL | Belarus | Croatia | Denmark | Estonia | France | Great Britain | Iceland | Italy | Latvia | Lithuania | MOL-liga | Norway | Poland | Romania | Serbia | Slovenia | Spain | NHL | AHL |
League standings
Game fixtures
League leaders
As the pandemic continues to ravage ice hockey throughout the world the Scottish Ice Hockey Association decided enough is enough. Read more»
The IIHF Council decided unanimously today to initiate another series of tournament cancellations for the 2020/21 season, following recommendations of the IIHF COVID-19 Expert Group. ... Read more»