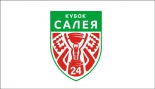 Belarus Cup
League status: Active
English name: Кубок Беларуси
Administered by: Belarus Hockey Federation
Head manager: Evgeny Vorsin
Year of start: 2002
Did you find any incorrect or incomplete information? Please, let us know.
GROUP: Group A
GROUP: Group B
Last updated: 30 Aug 2018, 21:32
Two Groups of 6 teams each plasying a round robin. Winner of each group plays final
Gomel win Belarus Cup
Kazakh forward German Nesterov was the key player for Gomel winning the 2018 Belarus Cup, named after Ruslan Salei. Nesterov scored a goal, seved one assist and netted the decisive shootout in 3-2 epic victory at Ice Palace Grodno in front of 2800 spectators against Cup holder Neman Grodno. The first leg of final ended 2-2. With this victory Gomel award the fifth National Cup, becoming the major winner of the Trophy along with Yunost Minsk, both with 5 titles
(20 Dec 2017)
Draw in the first leg of Belarus Cup
In front of 2.800 spectator at Gomel ice arena, home team lets the victory escaped in the first leg of Belarus Cup final against Neman Grodno. Leading 2-0 after 22 minutes, Gomel suffered two goals in 15 seconds at minute 24.for the final 2-2
The second decisive leg will be played at Neman Arena on December20
(05 Dec 2017)
Neman and Gomel are the finalists of Belarus Cup
Despite two defeats in 2nd leg of semifinals, Cup holder Neman Grodno and HK Gomel are the finalists of 2017 Belarus Cup, named after Ruslan Salei.
In a replay of last season Cup and league finals, Neman knocked out rival Yunost Minsk, winning 6-4 in Minsk and loosing 1-2 at home.
An opening goal by Edijs Brahmanis was enough for Gomel to secure the pass for the final, despite the 3-1 defeat against Dinamo Maladzyechna, thanks to the 3-0 victory in the first leg.
The date of final is TBD
HK Gomel won the national Cup 4 times, the lasty in 2013; Neman has two titles, in 2015 and 2017
(27 Sep 2017)
Belarus Cup semifinals set
After the last game, won by Dinamo Maladzyechna against Yunost Minsk, the semifinals of Belarus Cup are known with the first two teams from each of two groups qualified: HC Dinamo Maladzyechna, winner of Group A, will play with Gomel, while Neman Grodno will face Yunost Minsk. The dates of two legs of semifinals are to be determined
(27 Aug 2017)
Crvena Zvezda will compete in Belarus Cup
The calendar of 2017 Belarus Cup, named after hockey legend Ruslan Salei, was unveiled with a unexpected news: Serbian team Crvena Zvezda Beograd will compete in the Cup as host team, without the right to eventually advance to final. Serbian team, with Belarusian Igor Krivoshlykov in the coaching staff, will spend pre-season training camp in the city of Kobrin, successfully asking to the Belarus Federation to compete in a tournament as part of preparation for the new season, according to the rumours, in the newly created International Hockey League with Slovenian, Croatian and Serbian teams
As usual the teams are divided in two groups, with the top two teams in each group advancing to semifinals.
Last year Neman Grodno, later also Extraliga champion, won the Cup beating Yunost Minsk in the final
(17 Jun 2017)
Neman win Belarus Cup
After the defeat 4-5 at home in leg one of the finals, Neman Grodno overturned the score winning 4-1 at Chizovka Arena in Minsk, earning the second Belarus Cup, named after legendary Ruslan Salei, in the history of club, after the first ever won in 2014-15 defeating again Yunost in the final.
The club from Minsk is still the major winner of the trophy, with 5 victories
(25 Oct 2016)
Belarus U20 and Khimik withdrew from Belarus Cup
Belarus Federation announced changes on calendar of Belarus Cup, named after Ruslan Salei, that was supposed to start today: two teams - Belarus U20 and SKA-Khimik Novopolotsk - were withdrew from competition for different reasons: Khimik faced a serious financial crisis during the summer, resolved only days ago, so the team started preparation very late and is not able to compete, while Federation decided to focus the U20 national team preparation for upcoming tournaments in autumn.
Check the new fixtures here
(26 Jul 2016)
Calendar of Belarus Cup unvelied
Belarus Federation publishes today the calendar for Belarus Cup, named after Ruslan Salei, in memory of the defender tragically passed away in Yaroslavl plane crash. As in last editions, the 11 Extraliga teams plus Belarus U20 national team are divided in two groups playing a single round robin. The two winners will advance to finals. Two finalists from last edition, champion Yunost Minsk and Dinamo Maladzyechna are in thew same group, so won't meet in the final act.
As usual Eurohockey will follow Belarus Cup with game-by-game stats
(12 Jul 2016)
Yunost and Dinamo Maladzyechna will battle for Salei Cup
Yunost Minsk and Dinamo Maladzyechna are the finalists of Salei Cup (National Cup of Belarus) 2015. In a home/away semifinal series Yunost won national champion Shakhtar Soligorsk 8-3 and 2-6 reaching the final for the seventh time since the first edition of the competition in 2001-02 equaling the record of defunct Keramin Minsk. Yunost already holds the record for the most wins, four, along with HK Gomel.
Dinamo Maladzyechna, a team founded in 2014, reached its first ever final by beating 2-1 and 3-3 Khimik-SKA Novopolotsk
Final will be played in home/away format, on October 06 in Minsk and October 20 in Maladzyechna
(30 Sep 2015)
Semifinals defined in Belarus Cup
After the end of first phase, with teams splitted in two groups, are known the semifinalists of Belarus Cup. Trophy holder Neman Grodno was surprisingly eliminated in Group A
Yunost Minsk - Shakhtar Soligorsk
Khimik-SKA Novopolotsk - Dinamo Maladzyechna
Semifinals will be played in September, dates are to be determined, with home/away format
(19 Aug 2015)
Past league results:
League standings:
Historic statistic:
Individuals records:
Fast facts
season 2018-2019
HK Kurbads debuts with nine goals and a total dominance agaist SA Akureyri Read more»
Ukranian champion needs two periods to break the resistance of Txuri Urdin Read more»