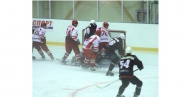 Cup Grain Union of Kazakhstan, Day 1
A tough game between Gornyak Rudny and Arystan Temirtau, the debut of several players on the ice and a crowded arena: all this happened in the first day of the Cup Grain Union of Kazakhstan, playing in Kokshetau
The tournament begins with the match between Arystan and Gornyak. Before the game, many fans were talking about a confident victory of the "lions". However, the reality turned out quite differently. The game was balanced, and even if Gornyak had a little advantage in terms of puck possession, their goals came from the frequent mistakes by the "Lions" of Temirtau
The first goal in the match was in the tenth minute. Donatas Kumelyauskas flew behind Gornyak keeper, Alexei Gerov to assist his compatriot Arnoldas Bosas, who scored the first goal of the tournament.
Andrei Zalipyatskikh's team immediately reacted, but Pavel Zhitkov worked very well in the Arystan cage and at the begin of the second period debutant Maxim Orlov increases the score: 2-0 Arystan. Well, the fans were right? Not really. It takes just over a minute and veteran Julian Popovich finds the net:. 2-1. The game continues very balanced and neither team takes a clear advantage on the ice. At 27 minutes another experienced player, Yuri Mogilnikov, equalize the game with Gornyak on power play. But the period still save an emotion: with 09 seconds to play before the siren. defender Sergei Tyurin scores third Arystan goal.
If the end of second period  saw Arystan celebrate, the start of the third is dominated by black and white from Rudny and again goalie Zhitkov is decisive: but at 40:37 a uncommon event: Gornyak equalizes the game with another debutant, Sergei Shipitsyn, and all the crowd celebrates: not for the beauty of the goal but because Shipitsyn was a long-time fan favourite in Kokshetau, where he played for four seasons. Same Shipitsyn feeling the special atmosphere, managed to score the fourth goal and put his team ahead. A minute later Maxim Orlov equalized the score with an accurate throw, after a very good preparation by Anton Dubinin sending the game into overtime.
We are accustomed to see additional five-minute boring and interesting. But this was not the case. At the start of overtime, "Lions" playing in the power play thrashes a very good chance with Vyacheslav Belan. After that, the teams threatened the gates of each other several times but both goalies were very concentrated.. Thus, the verdict was delegated to the shootouts: here was Sergei Yakovenko to score the decisive one, giving the victory at Arystan
Summing up the game, I can say that the game did not like a summer friendly match. It was intense all along the 65 minutes, both teams showed great commitment, and if weren't for the mistakes typical of August hockey, then it might seem that we are watching a playoff series game. And this in a friendly tournament! friendly tournament!
The second tournament match was between host Arlan and Berkut Karaganda, the second team of VHL silver medalist Sary Arka Karaganda Once again the real winner were the hockey fans of Kokshetau: attendance was high, giving a special atmosphere to this match
Complete boxscores of the games here:

Czech Rep.: Tipsport extraliga | 1.liga | 2.liga

Slovakia: Tipsport Extraliga | 1.liga

Sweden: SHL | HockeyAllsvenskan
Other: EBEL | Belarus | Croatia | Denmark | Estonia | France | Great Britain | Iceland | Italy | Latvia | Lithuania | MOL-liga | Norway | Poland | Romania | Serbia | Slovenia | Spain | NHL | AHL |
League standings
Game fixtures
League leaders
The Russian Federation declared champions the teams at the top of standing when the Leagues were stopped Read more»
According to Miroslav Šatan, the next season of Slovakian Extraliga is in danger. Read more»