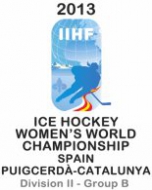 2013 Women's Div. II Group B
Six teams start the tournament today.
The 2013 Women's Div. II Group B tournament got under way today in Puigcerdà, Catalonia, Spain. Six teams are participating, Belgium, Croatia, Spain, Iceland, South Korea, and South Africa. The tournament will run until the 7th of April.

South Africa vs Iceland 1-5
South Africa kept pace with Iceland in the first, but their goaltending was not up to the task. Iceland scored early and quickly with Gudmundsdottir scoring just 40 seconds into the period. Ingadottir scored only 16 seconds later to put them up 2-0. Shantz-smiley and Gudbjartsdottir added goals to make it 4-0. A minute later Shannon scored for the South African team, but the damage had already been done. South Africa was heavily penalized in the second period, but managed to make it through the period without giving up a goal. In the third Baldursdottir added another for the Icelanders. Shantz-Smiley had 3 points on the night and Blondal led the face-off circle with +8.

South Korea vs Croatia 4-1
This was a fairly even game with shots nearly equal throughout. Croatia scored early in the first and held the lead for quite some time until mid-way through the third period when Ahn scored for the Koreans. A minute and a half later Yeon-jeong Lee scored again putting them up 2-1. Croatia called a time-out to quiet things down, but it didn't help. A few seconds later they took a penalty and Park quickly scored to make it 3-1. With a few seconds left in the game, Young-hwa Lee scored to cement the victory. Soo-jin Han was was +12 in the face-off circle and Su Sie Jo had 2 assists.

Spain vs Belgium 3-1
This was the most lop-sided game of the day, despite the score being the closest. Spain outshot Belgium 48-12. The game was kept only as close as it was by the play of Belgian goalkeeper Schonwetter. Belgium actually scored first on one of only 2 shots in the first when Janaer got the puck in the net. In the second, Spain tied it up on a goal from Ucedo. Near the mid-way part of the third, Spain took the lead when Ruiz scored. After Spain took a penalty with a little over 4 minutes left, Belgium pulled the goaltender several times in an attempt to score. Finally with only a few seconds left Ucedo scored her second of the game on the empty net. Belgium obviously has goaltending ability but they need more shots and offense. Gurrea was +8 in the face-off circle for Spain, both of Ucedo's goals were unassisted.



Czech Rep.: Tipsport extraliga | 1.liga | 2.liga

Slovakia: Tipsport Extraliga | 1.liga

Sweden: SHL | HockeyAllsvenskan
Other: EBEL | Belarus | Croatia | Denmark | Estonia | France | Great Britain | Iceland | Italy | Latvia | Lithuania | MOL-liga | Norway | Poland | Romania | Serbia | Slovenia | Spain | NHL | AHL |
League standings
Game fixtures
League leaders
Belfast Giants (EIHL) who currently occupy 5th place have made changes to improve their roster. Read more»
The Czechs wins the first EHT tournament of the season after three straight wins Read more»