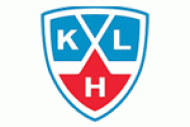 Regular Vityaz brawl
In its last game of the season on home ice, Vityaz started another fight; Dinamo Riga, Salavat Yulaev and Avangard qualified for the playoffs; Metallurg Nk increased their chances to be in the top eight in the East.
Amur 4-1 Yugra
The KHL game day started in Khabarovsk, where Amur faced off with Yugra. All game, Amur peppered Yugra goalie Edgars Masalkis with shots. Masalkis faced 48 shots and conceded three goals - two from Igor Ignatushkin and one from Martin Ruzicka. Yugra managed only 18 shots, with one from Igor Magogin an unsolvable problem for Alexei Murygin. With five seconds to play in the third, Andrei Mukhachyov put the game away with an empty-net goal. It was Mukhachyov's first goal this season.
Metallurg Nk 2-1 Metallurg Mg
In Metallurg's derby, Novokuznetsk players were luckier to save their chances for playoff qualification. Brent Sopel fed up a pass from the blue line to Andrei Kuzmin, who opened the scoring on a power play at 26:41. Another Canadian, Randy Robitaille, dished a pass to Filipp Metlyuk, who extended Novokuznetsk's lead to two goals. The Magnitogorsk team only managed to score once, when a shot by Juhamatti Aaltonen found its way into the net. After this win, Metallurg Nk are closer to Yugra in the battle fo eighth place in the East. Now Yugra is only three points ahead of Metallurg and both teams have four games left in the regular season.
Sibir 1-4 Avangard
Avangard had a chance to jump from fifth place in the East into second, behind only Salavat Yulaev, the leader of Chernyshyov division. The game in Novosibirsk wasn't so difficult for the Omsk team, as they gradually increased their lead to four goals with the help of Roman Cervenka, Andrei Ivanov, Yegor Averin, and Georgiy Pujats. Sibir scored only once when Vyacheslav Solodukhin used a pass from Alexander Chernikov to make the final score 4-1.
Salavat Yulaev 6-4 Torpedo
Salavat Yulaev rally from a two-goal deficit to beat Torpedo 6-4. Torpedo got a quick two-goal lead when Mikhail Varnakov scored twice on power plays in the middle of the first. Then in the first half of the second the Ufa team scored five times with goals by Denis Platonov, Igor Grigorenko, Alexander Svitov, Alexander Radulov, and Antti Pihlstom. Torpedo tried to made a comeback but only managed to make the score 5-4, when Vladimir Galuzin and Maxim Potapov beat Erik Ersberg. Salavat Yulaev closed the game when Igor Mirnov scored an empty-net goal at 59:59. With the win, Ufa secured second place in the East.
Vityaz 1–5 Atlant
Vityaz played as limited as usual. When they were trailing Atlant 4-1 in the middle of the third period, the patience of their Canadian tough guys came to an end. Christopher Brennan, Nik Tarnaski and Jon Mirasty got major penalties and game misconducts at 48:08 after trying to start
a brawl against the Atlant line that was on the ice. Andrei Zubarev easily capitalised on the resulting power play chance to make it 5-1 at 51:43. With two minutes to play in the third Alexander Fedoseyev and Jeremy Yablonsky tried to start another fight but only got match penalties. Atlant took the lead at 8:42 with an accurate shot from Alexander Rybakov. Vityaz managed to tie the game in the second when Nikita Dvurechensky won a battle for a loose puck in front of Atlant net. Jane Niskala, Patrick Zackrisson and Jonas Andersson increased the lead to three goals. After this win, Atlant is in fifth place in the West.

Neftekhimik 1–3 Dynamo Msk

Dynamo Moscow didn't feel any problems in Nizhekamsk where they met Neftekhimik. With goals by Konstantin Gorovikov and Mikhail Anisin Dynamo earned a 2-goal lead to 23:56. Yegor Milovzorov cut it in power-play at 48:37. Leonid Komarov with his 10th goal of the season closed the game at 59:28 with his empty-net shot.

Severstal 1–3 SKA

SKA continued to be at the top of the West and tries to get the whole leadership in KHL. The game started not good for the visitors. The best scorer of Severstal Vadim Shipachyov scored in power-play with assists from Staffan Kronwall and Maxim Chudinov. Three minutes later Tony Martensson tied the game in power-play with Kronwall being in the penalty-box for game delaying. Matthias Weinhandl and Patrick Thoresen turned the game into SKA account with two accurate shots. Both goalies made a great job Jakub Stepanek stopped 37 shots while his opponent Vasily Kosheckin stopped 38, but this didn't help his team not to lose this night.

Spartak 1–2 Dinamo Riga

Spartak still had chances to qualify for the playoffs this year but after a loss against Dinamo Riga which clinched it this night it's become mysterious for Moscow team. But everything started great Stefan Ruzicka scored his 22nd goal of the season after a getting a pass to empty-net from Roman Lyuduchin. Dinamo made a second period comeback to win the game with two shots from Janis Sprukts and Girts Ankipans. Spartak goalie Sergei Borisov faced with 39 shots in this game and only two were a real problem for him.

CSKA 4–1 Barys

Another game in Moscow started at the time as Spartak – Dinamo Riga. In the middle of the first period Barys led and Spartak led that seemed that Spartak will get closer to CSKA, but it didn't happen. Jonas Enlund opened the score in this game after a good pass from Kamil Kreps. But CSKA to the end of the period managed to pull ahead with Andrei Sergeyev and Alexei Yashin goals. Home team scored once in the second and the third to win the game and get real chances for playoff qualification. Now they need only to earn 2 points in last three games and hope that Spartak won't win all their last 4 games.

Dinamo Mn 2–1 Avtomobilist

Dinamo Minsk to the last part of the season had only one aim, they needed to get to the top half of the playoff spots. Minsk team opened the scoring after penalty of visitor Vasily Streltsov ended with Zbynek Irgl accurate shot. Canadian Charles Linglet who yesterday got a Belarus passport as his teammates goalie Kevin Lalande and forward Jeoff Platt increased a lead to 2 goals after being better D-mans on the rebound. Avtomobilist tried to make a nervous ending for Minsk team after Alexei Krutov's goal early in the third. Dinamo Minsk will end their last home series this Sunday against Traktor.

HC Lev 2–4 Traktor

Before the start of the game HC Lev knew that they lost their last chances to qualify for the playoff after the wins by CSKA and Dinamo Riga. Nothing happened in the first where teams only got 2 minutes of penalty. At 25:25 Stanislav Chistov pulled Traktor ahead with a pass from Yevgeny Kuznetsov. Soon Lubos Bartecko tied the game with a shorthanded goal, three minutes later Rastislav Spirko made it 2-1 for HC Lev. But in the end of the period Vladimir Antipov and Alexander Ryazantsev returned a lead for Traktor. Visitors captain Antipov scored the last of a big KHL game day allowing Traktor to be at the top of the league with SKA.


Czech Rep.: Tipsport extraliga | 1.liga | 2.liga

Slovakia: Tipsport Extraliga | 1.liga

Sweden: SHL | HockeyAllsvenskan
Other: EBEL | Belarus | Croatia | Denmark | Estonia | France | Great Britain | Iceland | Italy | Latvia | Lithuania | MOL-liga | Norway | Poland | Romania | Serbia | Slovenia | Spain | NHL | AHL |
League standings
Game fixtures
League leaders
As we approach the new year, one of ice hockey's most anticipated and prominent events lingers on the horizon, the men's ice hockey tournament at the Winter Olympics. ... Read more»