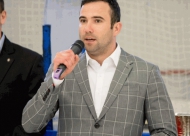 Yunost is a definite brand in hockey community
Yunost Minsk Chairman Alexei Torbin talks about the philosophy of one of the best known clubs
Alexei Torbin, Sporting Director and interim Chairman of Yunost Minsk, talks with hockey portal belarushockey.com about the philosophy of the club

"Today our club's motto is: you must always finish first, but don't get ahead of yourself". Yunost is a definite brand, not only in Belarus. If you go in any hockey arena around Europa asking what Yunost is, everyone will be able to answer you. People who loves hockey know what Yunost is.
Our hockey school is a large organization with a large number of children. They train really good hockey players there. The best alumni of the school play not only in Yunost, but also in other clubs.
We have decided not to sign imports anymore, there are a lot of problems with them: legal issues, work permits, and this is a completely different form of contract, besides, it is a different mentality. Somehow we abandoned this practice and moved more to the Russian market.
Russia is big, there are many clubs, and sometimes we can offer even better conditions than in the regions of the Russian Federation.Hockey players want to grow up and participate not only in the national championship, but also in the Champions League, they want to break through to other European clubs, like Dynamo Minsk , through Yunost.
Those Russians who played with us, leaving for other clubs, speak of a good reputation and organization.You don't have to go far - Dmitry Kolgotin left Yunost for Sochi, and we took him from Zauralie Kurgan, from distant Russia.The guy became more prominent here, and it was from here that he was taken to the KHL.There are a lot of such examples.
As for salaries, we are acting according to the rules.The highest paid hockey player in Belarus earns 6 thousand rubles.Only imports can be paid a little more. At the same time, the total share of salaries should not exceed one hundred thousand rubles per month.
Today, we spend 25 percent of our budget on schools.Children are provided with uniforms, equipment, ice, go to international tournaments - moving is also paid for by the club.Therefore, the club invests in this in order to have investments in the future - this is very important. You can throw money into new transfers, win the league, and drop to sixth place next season.This is not a good indicator, " Torbin said
Current events
External links

Czech Rep.: Tipsport extraliga | 1.liga | 2.liga

Slovakia: Tipsport Extraliga | 1.liga

Sweden: SHL | HockeyAllsvenskan
Other: EBEL | Belarus | Croatia | Denmark | Estonia | France | Great Britain | Iceland | Italy | Latvia | Lithuania | MOL-liga | Norway | Poland | Romania | Serbia | Slovenia | Spain | NHL | AHL |
League standings
Game fixtures
League leaders
A new Extraliga and Vysshaya League are born aiming to increase competitiveness Read more»
The Champions Hockey League Board cancelled the Wild Card for Belarusian champion Read more»