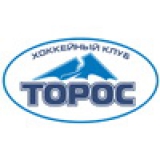 Toros Neftekamsk
Name in original language: Торос Нефтекамск
Year of foundation: 1998
Colours: green, blue, white, sky blue
Club status: active
Address: ul. Lenin, 19 D
452680, Republic of Bashkortostan, Neftekamsk

Phone: +7 (34783) 5-54-25
Fax: +7 (34783) 5-54-23
Email: toros@neftekamsk.ru
WWW: Toros Neftekamsk
Did you find any incorrect or incomplete information? Please, let us know.
Season 2023-2024
This club in 2023-2024: VHL
Current roster
season 2023-2024
* no longer in the club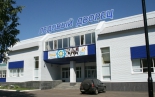 Adress: ul. Lenin, 19 D
452680, Republic of Bashkortostan, Neftekamsk
Phone: +7 (34783) 5-54-23
Capacity: 2000
Opened in: 2006
from 2010 to present: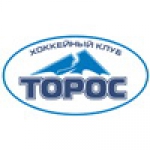 Toros fired coach
After six defeats in last seven games, Toros Neftekamsk announces the dismissal of coaching staff, headcoach Ruslan Suleymanov and assistant Nikolai Zavarukhin. The coaching duo of MHL-B team Batyr will replace them: Konstantin Polozov as headcoach and Pavel Lazarev as assitant.
Toros is currently 10th in the standing, 26 points behind leader Sary Arka
(24 Jan 2015)
VHL Awards
VHL determined the awards for 2012-13 season at the General Meeting in St. Petersburg:
Best Goalie: Vladimir Kovac (Sary Arka Karaganda)
Best Defender: Sergei Karpov (Rubin Tyumen)
Best Forward: Pavel Kopytin (Buran Voronezh)
Best Rookie: Artyom Gareyev (Toros Neftekamsk)
Top Scorer: Aleksandr Shibayev (Dynamo Balshikha)
Best Coach: Ilnur Gizatullin (Ariada Akpars Volzkh)
Playoffs MVP: Vladimir Kokhatsky (Toros Neftekamsk)
(30 May 2013)
SKA St. Petersburg and Toros Neftekamsk win pre-season tournaments
The President of Kazakhstan Cup came at the right time for KHL participants SKA St. Petersburg. With four wins in four games they dominated the tournament. Other KHL teams that played in the cup were Barys Astana and Yugra Khanty-Mansiysk along with the most traditional Kazakh team Kazzinc-Torpedo Ust-Kamenogorsk and a "B" version of the Kazakh national team.

Already yesterday the Lada Cup ended. In a tournament of four VHL teams Toros Neftekamsk won the final 2-1 against HC Sarov. The other two participants were Lada Togliatti and Dizel Penza. Lada won the game for the 3rd place 3-0 against Dizel. A detailed overview you can find here.
(13 Aug 2012)
Set for VHL finals
The 2011 champion Rubin beat Dizel 5-2 yesterday to win the semi final series 4-2 and qualify for the VHL finals against Toros. Toros beat Donbass 4-0 in the other series. The finals start April 17.
(12 Apr 2012)
Toros has a new manager
The VHL team Toros Neftekamsk hired a new manager for the upcoming season: Valeri Nurgutdinov was appointed as director of the club. Nurgutdinov, 42, was director of the Department of Administrative and Social Welfare of the state company "Bashneft".
(02 Sep 2011)
Historic rosters:
Historic statistics:
Past results:
League standings:
Fast facts
season 2023-2024
Toros Neftekamsk participates in season 2023-2024: VHL
Kaunas City celebrate the qualification to the second round of Continental Cup with a ten-goals victory over Skautafelag Rejkyavik Read more»
Estonian champion wins KHL Zagreb ensuring first place for the home team Read more»