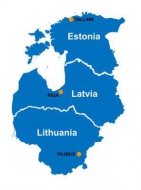 Baltic League finally get off the ground
After two years of preparation, next November the new multi-national tournament will see the light
In 2018 the three Baltic Federations agreed to launch a new multi-national tournament called the Baltic League, as reported by Eurohockey. Since then the idea has remained in a drawer for organizational issues and the Federations prefer launching a Baltic League as national teams tournament. But now finally the original project sees the light: the Latvian Federation announces the begin of the tournament for the end of November.
Six teams will compete in the first edition that will start on November 27: Hockey Punks Vilnius and Kaunas Hockey from Lithuania, HK Liepāja and HK Mogo Riga from Latvia, Tartu Valk 494 and Narva PSK from Estonia
Tartu Valk 494, HK Mogo and Kaunas Hockey will compete in the subgroup named after Sandis Ozolins in Tartu (Estonia), while Hockey Punks, HK Liepāja and Narva PSK will play in the Vilnius (Lithuania) group named after Darius Kasparaitis. Each team will play two games in the first round, and the two best teams from each group will advance at the Final Four
The last step will take place from December 18 to 20 in the new ice hall of Rēzekne (Latvia). The champion of the Baltic Hockey League will be determined by the results of the Final Four tournament. The winner will receive a cup and medals. After the "Final Four" tournament, the best goalie defender, forward and the most valuable player will be determined.
The Latvian Hockey Federation has undertaken to finance all expenses for the tournament.
"This championship is another great opportunity to strengthen cooperation between the Federations in the Baltic States.The Baltic Hockey League will definitely help to further promote and develop hockey in the Baltic region.I am sure that we will see high-level hockey in this championship"said Latvian Hockey Federation President Aigars Kalvītis.
"Lithuanian Hockey Association has always considered cooperation with other Baltic countries to be one of its most important priorities.Therefore, we are very glad that from now on we will organize not only national team tournaments, but also competitions of the strongest clubs in Lithuania, Latvia and Estonia.I think that this is a very important step for the development of hockey in Lithuania and the entire Baltic region" said Dainius Zubrus, President of the Lithuanian Hockey Association

''The unification of the hockey federations of the Baltic States and the opportunity to cooperate with the strong hockey traditions of Latvia is a very important and great progress in raising the level of hockey in Estonia. A higher level and a higher perspective will make hockey more attractive to everyone and help make the sport more popular. A bigger market also gives players and clubs better marketing opportunities''
commented
Rauno Parras
, President of Estonian Hockey,
'' I would also like to thank all Estonian hockey clubs for their contribution to making such a tournament possible!I am also very pleased that one subgroup tournament is taking place in Tartu"

Czech Rep.: Tipsport extraliga | 1.liga | 2.liga

Slovakia: Tipsport Extraliga | 1.liga

Sweden: SHL | HockeyAllsvenskan
Other: EBEL | Belarus | Croatia | Denmark | Estonia | France | Great Britain | Iceland | Italy | Latvia | Lithuania | MOL-liga | Norway | Poland | Romania | Serbia | Slovenia | Spain | NHL | AHL |
League standings
Game fixtures
League leaders
Cardiff Devils won by one-goal-difference against home side Grenoble and advances to the Continental Cup Superfinals along with Nomad Astana Read more»
Kazakh champion closes the Continental Cup semifinals round with a perfect record, by beating HK Zemgale in the last game Read more»