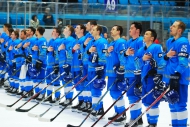 Almost done
With the victory against Korea, Kazakhstan is now one step away from promotion
In the first battle between teams with perfect record, Kazakhstan increases the chances to comeback in the Elite Division inflicting the first defeat on Korea. As usual the crowd packing the Barys Arena in Nur-Sultan gives a special motivation to home team, beginning the game very aggressively and opening the score at 03:57 when Pavel Akolzin deflects a shot from Alexei Maklyukov. Korea suffers the sparkling start of home team, failing to use its best weapon, the rapidity. At minute 8 Dalton saves on Orekhov while at minute 10 is Nikita Mikhalis missing the net from a good position. At the third serious attempt, Kazakhstan double the score with Leonid Metalnikov from the distance.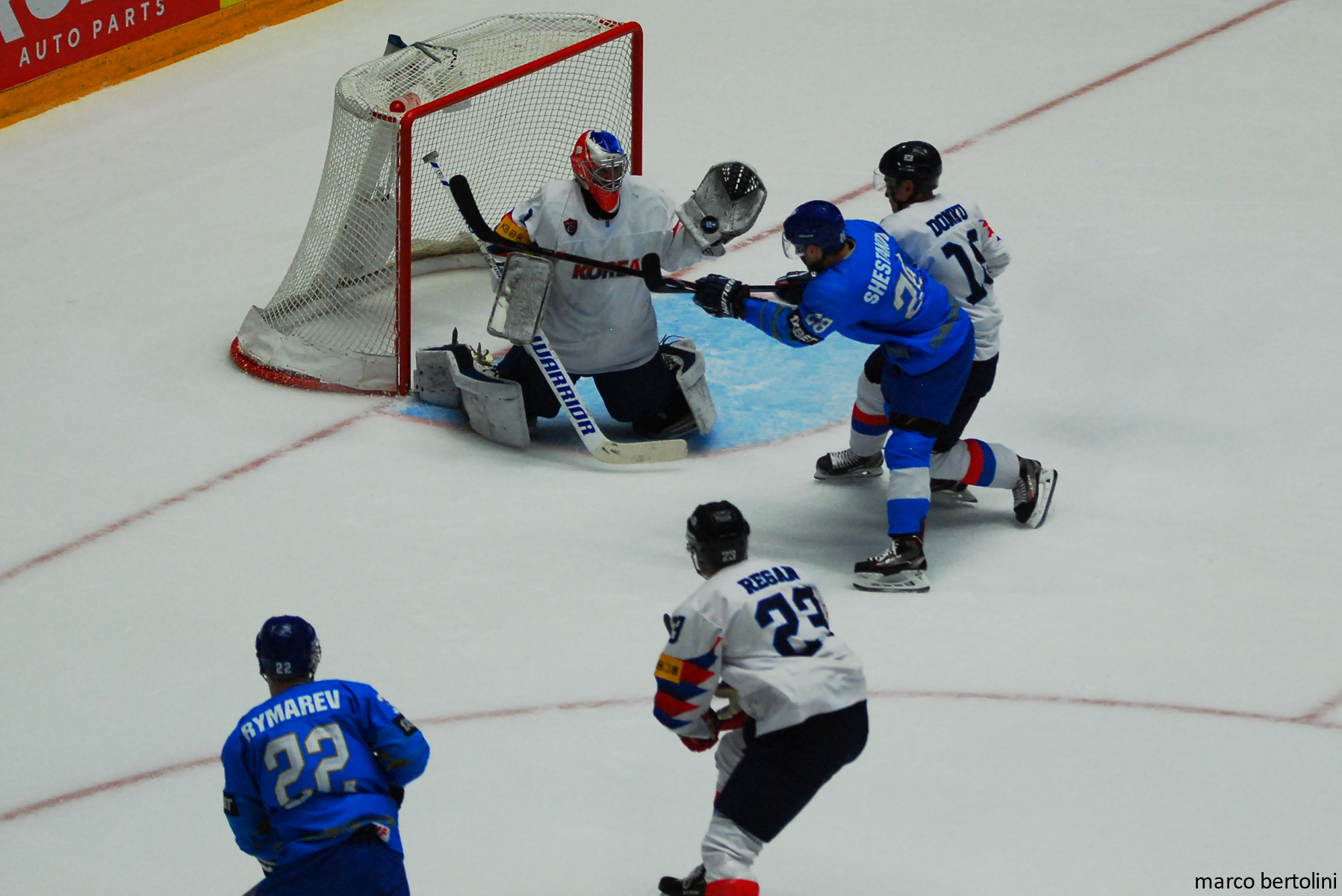 In the second period goalie Matt Dalton dives on the puck at minute 25 avoiding the goal by Brandon Bochenski but must surrender at 29:45 when Dmitri Shevchenko has a perfect timing deflecting a pass from Talgat Zhailauov. Korea finally manages to create a goal chance in the third period on powerplay, when Shin Sang Woo finds the net deflecting a long-distance shot by Kim Hyun Soo. Too late to be a threat for Kazakhstan, that suddenly restore the three-goals advantage with a personal move by Nikita Kleshenko, finished with a classy wrist shot.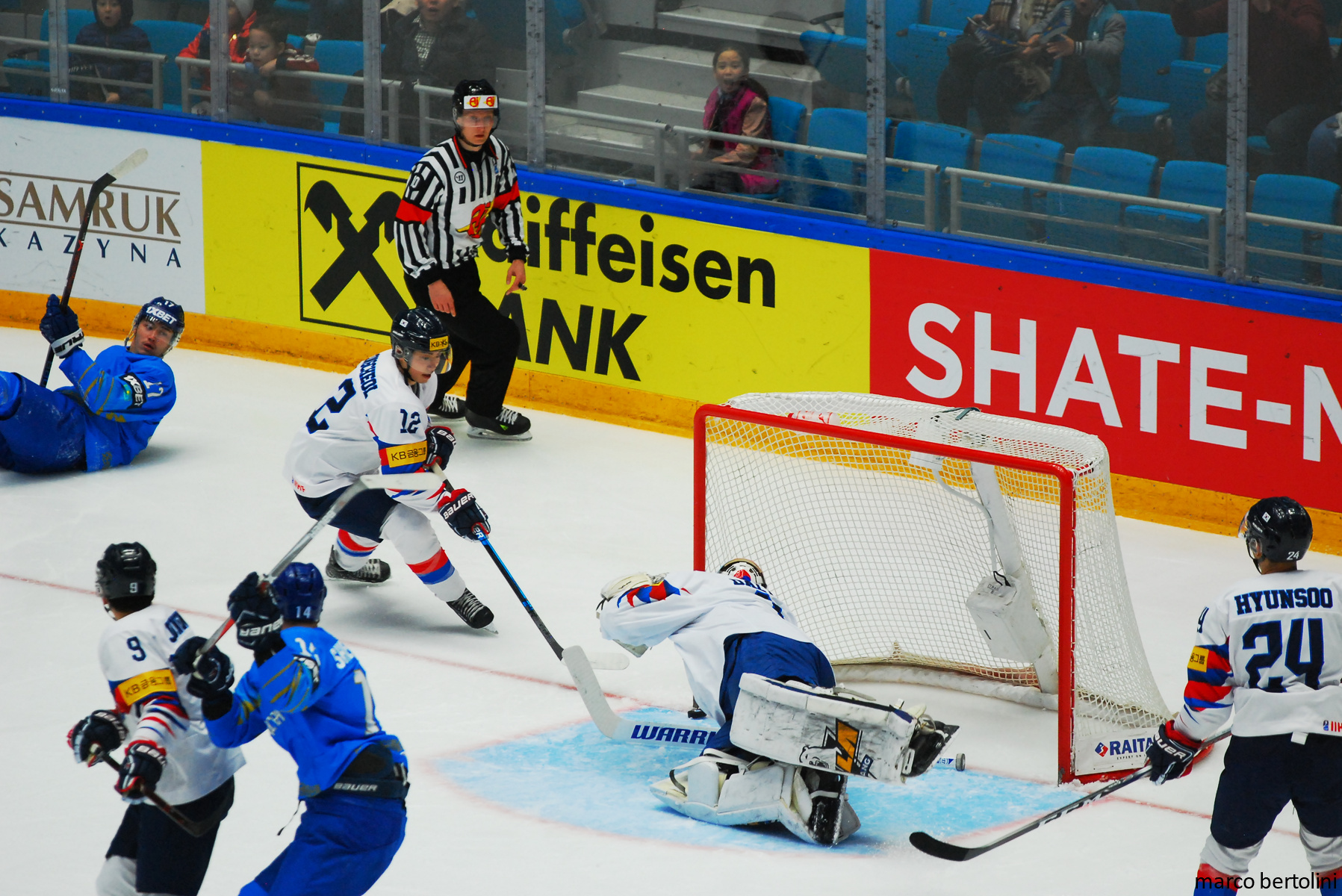 Korea lost a game played shyly never giving the impression to challenge Kazakhstan. The clash with Belarus will be decisive for Jim Paek team. Kazakhstan is near the goal. Having 2 games to complete the journey to Elite Division
MVP: Shin Sang Hoon – Brandon Bochenski
Jim Paek: "Kazakhstan played a great game, they play fast, control the puck very well, it's my fault if tonight we can't counter effectively. we must continue to work and work smart. It's the first defeat after two victories so it's not a tragedy. Kazakhstan play hockey the best way, they play speed, skill and fast"
Andrei Skabelka: "We played well, controlling the puck, I'm glad we win. I'm happy for Nikita Kleshenko, although he played almost for farm team (Nomad), he's doing very well at this level. "
Current events
External links

Czech Rep.: Tipsport extraliga | 1.liga | 2.liga

Slovakia: Tipsport Extraliga | 1.liga

Sweden: SHL | HockeyAllsvenskan
Other: EBEL | Belarus | Croatia | Denmark | Estonia | France | Great Britain | Iceland | Italy | Latvia | Lithuania | MOL-liga | Norway | Poland | Romania | Serbia | Slovenia | Spain | NHL | AHL |
League standings
Game fixtures
League leaders
Home loss for the 2021 champion on the opening day of the Swedish league. Read more»
The SC Bern defender Beat Gerber played his 1168th NL game on Friday. Read more»