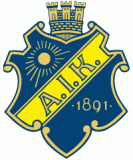 AIK
Short name: AIK
Name in original language: Allmänna Idrottsklubben
Year of foundation: 1891
Colours: Black
Club status: active
Address: AIK Ishockey
Parkvägen 4 B
169 35 Solna
Phone: +46 8-735 96 20
Fax: +46 8-655 00 89
Email: ishockey@aik.se
WWW: www.aik.se
Did you find any incorrect or incomplete information? Please, let us know.
Season 2023-2024
Current roster
season 2023-2024
* no longer in the club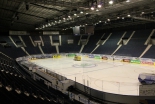 Capacity: 8422
Opened in: 1955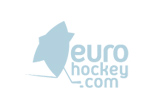 Adress: Ritorps ishall
Södra Kolonnvägen 24 B
169 70 Solna
Phone: +46 8-735 96 40
Capacity: 350
Opened in: 1997
AIK started playing ice hockey in 1921. IFK Stockholm was defeated 5-2 in the first game Mrch 7 1921.
The club has won the Swedish Championship 7 times.
2002 AIK was relegated to Allsvenskan. 2004 AIK was relegated to Division 1 for financial reasons. 2010 the team is back in Elitserien.
Swedish Champions 1934, 1935, 1938, 1946, 1947, 1982 and 1984.
League winners:
from 1899 to present: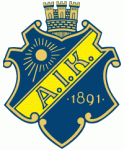 Swedish Preseason games Tuesday August 25th
There's been four preseason games in Sweden today. VIK Västerås HK-Linköping HC 1-2, AIK-Vita Hästen 2-1, Mora IK-Leksands IF, Sundsvall-Österund 2-3 (SO). With Linköpings win, the team now have four straight wins.
(25 Aug 2015)
Results preseason Wednesday August 19
There's been two preseason games played in Swedish hockey today. Timrå IK-AIK 3-2 and Karlskrona HK-Linköpings HC 1-4.
(19 Aug 2015)
Preseason games Sweden Tuesday August 18
Björklöven-MODO Hockey 3-4 (SO), HC Lugano-Örebro HK 3-4 (SO), Rögle-IK Oskarshamn 1-3, Sundsvall-AIK 0-2, Skövde-Karlskoga 2- (OT).
(18 Aug 2015)
Results preseason Thursday August 13
Malmö Redhawks-Växjö Lakers 3-0, Djurgårdens IF-Skellefteå AIK 2-1, HPK-Luleå HF 3-1, Huddinge-AIK 0-4, Östersund-Timrå IK 4-3 (SO), Sparta Sarpsborg-BIK Karlskoga 1-6, Västerås-Vita Hästen 1-2 (SO), Björklöven-Asplöven 5-1.
(13 Aug 2015)
Five games and seven teams up for preseason games
Seven teams from the Swedish HockeyAllsvenskan will be up today and try to measure their strenghts.
Sparta Sarpsborg – Karlskoga, Huddinge – AIK, Björklöven – Asplöven, Östersund – Timrå and Västerås – Vita Hästen.
(13 Aug 2015)
Important win for HV71
HV71 took two important points after a 4-3 OT win away at AIK. A hard blow for AIK who was the better team and had the lead 3-1 and also got a 4-3 goal disallowed. AIK is last (12th) in SHL, now five points behind HV71 who are in 10th place.
(02 Jan 2014)
European Women's Champions Cup second stage
The second stage of the European Women's Champions Cup was played this weekend.
From Group E in Bad Tölz, Tornado Moscow Region (RUS) and ESC Planegg (GER) qualified for the Final Tournament in March.
AIK (SWE) and Espoo Blues (FIN) advanced from Group F in Lohja, Finland.
(08 Dec 2013)
AIK missed chance to gain on playoff spot
AIK had the chance to close the gap to Brynäs who has the last playoff spot, but in today's only Elitserien game Frölunda won 5-3. The game was decided in the first period when Frölunda took a 3-0 lead.
(24 Feb 2013)
Success for Huselius and Beech
Kristian Huselius played his second game after his return to Swedish Elitserien and scored two goals when AIK took another important win with 4-3 at home to AIK. AIK had a solid 3-1 lead but Rögle scored two quick power play goals in the third period to tie the game, however Kris Beech scored his second goal in his second game for AIK only 26 seconds after the 3-3 goal.
(20 Dec 2012)
Late winner for AIK
AIK took an important win away to Frölunda in the only Elitserien game today. Broc Little scored the game winner with 36 seconds left to play assisted by Kristian Huselius who made his first game for AIK. Box score.
(18 Dec 2012)
Historic rosters:
Historic statistics:
Past results:
League standings:
Fast facts
season 2023-2024
A look back at a season that lived up to its promise. Read more»
The Alliance of European Hockey Clubs (E.H.C.) has announced the nominees for the 2023 Fenix Outdoor & Warrior European Hockey Awards. Read more»