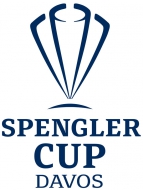 Spengler Cup calendar unveiled
Switzerland and Dinamo Riga will open the traditional tournament in Davos
The calendar of 91th edition of Spengler Cup was unveiled today. The traditional tournament, one of the oldest in the world, will take place from December 26 to 31 at VAilant Arena in Davos, Switzerland.
The six partecipating teams are divided in two groups, Cattini and Torriani, named after two former legendary players of Swiss hockey; the winner of each group will advance directly to semifinals, while the other teams will play a quater final. The final will be played at the new Year's Eve.
Switzerland and team Canada, winner of last edition, announced they will play with the Olympic team. Canada, with 14 victories in 34 edition, could match the biggest winner of the tournament, host HC Davos.
Czech Mountfield HK Hradec Kralove and Finnish HPK Hämeenlinna complete the partecipants roster.
Fixtures:
26 December 2017
15:00 Switzerland - Dinamo Riga (Torriani Group)

20:00 Mountfield HK - Team Canada (Cattini Group)

27 December 2017
15:00 HPK - loser game #1 (Torriani Group)

20:15 HC Davos - loser game #2 (Cattini Group)

28 December 2017

15:00 winner game #1 - HPK (Torriani Group)

20:15 winner game #2 - HC Davos (Cattini Group)

29 December 2017

quarter-finals
15:00 2nd Torriani Group - 3rd Cattini Group (A)

20:15 2nd Cattini Group - 3rd Torriani Group (B)

30 December 2017
semi-finals
15:00 Winner Cattini Group - winner quarter final A

20:15 Winner Torriani Group - winner quarter final A

31 December 2017

12:00 Final
All times are CET

Current events
External links

Czech Rep.: Tipsport extraliga | 1.liga | 2.liga

Slovakia: Tipsport Extraliga | 1.liga

Sweden: SHL | HockeyAllsvenskan
Other: EBEL | Belarus | Croatia | Denmark | Estonia | France | Great Britain | Iceland | Italy | Latvia | Lithuania | MOL-liga | Norway | Poland | Romania | Serbia | Slovenia | Spain | NHL | AHL |
League standings
Game fixtures
League leaders
Växjö Lakers won the Swedish SHL playoffs for the third time. Read more»
Men's ice hockey World Championships 2021 are only few weeks away so we at Eurohockey.com dived into it and explored what to expect from the tournament. Read more»