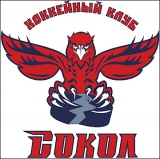 Sokol Krasnoyarsk
Name in original language: ХК Сокол Красноярск
Year of foundation: 1977
Colours: red,white
Club status: active
Address: Center of extreme sports Sporteks
660093 Otdkha, 6 str. 1
660112, Krasnoyarsk
Phone: +7 (391) 236-36-87
Fax: +7 8 (391) 236-36-87
Email: krsksokol@mail.ru
WWW: Sokol Krasnoyarsk
Did you find any incorrect or incomplete information? Please, let us know.
Season 2022-2023
Current roster
season 2022-2023
* no longer in the club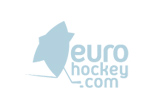 Adress: ul. Podgorny, st. Stroitelnaya, 8
Krasnoyarsk, Zheleznogorsk
Phone: +7 8 39197 96615
Capacity: 821
Opened in: 1980
Adress: ul. 9 Maya, 74
Phone: +7 (391) 236-36-87
Capacity: 2600
Opened in: 2011
from 1977 to 2009: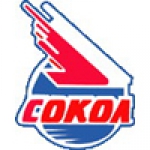 from 2009 to 2015: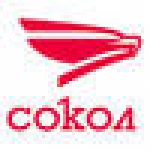 from 2015 to present: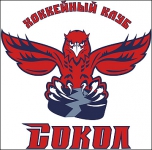 Omsk and Krasnoyarsk agreed on cooperation
KHL's Avangard Omsk and VHL's Sokol Krasnoyarsk concluded an agreement on cooperation in season 2014/2015, reports Avangard oficial website. Now Sokol will be a farm club for Avangard. Last season Omsk had his farm at Yermak Angarsk and Sokol was a farm of Spartak Moscow.
(04 Jun 2014)
Sokol Krasnoyarsk changes coach for next season
Slovakian coach Dusan Gregor, leaves Sokol Krasnoyarsk by mutual agreement after a disappointing season, where Sokol finished 24 in the standing missing playoffs.
Next season Sokol will be led by Andrei Martemiyanov, in 2011-12 season head coach of Avtomobilist Ekaterinburg
(25 Mar 2013)
VMF will play in Karelia
Next October 14, the VHL game between VMF St. Petersburg and Sokol Krasnoyarsk will be played in the city of Kondopoga, Karelia.
"Karelia is waiting for arrival oh VMF. In 2001 in Kondopoga was built one of the best ice rinks in the North-West region, but hockey in the country was only at junior level. The Arrival of a such high-level team will be the best promotion of sport. I am sure that the number of children who want to play hockey to increase significantly. Karelia is a hockey region. Is building an ice arena in Petrozavodsk" said the Minister for Sports and Tourism of Karelia Alexander Voronov. Last season MHL team Silver Lion St.Petersburg played twice in Kondopoga. Both games was sold out.
(12 Sep 2012)
Dusan Gregor new coach at Sokol
VHL team Sokol Krasnoyarsk announces the new coach for next season will be Slovakian Dusan Gregor, fired last January from Dukla Trencin.
Gregor, 50, coached Trencin, Skalica, Kosice, Martin and Zilina in Slovakia and Liberec in Czech Republic, winning a title in 2003-04 with Dukla Trencin when he was elected Coach of the Year. He also lead Slovakia U20 at 2005-06 WJC.
(16 Jul 2012)
Sokol Krasnoyarsk changes coach
Six consecutive defeats cost the job for Aleksandr Glazkov, replaced on Sokol Krasnoyarsk (VHL) bench by Byelorussian Vyacheslav Dolishnya
(24 Jan 2012)
New arena in Krasnoyarsk
Tuesday VHL game between Sokol Krasnoyarsk and Rubin Tyumen will be played in new Sever Arena, built in Krasnoyarsk inside a multipurpose sports complex costed 1 billion and 464 million rubles.
The new arena, with a capacity of 2600 spectators, replaced old small Fakel Ice Palace
Director of Sokol Denis Lugovik commented: 'As hockey club we are waiting this moment for a long time. Now we can't wait to enter on the new ice. Our club has finally its own house, its base, where we can better prepare for the league'
(20 Dec 2011)
Historic rosters:
Historic statistics:
Past results:
League standings:
Fast facts
season 2022-2023
After a 4-years hiatus, a Kazakh club could be back in Russian Second League Read more»
In late Spring, 2023, the International Ice Hockey Federation will host the 86th Men's Ice Hockey World Championships. The competition is easily global ice hockey's biggest event, with hundreds of thousands of fans traveling for each world championship finals event. ... Read more»