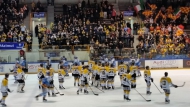 Dragons burn down Asiago
Rouen begins its journey as favourite at Superfinals with a clear victory
A crowded and rumbling Ile Lacroix Arena host the second game of Superfinals, the debut of host Rouen against the italian champion Asiago. Despite the great pressure of home fans, Asiago leads the first part of the game, finding the advantage after 4 minutes taking advantage of a mistake of goalie Dany Sabourin: his pass behind the cage is completely wrong and its easy for Jose Magnabosco to score in the empty net. After a great save by Carrozzi on Thinel, Rouen ties the score at 06:28 with same Thinel, finishing a tentative of Guenette rebounded by Italian defense. Rouen becomes more aggressive occupying the Asiago defensive zone and producing some good chances to score, the best one with Guenette at minute 9, blocked by Carrozzi. The game is fast and enjoyable from the second part of first period, with counterattacks from both sides and a clear chance for Anthony Luciani at 16: his shot is deflected by the mask of Sabourin, one minute before Rouen second goal, prepared and scored again by duo Thinel-Guenette. Asiago survives to an aggressive power play and closes the period pocking Sabourin with Nigro and Luciani.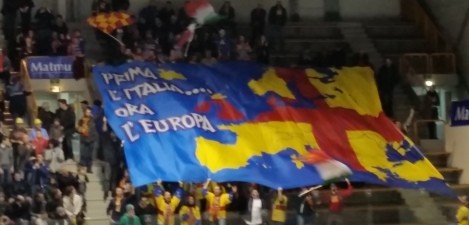 The central period begins after a problem with the scoreboard and Asiago seeking for drawing the game, calling Sabourin to deflections on Presti and Luciani. Arrossamena and Guenette, on the other side, awake the fans with two chances not finalized. At 25 Sacha Treille sees his shot rebounded with difficulties by Carrozzi before to get in the penalty box. During the power play Sabourin makes a great saves on Dan Sullivan, rebounding a dangerous shot passed through the traffic in front of the cage. After two saves by Carrozzi on Matheson and Guillemain, Rouen scores on power play with Loic Lamperier: his first shot is rebounded by Asiago goalie, but, even if lying on the ice, Rouen forward manages to take the rebound with no chances for Carrozzi. The third goal is a tough punch for Asiago: Italian team is now confused and incapable to react at French attacks: after another save by Carrozzi, Nicolas Arrossamena's journey in the Italian defense, with no opposition, finished with a classy move to beat the Canadian goalie. The last minutes of period look like a training session for home team, with a great save by Carrozzi on Chakiachvili at 38 and a final power play for Asiago, good to breath for the Italians.
Last period begins with an incredible chance for Joel Perreault: the Canadian, alone in front of Asiago cage, chooses not to shot for a possible easy goal but to pass to Olivier Labelle in the angle instead. Asiago has two chances with Luciani but Sabourin is reactive on both. Home-side goalie blocked also on Bentivoglio at 50 but is punished by a beautiful shorthanded goal by Nigro at 50:56. In the same superiority situation for Rouen, also Lutz has a chance on counterattack but this time Sabourin deflects. Three consecutive power play suffered definitely tire Asiago. A chance for Nigro and one for Lamperier close the game. Rouen confirms the favouritism winning a tough game and showing a stronger and more complete roster. Asiago pays a decisive mental black-out in the second period, when suffered 3 goals in few minutes.
MVP: Fabrizio Pace - Marc-Andrè Thinel
Current events
External links

Czech Rep.: Tipsport extraliga | 1.liga | 2.liga

Slovakia: Tipsport Extraliga | 1.liga

Sweden: SHL | HockeyAllsvenskan
Other: EBEL | Belarus | Croatia | Denmark | Estonia | France | Great Britain | Iceland | Italy | Latvia | Lithuania | MOL-liga | Norway | Poland | Romania | Serbia | Slovenia | Spain | NHL | AHL |
League standings
Game fixtures
League leaders
Season is set to begin on September 1, 2021. Admiral Vladivostok should come back Read more»
Men's ice hockey World Championships 2021 are only few weeks away so we at Eurohockey.com dived into it and explored what to expect from the tournament. Read more»