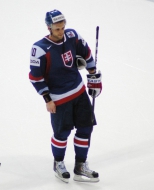 Gaborik voted Player of the Year in Slovakia
Los Angeles Kings forward triumphed in the traditional annual poll of Slovak Ice Hockey Association. Also Laco, Chara and Reway were awarded
After three consecutive editions won by Zdeno Chara, Los Angeles Kings forward Marian Gaborik was voted as 2013-2014 Slovak Player of the Year by hockey journalists, representatives of Extraliga clubs, members of the executive and coaches of Federation. The award was presented during a gala event at the DoubleTree Hilton in Bratislava. Gaborik got 145 points, 15 more of second Marian Hossa. Zdeno Chara, Andrej Sekera and Jan Laco were the other players most voted. Gaborik was also named Best Foward of the year (Jozef Golonka trophy).

"This season did not start well in Columbus - said Gaborik receiving the trophy - I had several injuries. (Gaborik wasn't in Slovakia roster at Sochi) When I swapped to Los Angeles, I saw a light at the end of the tunnel and I got a taste back into hockey. The victory in the Stanley Cup was the best reward for what I went through. The phrase 'best hockey player in Slovakia' sounds magnificent. I got this award in a competition with Zdeno Chara and Marian Hossa what is already a great honor. Hockey is a team game, this success is due to the Stanley Cup triumph and means a lot to me, I'm really happy".

Gaborik dedicated the trophy to friend Pavol Demitra, tragically dead in Yaroslavl crash: "If Pavel had been here with us, we would have enjoyed this award together. He has won it in the past, now would rejoice with me"
Zdeno Chara won for a eighth time record the title Best defender (Robert Svehla trophy) after 2004, 2006, 2009, 2010, 2011, 2012 and 2013. In eleven years of trophy history just Lubomir Visnovsky and Robert Pukalovič won the title besides Chara. Boston Bruins defender preceded Andrej Sekera and Martin Marinčin." I appreciate the season of Andrej and Martin, and they also deserve this award. It means a lot to me,I have to thank the teammates and coaches and family, without whom I would not be here today"said Zdeno Chara
.Jan Laco, recently moved from Donbas Donets'k  to Barys Astana, won the title of Best Goaltender beating Jaroslav Halak and last year's winner Rastislav Stana."Two years ago it was funnier, this season not all went according to my wishes." said Ján Laco.

Kosice coach Anton Tomko was voted Coach of the Year,."Slovakia is said to have 5 million coaches, so I appreciate very much this award", joked Tomko
Martin Reway, recently moved from Gatineau Olympiques to Sparta Praha, won the Pavol Demitra award for the U20 Player of the Year I would like to thank you for the nomination. Pavol Demitra means a lot to Slovak hockey., I hope to be like him one day" said Reway

Current events
External links

Czech Rep.: Tipsport extraliga | 1.liga | 2.liga

Slovakia: Tipsport Extraliga | 1.liga

Sweden: SHL | HockeyAllsvenskan
Other: EBEL | Belarus | Croatia | Denmark | Estonia | France | Great Britain | Iceland | Italy | Latvia | Lithuania | MOL-liga | Norway | Poland | Romania | Serbia | Slovenia | Spain | NHL | AHL |
League standings
Game fixtures
League leaders
A look back at a season that lived up to its promise. Read more»
The Alliance of European Hockey Clubs (E.H.C.) has announced the nominees for the 2023 Fenix Outdoor & Warrior European Hockey Awards. Read more»