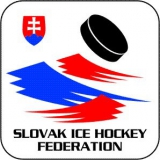 Slovakia
Year of foundation: 1993
Colours: blue, white, red
Club status: active
Address: Slovak Ice Hockey Federation
Junácka 6
832 80 Bratislava
Slovakia
Phone: +421 2 49 24 9237
Fax: +421 2 44 25 8344
Email: szlh@szlh.sk
WWW: http://www.szlh.sk/
Did you find any incorrect or incomplete information? Please, let us know.
Season 2021-2022
Current roster
season 2021-2022
* no longer in the club
from 1992 to present: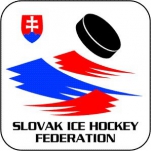 Slovak captain injured
Slovakia will play today's game against Finland at the World Junior Championship without captain Samuel Kňažko and forward Dominik Sojka. Both have minor injuries.
(30 Dec 2020)
U18 Hlinka Gretzky Cup, Day 4 - Russia and Canada to play the final
Alexander Pashin scored three goals when Russia beat Finland 4-1 in one of today's semi finals of the prestigeous U18 tournament in Czech Republic and Slovakia. In the other semi final Canada beat Sweden 3-2 in a shootout game. Cole Perfetti scored all Canadian goals.
Czech Republic beat USA 4-3 for place five while Slovakia beat Switzerland 7-5 in the 7th place game.
(09 Aug 2019)
U18 Hlinka Gretzky Cup, Day 3
Results of the third day from Breclav/Piestany: USA - Sweden 4-5 (SO), Switzerland - Finland 0-6, Czech Republic - Canada 1-7 and Slovakia - Russia 1-2 (OT).
Friday's semi finals: Canada - Sweden, Russia - Finland.
(08 Aug 2019)
U18 Hlinka Gretzky Cup, Day 2
On the second day of the U18 Hlinka Gretzky Cup Roni Hirvonen scored three goals when Finland beat Czech Republic 5-1. Other games today: Canada - Switzerland 8-0, Sweden - Russia 0-3 and Slovakia - USA 3-4 (OT).
(06 Aug 2019)
U18 Hlinka Gretzky Cup, Day 1
The U18 Hlinka Gretzky Cup started today in Breclav and Piestany. Results: Russia - USA 6-2, Finland - Canada 0-6, Czech Republic - Switzerland 4-3 (SO) and Slovakia - Sweden 2-3.
(05 Aug 2019)
Slovakia, USA and Canada wins pre-WHC games
With the World Championship three days away three tournament preparing games was played today. The World Championship host Slovakia beat Norway 3-2 in overtime. USA beat Germany 5-2 and Canada beat Austria 7-5 (7-6 after overtime).
(07 May 2019)
Easy win for Slovakia over Great Britain
The newcomer of the World Championship, Great Britain, played the host Slovakia in Poprad in a pre-tournament game. Slovakia had no problem to win 6-1.
(04 May 2019)
Slovakia U18 relegated
Slovakia lost the third game of the relegation round at the World U18 Champonship in Sweden. Switzerland won the game 6-3 to avoid relegation.
Germany are promoted from Division 1A.
(28 Apr 2019)
Latvia sends Slovakia to the relegation round
At the U18 World Championship in Sweden Latvia beat Slovakia 2-0 to secure a spot in the quarter finals. Ernests Osenieks and Ralfs Jevdokimovs scored the goals in the second period. Arturs Silovs made 24 saves for the shutout.
Slovakia will play the fifth place team of the other group to avoid relegation.
(22 Apr 2019)
Slovakia to the Elite level for the first time
Slovakia beat Germany 5-1 to win the U18 Women's Division 1 Group A and promote to the elite division for the first time.
The home team Austria is relegated to Division 1B.
(13 Jan 2019)
Historic rosters:
Historic statistics:
Past results:
League standings:
Fast facts
season 2021-2022
Estonian champion finished the qualification group with perfect record and advances to second round Read more»
In the openinig night of Continental Cup in Vilnius, Valk Tartu leaves no way out to the hosts Read more»