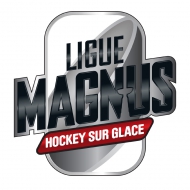 Ligue Magnus preview
Ligue Magnus starts on September 14th with newly promoted Brest replacing Mulhouse among the 14 teams. 4 times defending champion Rouen is still among the favorites to win the Magnus Cup. Runner-up Angers will still be a key challenger along with Amiens, Grenoble and Briançon.
Ligue Magnus landscape is not changing that much. Every year Rouen claims the championship title. Last spring, it was for the 4th time in a row. A pretty impressive record. And every year the team promoted to the French Top league gets relegated : Neuilly two years ago and Mulhouse this season have spent only one season in the top league before being sent back to Division 1.
Still, Ligue Magnus remains very competitive and has never been so close. Last season Rouen was able to keep its title only in game 7 overtime…. Caen finished dead last in the regular season but got the better of Mulhouse in the play-down. In last season rankings, the difference between the teams ranked 4th and 10th was only 6 pts…
This season again, everything seems possible. The "pro" league planned with more games and less teams (from 14 to 12) was scheduled to start in 2014-15. But it was postponed by at least two seasons because most of the clubs are not ready to face higher constraints. In the meantime, the number of games in the regular season will still be only 26 and the "coupe de la ligue" will remain to strengthen the schedule. The only real change for next season will be the new best-of-seven semi-finals (instead of best-of-five), same format as for the final.
So as every season, each team will target not only the Ligue Magnus title but also one of the two other cups (coupe de France and coupe de la ligue).
Team by team review :
The main favorites: Rouen, Angers, Briançon, Amiens, Grenoble
Being part of the top 4 teams is clearly an objective for these teams even if only Rouen and maybe Angers will confess really targeting the title. Briançon is every season a serious contender and won the French Cup last season while Grenoble and Amiens try to bounce back after several so-so seasons due to limited financial budget. But all 5 teams have put in place an ambitious roster which can bring them far into the post-season.
Rouen :  Defending champion Rouen will be once again the top favorite for the title this season. Johan Åkerman and Miroslav Durak have been replaced by Mirsolav Guren and Stanislav Hudec at the blue line while Gabriel Girard will support Fabrice Lhenry, 41, between the pipes. Rouen has also hired Hungarian forward János Vas (Dijon), Canadian import Yannick Riendeau (Ajoie) and Loïc Lampérier (Briançon) to compensate the losses of David Fredriksson, Eric Castonguay and Ilpo Salmivirta.  The addition of Björn Kinding in the team staff will also bring some experience. The Continental Cup final hosts will have another big season ahead of them.
Angers : Jay Varady is gone as head coach and is replaced by former Epinal head coach Alex Stein. Many big moves in the roster (Jeff May, Jontahan Harty, Cody Campbell and Marc Belanger are all gone) may lead to think that Angers won't be as strong as last season. To replace them, Angers staff has hired 4 players from Dijon (Tim Crowder, Johan Skinnars, Andrej Mrena, Cédric Custosse) and a former one (Fredrik Börjesson). But with Jonathan Bellemare, Eric Fortier, Braden Walls, Michael Busto and Team France goalkeeper Florian Hardy still on the roster, Angers should again be a serious contender for next season.
Briançon : As usual, Briançon roster has moved a lot during the offseason. The additions of American forward Denny Kearney and Canadian defenseman Sebastien Bisaillon are nice additions to compensate the losses of Toby Lafrance and Brett Wysopal. French team forward Damien Raux has also been added while Loïc Lamperier has left for Rouen. With Marc-André Bernier, David Labrecque and Bostjan Golicic one more season with the "Diables Rouges", Briançon will still have some firepower when play-offs time come while Luciano Basile will be head coach for a 11th consecutive season.
Amiens : Amiens has lost Kevin Bergin, Julien Corriveau, Luka Basic and Juho Santanen. But with the hiring of goaltender Ramon Sopko, defensemen Johan Olsson (Morzine) and Kévin Dusseau (Grenoble) and forwards Danick Bouchard (Epinal) and François Ouimet (Grenoble), Amiens shows this team may be on the way back to the top. With Heikki Leime behind the bench and very good young players, Amiens can reach the top 4 and maybe a bit better.
Grenoble : With new Canadian imports Francis Charland (Chamonix), Toby Lafrance (Briançon), Stephane Gervais (Epinal), Felix Petit and Pierre-Luc Lessard (both from Trois-Rivières), Grenoble seem to have found new ambitions after a very disappointing season. The team of head coach Jean-François Dufour will also rely on returning Slovenian forward Mitja Sivic and fellow countryman Maks Selan.  Team France defenseman Baptiste Amar is starting his 10th season in the team.
The potential surprises: Chamonix, Dijon, Gap, Villard-de-Lans, Epinal
These teams have the potential to upset the main favorites and most of them have already done so in the past. For the second year in a row, Chamonix has finished the regular season in the top 4 teams, getting a direct qualification to the quarter finals. Dijon was ranked 2nd and 5th in the last two seasons which tells a lot on the regularity of this team. Epinal was a surprising semi-finalist last season. Both Gap and Villard have put in place solid rosters and may create some upsets.
Chamonix : It won't be easy for Chamonix to recover from the losses of sniper Francis Charland who has left to Grenoble and Carl Lauzon who has moved to the Hull Stingrays. But Chamonix has hired one line of Canadian imports from Courbevoie : Kévin Gadoury, Julien Tremblay and Benjamin Rubin. They already had good chemistry together in Division 1 and Chamonix could still target the top 4 for a third year in a row.
Dijon : As every offseason, it has been tough for head coach Jarmo Tolvanen to keep its best player. One year ago, Dijon lost the top forward line Guttig-Gascon-Riendeau and it's the same this year as János Vas (Rouen), Tim Crowder and Johan Skinnars (both Angers) are all gone. A Swedish trio made of Daniel Åhsberg, Mikael Eriksson and Johan Andersson will have the big task to replace them. In spite of all these changes, Dijon should still be an interesting team to follow.
Gap : Head Coach Ari Salo has brought in Pasi Hirvonen who will join fellow countrymen  Niko Mäntylä,  Kai Syväsalmi and Jouni Virpiö. But the biggest change is between the pipes with Mike Zacharias gone to Coventry Blaze. Tim Boron will have the tough challenge to replace him.
Villard-de-Lans : Villard-de-Lans managed to keep the key players during the offseason with goaltender Jeff Lerg, sniper Vincent Couture and  top forward Matic Kralj. The team gets stronger in defense with the additions of Chris Zarb and James Jorgensen. Head coach Rich Metro is very ambitious for his team which can create a few nice surprises.
Epinal : Spring was hot for Epinal, a surprising semi-finalist for the first time ever. Then things cooled down during the summer with the loss of head coach Alex Stein to Angers, goaltender Gabriel Girard to Rouen, top defenseman Stephane Gervais to Grenoble and sniper Danick Bouchard to Amiens. It got even worse as Epinal was the last team financially validated in Ligue Magnus. New head coach Claude Bouchard finally stayed in Canada while top new defenseman Sebastien Bisaillon opted for Briançon instead. Still, Epinal will have a decent roster after bringing in Slovenian goaltender Andrej Hocevar, defenseman Francis Meilleur and forwards Dominic Perna and Benjamin Breault.
The underdogs : Morzine, Strasbourg, Caen, Brest
Morzine and Strasbourg have played in the Ligue Magnus finals respectively in 2007 and 2011 but it seems quite far for both teams. Strasbourg fighted to avoid the play-down round last season and finished the regular season ranked only 12th. It was better for Morzine (7th) which then advanced to the quarter finals. But this season doesn't look so good with the losses of several key players due to tighter budget. For Caen, it will be a new fight to avoid relegation as every year while Brest will have to do better than the previous promoted teams in order to stay more than one season in Ligue Magnus.
Morzine-Avoriaz-Les Gets : The losses of Konrad Reeder, Shane Lust and Evan Cheverie as long as top defensemen Johan Olsson and Robin Weihager may be a bit too much for a team which is now called Morzine-Avoriaz-Les Gets as Les Gets resort has signed a partnership with Morzine and Avoriaz. Even with the additions of defenseman Carl Hudson and forwards Joakim Arsenault, Kim Nabb and Janis Ozolins, the season may be tough for head coach Tom Hartogs and his young team.
Strasbourg : The addition of Ján Pardavý, 41, who will play along Jan Cibula, 38, will bring a lot of experience to Strasbourg roster. Head coach Daniel Bourdages has tried to reshuffle his team after a disappointing season. Sebastien Trudeau and Matt Lyall will bring some new blood in the offense. The defense may lack of depth with only 5 veteran defensemen.
Caen : Top scorers Jean-Christophe Gauthier and Thierry Poudrier are not gone which is a good news for Caen in the quest to stay one more season in Ligue Magnus. Last season the "miracle" happened thanks to a strong team spirit and a good support from the young players. It will have to be the same this year.
Brest : pretty much the same roster as last season which got promoted from Division 1 with the additions of goalkeeper Michael Dupont and experienced forward Michal Dian. This is good for the chemistry but the talent and depth of this team may not be enough to compete at the highest level. Avoiding the play-down will be a key objective in the regular season.

Czech Rep.: Tipsport extraliga | 1.liga | 2.liga

Slovakia: Tipsport Extraliga | 1.liga

Sweden: SHL | HockeyAllsvenskan
Other: EBEL | Belarus | Croatia | Denmark | Estonia | France | Great Britain | Iceland | Italy | Latvia | Lithuania | MOL-liga | Norway | Poland | Romania | Serbia | Slovenia | Spain | NHL | AHL |
League standings
Game fixtures
League leaders
Gary Graham parted ways with EIHL side Nottingham Panthers this morning. Read more»
With a 5-2 win for Cardiff and 4-1 win for Angers they will take their place in the Superfinal. Read more»