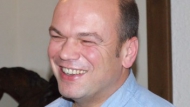 Peter Jaks mysteriously found dead
Former Ambri-Piotta forward and general manager was missing on Sunday.
Swiss former Ambri-piotta forward Peter Jaks was found dead near Bari, in South Italy, near a level crossing. Italian police spokesman defined the death "a railway accident". "That cross level is dangerous - quote the press release - and have been other accidents in the past." But the deposition of train driver specified: "I've seen him on the tracks and I tried to warn him with alarm and siren, but when I slowed down was too late."
Jaks was mysteriously missing sunday after he watched a football match in Bellinzona. He then took a train to Italy even if should visit his mother in Czech Republic and it's not clear why he changed the plan. He was found by Italian police on sunday on a train near Potenza without documents. Jaks said he was in Rome to watch Roma - Atalanta game and then to be victim of a robbery erring the train to go back in Switzerland. His phone was switch off from sunday morning, when the mother alerted the police, and was found in his house. Tuesday evening Lugano (and former Ambri) forward Hnat Domenichelli made a plea to Jaks for showing up and/or calling him.
Jaks, 45, played 809 games in NLA with Ambrì-Piotta, Lugano and Zurich Lions, was top scorer in 1986/87 and won three titles, two with Zurich and one with Lugano. He played also 56 games with Swiss national team, partecipating in two Olympics and five World Championships. After his retirement he hold the office of General Manager at Ambrì from 2003 to 2009 and currently was TV commentator.

Czech Rep.: Tipsport extraliga | 1.liga | 2.liga

Slovakia: Tipsport Extraliga | 1.liga

Sweden: SHL | HockeyAllsvenskan
Other: EBEL | Belarus | Croatia | Denmark | Estonia | France | Great Britain | Iceland | Italy | Latvia | Lithuania | MOL-liga | Norway | Poland | Romania | Serbia | Slovenia | Spain | NHL | AHL |
League standings
Game fixtures
League leaders
Past, present and future of a growning passion: Eurohockey meets Philippines national team captain Steven Füglister Read more»