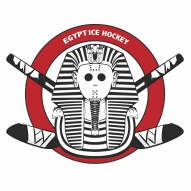 The Return of the Pharaoh's
The Sun God Ra was the most important God in Ancient Egypt. He was believed to be swallowed by the sky goddess Nut each night and reborn every morning. And, just like the God Ra, the Egyptian Ice Hockey team have been reborn again. Returning in 2020 for a new chapter in their story, which like the book of Ra, is set to have many thrilling twists and turns.

2020 will see the Pharaoh's returning to the international stage for competitions such as the Kuwait Arab Club Ice Hockey Championship. Providing their players with further valuable international experience and much needed publicity for ice hockey in the country, and wider region.
Speaking of their invitation to the tournament Director of Operations for Egypt Ice Hockey, Yasser Ahmed, spoke of his excitement to national magazine Egypt Today "We are very grateful to our hosts for inviting us to this great tournament. We are excited to see how much the sport has progressed around the Arab world and Egypt".
Co- Captain Sameh Ramadan, in an interview for Ahram Online took this excitement one step further highlighting the improvements in the squad for 2020 "We really like our roster, this is the best Egyptian Ice Hockey Club Team we have ever put together. It's a group that brings versatility and experience and includes players who have a lot of passion about representing our country".
The roster of 13 players includes Ramadan and his fellow co-captain Ayman Abdullah. Ramadan, who resides in New York and Abdullah in Cairo reflects the roster, which is made up of a mixture of Egyptians as well as US and Canadian Egyptians.
Egypt's participation in the Kuwait Arab Club Ice Hockey Championship is another big step forward for both Egyptian and African Ice Hockey. It was less than 4 years ago that Egyptian club Anubis made its international debut at the first African Ice Hockey Cup of Champions in Morocco, this was followed shortly after by an exhibition game between Anubis and Egyptian Expats living in the US and Canada – the birth of the national team.
Despite losing their opening international game to Tunisian Club Carthage Eagles 19-0, it was just one year before an Egyptian club would post their first international victory, with the Pharaoh's Club defeating Morocco Club (B) 3-2 in a match in Montreal, Canada. And again, just one year later in 2018, that the national team would gain its first international victory, beating Algerian Corsairs Club 8-7 in the first Arab Club Cup.
The growth of the sport in Egypt, across Africa and the Middle East is not going unnoticed. Not only are national and international media (including ESPN) following the Pharaohs, their rivals and tournaments, matches are being broadcast live on TV and online, and followed by casinos online.
At present Africa has just 3 members of the International Ice Hockey Federation; South Africa, Algeria and Morocco. With Egypt's continued appearance in international competitions and a growing desire for the sport in the country, it may well soon become its 4th.

Czech Rep.: Tipsport extraliga | 1.liga | 2.liga

Slovakia: Tipsport Extraliga | 1.liga

Sweden: SHL | HockeyAllsvenskan
Other: EBEL | Belarus | Croatia | Denmark | Estonia | France | Great Britain | Iceland | Italy | Latvia | Lithuania | MOL-liga | Norway | Poland | Romania | Serbia | Slovenia | Spain | NHL | AHL |
League standings
Game fixtures
League leaders
EIHL bosses have agreed the final part of the jigsaw to formally close off the 2019/20 season. Read more»
After a desperate tentative to finish the season, the Kontinental Hockey League closed the door. Also VHL stopped activities Read more»