Sweet defeat
Already promoted Kazakhstan, winning at overtime, allows the necessary point to opponent for celebrating
After the loss of South Korea against Lithuania, Kazakhstan can celebrate the promotion to Elite Division before to take the ice against Belarus in a direct confrontation between the two teams still with a perfect record after three games. Both coaches can count on full rosters and a comfortable position in the table, especially after the defeat of Korea against Lithuania earlier today. Belarus coach Andrei Sidorenko choses Alexander Osipkov as starting goalie, debuting in the tournament. With a great start home team, pushed by the arena, sieges the Belarussian defense, constantly pressured Alexander Osipkov cage until the beautiful first goal, scored by home favourite Nikita Mikhalis with a classy one-timer after eight minutes. Kristian Khenkel receives a 2+2 for high sticking at minute 11, leaving his team facing the blue waves for endless four minutes. Defense bravely resist before to give up when teams are back at full strength: the puck dances near the goal area coming on the stick of Talgat Zhailaulov for an easy finishing.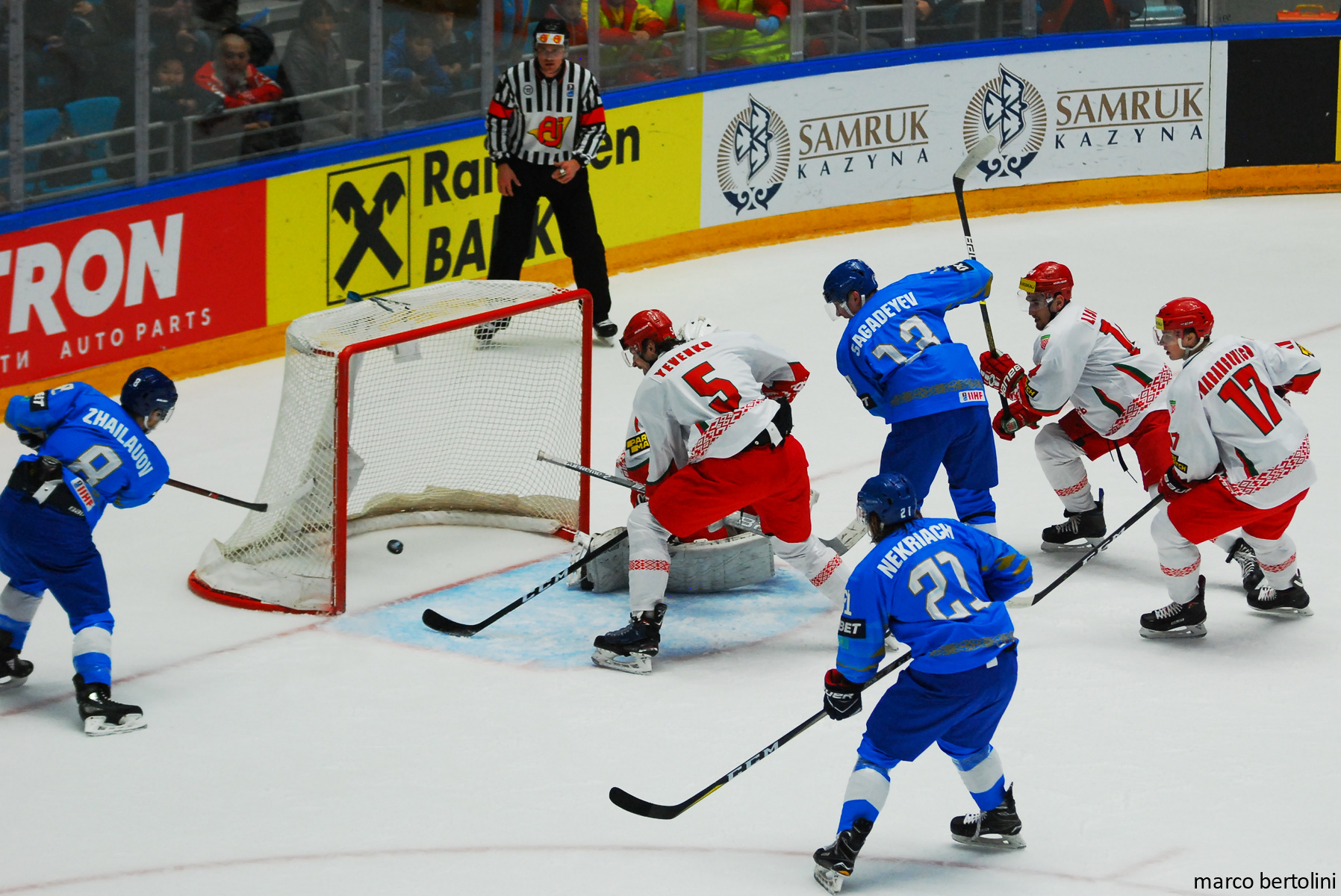 Zhailaulov scoring 2-0 Kazakhstan

The game is hard-fought and pleasant, with chances for both side: teams prove to deserve the top of the table. Suddenly Belarus scores from a face-off with a powerful one-timer by Artem Demkov at 26:49. Kazakhstan reacts rabidly forcing Osipkov to a couple of great saves in the second part of the period. At minute 36 Belarussian goalie is outstanding blocking a point-blank shot by Yegor Shalapov. Kazakhstan has the best chances with 5 seconds to play when Evgeny Rymarev shots on Osipkov, alone in front of the net
Belarus, that needs one point in the last two games to secure the other spot in Top Division 2020, tries to make irrelevant the last insidious clash with Korea, ties the game with a one-timer by Nikita Feoktistov on a Volvov pass. The goal means promotion also for Belrus, so the last minutes of regular time are a thriller for Sidorenko team, that can celebrate at minute 60 the immediate comeback to Top Division.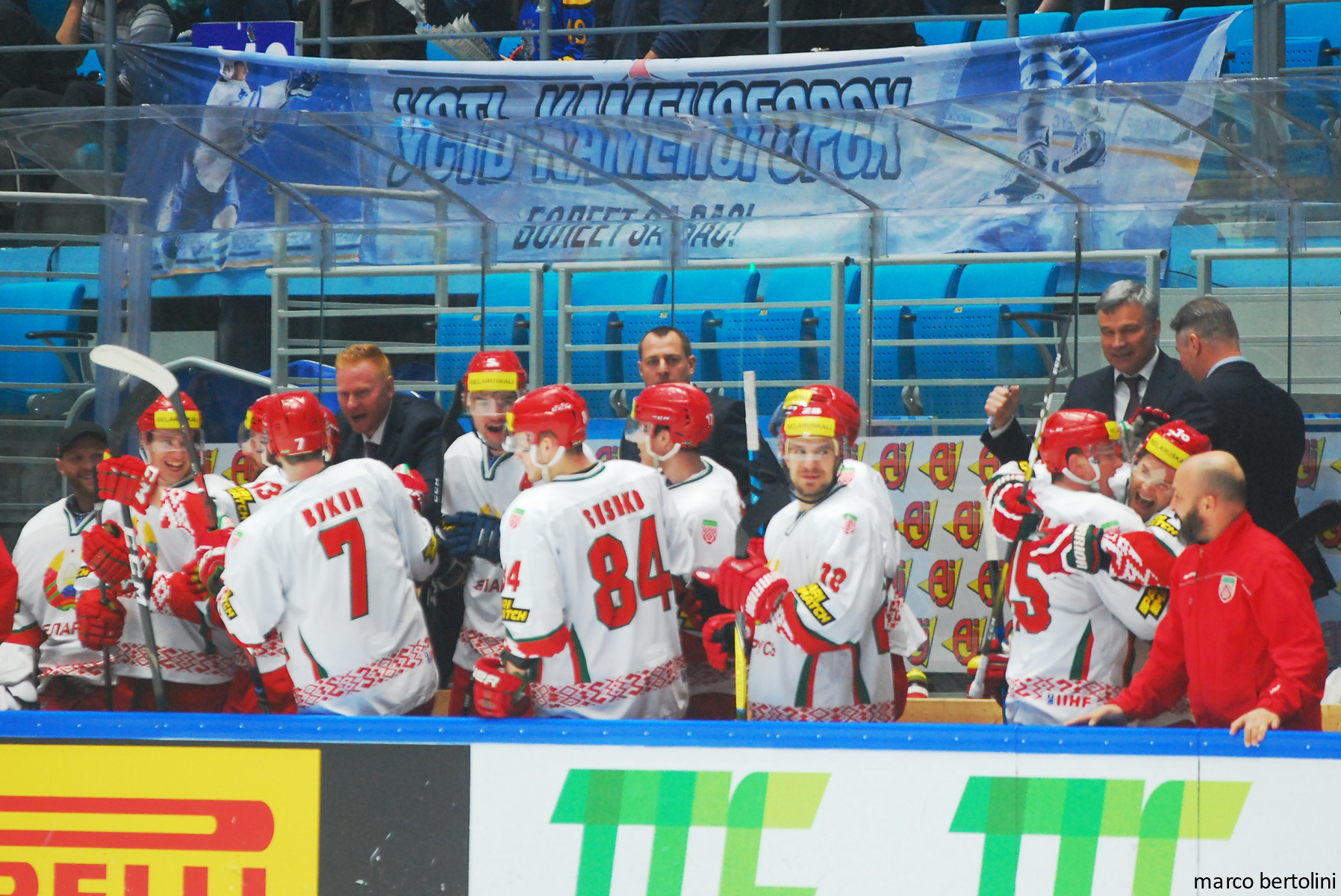 At the end of regular time, Belarus bench celebrating the promotion

In the overtime, with less tension on the ice, Kazakhstan has the best chances with Orekhov, Metalnikov and Rymarev but Osipkov seems unbeatable. Finally is Arkadi Shestakov to find the winning point that allow both teams to celebrate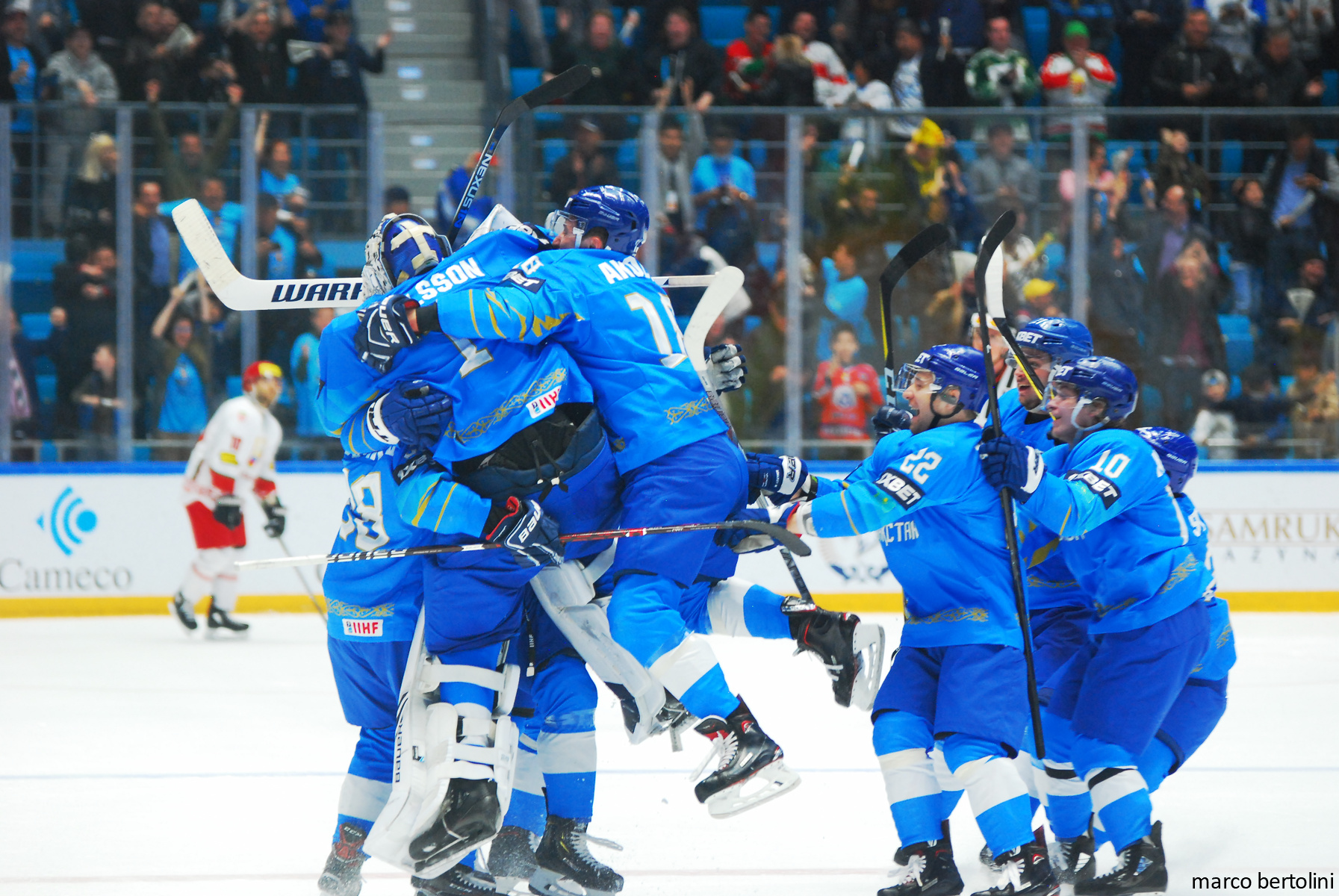 MVP: Alexander Osipkov – Talgat Zhailauov
Andrei Sidorenko: "It was very interesting and dramatic game, I told to the guys not to let Kazakhstan scores the first goal, it didn't happen but I'm very proud of my team because we didn't give up and we return to Top Division- For the future we have to rethink our strategy because the level of Top Division is higher, we'll adjust the roster trying new players"
Andrei Skabelka: "Finally the team is back to Top Division: I like this game, I think it was our best game so far, we had a great start and in general we played very well, we shot 42 times, it means a lot. I wanna congratulate also Belarus, they were a great opponent and their goalie was outstanding"

Czech Rep.: Tipsport extraliga | 1.liga | 2.liga

Slovakia: Tipsport Extraliga | 1.liga

Sweden: SHL | HockeyAllsvenskan
Other: EBEL | Belarus | Croatia | Denmark | Estonia | France | Great Britain | Iceland | Italy | Latvia | Lithuania | MOL-liga | Norway | Poland | Romania | Serbia | Slovenia | Spain | NHL | AHL |
League standings
Game fixtures
League leaders
Thailand was outstanding at the Southeast Asian Games in Manila, Philippines, beating Singapore 8-0 in the final. Read more»
First held at the 1920 Summer Olympics, the IIHF Ice Hockey World Championship is an annual tournament and one of the most exciting ones as well. The high-profile tournament was formed in 1908 and first held in 1920. In the beginning, ... Read more»