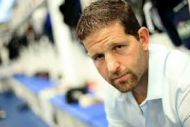 A new coach's viewpoint
In April, at the end of the season, Sheffield Steelers appointed a new Head Coach. Aaron Fox spent almost all his playing career in Europe and after the 2018 season decided to concentrate on coaching full time. On a limited budget he took charge of Medvescak Zagreb until monetary problems caused their collapse.
I approached him when he was taken on as Head Coach of Sheffield Steelers and he kindly answered a few questions for us.
Q.You have experience of central European hockey, so will you bring that style of play to the Steelers or go down the North American route?
A.I try not to decide those things until I get a idea of what the market looks like. If you look at my rosters from the past we have had, Finns, Czechs, Swedes, Canadiens, Russians, and Americans. I am look for quality and truly believe at the end of the day all the styles blend if they are character guys who value winning
Q.What are your long term objectives, a quick fix or a long term plan?
A.I obviously want to get things turned around as quickly as possible. There are some key guys on Multi year deals so we always want to work with a long term plan but am more focused on getting the guys in that can help change things quickly
Q.Can you explain the plan you have in mind for the type of team you wish to build. Ie: fast skating, attacking, tough, defensive or something else?
A.We want to put a team together that plays fast but more importantly is willing to play the game the right way. I feel like chemistry is very important at this level and getting guys to play for each other will be key. I want our guys to be creative and make plays when we can but will expect them to make good smart decisions when that opportunity isn't there.
Q.Where do you see the biggest need for improvement?
A.I think we need more depth in our d core as I want our D to jump in the play and play an aggressive style.
Q.You spent most of your time playing in Europe, so how did you find it, lifestyle-wise, and what in particular attracted you to Britain?
A.I have really enjoyed my time in Europe. Its home to me now. I have been fortunate enough to play and work in some unreal cities. My wife is German and my two children have only lived over here and don't know anything else. My kids are really excited to be coming to the UK and live in an English speaking country. This opportunity made a lot of sense from a career and family point of view. I really wanted to be part of an organization that's expected to win and does things the right way behind the scenes. Sheffield definitely checked all those boxes.
Q.In your opinion does a netminder needs rotating throughout the season, to keep him fresh etc?
A.I think if you can have two netminders that push each other there is obviously a benefit to that. But I also understand that sometimes the budget in place makes you make hard decisions and we will see where things go over the summer before deciding on that
Q.What is your overall impression of the organization and it fans now that you have had an opportunity to settle in?
A.Very impressed with both. I had done my due diligence on the organization during the interview process and heard nothing but really good things. The fans from what I have seen are very passionate and loyal. Can't wait to get things started.
Q.How would you rate the EIHL in comparison to leagues you have played and coached in?
A.I have watched a lot of games now and it's a good league. Definitely better then where it was and its top teams would be very competitive in some other European leagues.
Q.Do you consider any existing players to be suitable for what you want?
A.Obviously we have announced the guys returning and am very excited by that core. We do have a lot of holes to fill so it will be a busy summer. Will be very patient to make sure we get it right.
Q.Will you be using 2 year university deals to attract players such as first line snipers which Steelers have missed of late?
A.That's always a great tool to have. Obviously the 2 year commitment makes it harder to recruit for but already have some interest in the program and think we will definitely get a couple of those deals done.

Czech Rep.: Tipsport extraliga | 1.liga | 2.liga

Slovakia: Tipsport Extraliga | 1.liga

Sweden: SHL | HockeyAllsvenskan
Other: EBEL | Belarus | Croatia | Denmark | Estonia | France | Great Britain | Iceland | Italy | Latvia | Lithuania | MOL-liga | Norway | Poland | Romania | Serbia | Slovenia | Spain | NHL | AHL |
League standings
Game fixtures
League leaders
Sheffield Steelers (EIHL) added a second defenceman as injury cover. Read more»
As Elite Ice Hockey in the United Kingdom 2019/20 season is still in its infancy, one thing is clear – the sport in the UK is in rude health. Read more»