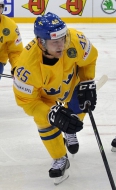 Swedish Hockey League (SHL) - January Review
Last weekend the 39th round of matches was played in the SHL and with just 13 matches to go the league takes a short pause for the pre-World Cup international tournament the Beijer Games, this year taking place in Sweden.
The table remains tight with just 10 points separating the top 10 places in the league.
Let's take a look at the top teams' form in January.
1. Luleå HF
It might only been four regulation wins out of 10, but on the other hand it is only three outright losses that is keeping Norrbotten club at the top of the table. To keep up at the top they will need Joel Lassinantti to continue in his top form. He currently lies in first on Goals Against Average with 1.83 this season.
At the other end of the ice, January has been 22 year old Robin Kovacs' month leading the team with nine points (5G+4A). The 2015 New York Rangers drafted forward is on the way to his best season in the SHL, his second at Luleå after a year with the Rangers' in the AHL development team, Hartford Wolf Park in 2016/7.
Despite a quieter month with just three points (1G+2A), American Jack Connelly still leads the team with 27 putting him in 13th overall. If he gains just 10 more points in the remaining 13 games the 29 year old will match his best ever season of his seven in the SHL.
2. Färjestad BK
With 10 matches played in January Färjestad BK find themselves in second after six wins with only one needing Overtime to get the result. They scored more goals this month than any of team - 36 - and had five players with seven or more points.
Leading the way was Boston Bruins drafted 20 year old, Oskar Steen with 11 points (5G+6A). In January alone he has broken his previous points record for an SHL season in this his third full season at senior level.
Two of Steen's teammates gained 1 Point Per Game in the seven games they played in the month. The first was 32 year old Detroit Red Wings drafted, Johan Ryno who missed three matches because of ongoing injury problems. The other, 24 year old Michael Lindqvist, who played with Hartford Wolf Pack at the beginning of the season, was suspended for Spearing for two of the games he missed.
3. HV71
HV71 arrive at the international break with the best record for January winning seven out of 10 matches in regulation as well getting a point for an overtime loss. Their leading scorer has been New York Islanders drafted Robin Figren with nine points (4G+5A) and the team has knocked in 32 goals including smashing seven past bottom team, Timrå IK where Figren scored one Goal and two Assists.
Leading scorer for the season, however, remains the 28 year old former Djurgården IF forward, Markus Ljungh. Now in his fifth season in the SHL he is just nine points from the highest points scoring season of his career.
Likewise is former New Jersey Devils' Mattias Tedenby, also 28 yrs, who needs just seven points in the remaining 13 games. Ljungh and Tedenby are 11th and 13th overall on a Total Points separated by just two points.
4. Djurgården IF
With seven wins this month, this is the Djurgården IF that everyone has been afraid of - a team that score goals with ease and Adam Reideborn excelling between the pipes to keep the goals against tally low. He currently leads the league with a SVS% of 92.90.
Up front Sweden's Junior World Championships top scorer Emil Bemström has been the league's top scorer in January with 12 points (6G+6A) in 11 games.
Meanwhile former New Jersey Devils' Jacob Josefson is back to his pre-injury form scoring 10 points (3G+7A) in the month moving him back up to fourth on overall Total Points, two points behind teammate, Jakob Lilja.
The team has been bolstered at the back by the signing of 34 year old Canadian Jason Garrison who has played 555 games in the NHL, most recently with Edmonton Oilers. But this is a team of homegrown talent, shown in that seven if the squad for the Beijer Games are from the club. Jonathan Davidsson and Tom Nilsson will join the four named above in Stockholm for the tournament.
5. Frölunda Indians
The Gothenburg outfit has limped forward this month only managing two regulation wins in nine matches with only bottom placed Timrå IK having a worse month.
However, with convincing wins in the semifinal matches against Czech HC Pilsen and lifting the Champions Hockey League trophy on home ice against Red Bull Munich this week, I think they'll accept a poorer performance in the SHL.
Top scorers this month with six points each were 19 year old Samuel Fagemo, who will be drafted this summer, and 30 year old American Rhett Rakhshani, who was drafted in 2006 by the New York Islanders.
The team's poor form in the SHL also means that American Ryan Lasch slides down to 14th in the Total Points competition, where he has been top earlier in the season.
6. Skellefteå AIK
Whereas last season the team and especially the strike trio of Pär Lindholm, Oscar Möller and Joakim Lindström were everywhere, this year the team as a whole has been rather anonymous. But never count out Skellefteå, there is a reason why they have been in seven of the last eight SHL playoff finals - raw talent.
The team have come into 2019 with a purpose winning 7 out 10 games and scoring 32 goals to 20. It is two 30 year olds who have been drafted by Los Angeles Kings who have been delivering the goods. First, Swede, Oscar Möller (pictured) showed why Skellefteå have signed him on a four year contract with with nine points (6G+3A) but Canadian Bud Holloway has also found his stride with eight (5G+3A).
That puts Möller up and Lindström tied on 29 points in sixth and seventh overall on Total Points - a competition Lindström has won twice before. He is 35 year old, was drafted in 2002 Columbus Blue Jackets and is now the Skellefteå player with most NHL experience.
AIK are playoff specialist, so regardless of where they finish in the table, don't be surprised if they make it to their eighth final.
Current events
External links

Czech Rep.: Tipsport extraliga | 1.liga | 2.liga

Slovakia: Tipsport Extraliga | 1.liga

Sweden: SHL | HockeyAllsvenskan
Other: EBEL | Belarus | Croatia | Denmark | Estonia | France | Great Britain | Iceland | Italy | Latvia | Lithuania | MOL-liga | Norway | Poland | Romania | Serbia | Slovenia | Spain | NHL | AHL |
League standings
Game fixtures
League leaders
In 24 hours the bid of the Baltic country was considered and rejected Read more»
The 2021 IIHF World Championship will not take place in Belarus. A new location for the championship will be determined later. Read more»