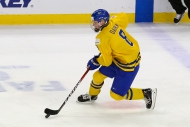 No NHLers, No Problem: Preparing For an Unmatched Olympic Tournament
No NHLers? No Problem. Get prepared for one of the best Olympic tournaments you have ever seen.
I wasn't even two years old when the NHL began sending players to the Olympics. I've never seen anything BUT the biggest stars playing on the biggest stage.
Yet I'm not sure I've been this excited for a hockey tournament in a long time.
Seriously. Andrew Ebbett interests me more than Sidney Crosby. I'd rather see Jhonas Enroth bring his team to a gold than Henrik Lundqvist. Alex Ovechkin? Try Denis Hollenstein. Putting the spotlight on a group of players with so much to play for opportunities on the horizon over multi-millionaires who may not appreciate the experience in the same way as the current group of Olympians is something I fully approve.
This tournament isn't featuring just a bunch of scrubs Some of these guys are extremely talented hockey players who may have better opportunities playing in Europe. Pavel Datsyuk and Ilya Kovalchuk would still be key players in the NHL today. Sergei Mozyakin is one of the top players to never make the NHL, and that couldn't have been because nobody wanted him. If Linden Vey isn't back in the NHL next year, that would be pretty surprising.
Sure, those are some pretty big examples. But with Stanley Cup champions, Champions Hockey League stars and cult hockey heroes, the Olympics are filled with some of the world's greatest talent outside of the National Hockey League.
Going to Europe doesn't mean they had no other option. It may have been the BEST option, and with the NHL threatening to sit out the Olympics for a couple of years, some players jetted over in order to play in an event such as this.
The quality of hockey outside of North America has grown immensely over the past 20 years. Teams like Slovakia and Switzerland have battled for gold medals at the World Championships. There are players from 16 countries in the NHL, which hasn't actually changed since 1994, the last time there weren't NHLers at the Olympics (yet there have been some new countries making waves).
There was one Swiss player in the NHL in 1994. Now? There's 12, including 2017 top draft pick Nico Hischier. Russian numbers have doubled, France now has three full-timer NHLers instead of just one, and both Austria and Denmark have made bigger impacts, with 10 current NHLers coming from those two nations compared to the zero back in 1994. And I think we're all sure of how much of an impact players like Anze Kopitar, Robert Kristian and Jan Mursak have been to Slovenia.
Why does this all matter? It shows that international hockey, at least with the top 16 nations in the world, is much more competitive than the days when 6+ goals for the winning team was commonplace. That could still happen, sure, but European leagues have improved tenfold in the past 20 years and we're seeing more Europeans in the NHL as a result.
But that's something people are missing out on. They're defaulting to, "no NHLers? No thanks". They'll compare it to the Spengler Cup, which, by the way, is one of the best hockey tournaments of the year, bar none.
Ignorance? I say so. If you truly thing European hockey isn't worth watching, you haven't watched European hockey.
There's more on the line than just a medal. For the NHLers, winning gold is just adding some more hardware to their closets. Do you think Jonathan Toews needs another award? But for some of these players that may have never dreamed of the opportunity to represent their country ever again, or just for the first time, this is where dreams come true.
Think back to Miracle on Ice. The Americans, made up of unknown college players, took down the Soviet Union machine that looked indestructible in 1980. There was no way that could have happened, and yet, it did.
And now, a new breed of talent for 12 nations are living a dream. American starting goalie Ryan Zapolski never got the chance to play in the NHL, so a Stanley Cup was never an option. Chris Lee may perhaps be the best defenceman outside of the NHL, and at 37, it's unlikely he'll ever get a chance to show what makes him such a skilled blueliner against hockey's biggest superstars. Patrick Thoresen is one of the greatest players to ever put on a Norwegian hockey jersey, and it's unlikely we'll see him at the 2022 tournament at the age of 39, assuming Norway actually qualifies. How big would it be if he grabbed his first medal at a major event?
Oh, let's not forget Rasmus Dahlin and Eeli Tolvanen, two of the game's best prospects playing for their countries just months after spending two weeks in Buffalo for the World Juniors.
You don't need the best players to make an incredible tournament. The World Championships always have great competition, yet it's rare to see some of the NHL's top players participate for an entire event. Will anyone deny how great the 2017 tournament was? What about the Hlinka Memorial, a tournament where the United States doesn't send as strong of a team as they do to the Under-18's a few months prior?
It's nice knowing we're not going to see total dominance by Canada for the third straight event. It's nice knowing that if they do in fact win gold again, it was much tougher than any previous victory. It's nice knowing that we're guaranteed to see a new crop of players earn a gold, something they may have never had the chance to do with NHL players taking over.
Great hockey can come at any level, and the Olympics aim to celebrate the best. Put me down as one of the few who believes this could be the best Olympic tournament of the modern era.
Follow me on Twitter, @StevenEllisNHL.
Photo from Anders Marshall/Euro Hockey
Current events
External links

Czech Rep.: Tipsport extraliga | 1.liga | 2.liga

Slovakia: Tipsport Extraliga | 1.liga

Sweden: SHL | HockeyAllsvenskan
Other: EBEL | Belarus | Croatia | Denmark | Estonia | France | Great Britain | Iceland | Italy | Latvia | Lithuania | MOL-liga | Norway | Poland | Romania | Serbia | Slovenia | Spain | NHL | AHL |
League standings
Game fixtures
League leaders
Yunost Minsk Chairman Alexei Torbin talks about the philosophy of one of the best known clubs Read more»
The Americans proved that Canada could be beaten at the World U-20 Championship in Edmonton. Read more»