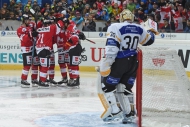 Canada Has Hot Options Missing Out on the Karjala Cup
With no NHLers at the Olympic, Canada will be forced to find talent elsewhere. With the Karjala Cup coming up soon, here are players that didn't get the call for the team, but could prior to the Olympics.
Hockey Canada recently announced their roster for the 2017 Karjala Cup in Finland, Canada's third pre-tournament event prior to the 2018 Olympics in South Korea. With two bronze medals in Russian tournaments earlier in the year, Canada brought a more-polished roster for their third crack at it, with the Spengler Cup still on the docket in December.
The team featured many players having strong starts to their European campaigns, and others who are just looking to prove themselves worthy of the final roster spots. But a few players in particular have yet to don the Canadian jersey this year, even a few that have played for Canada in the past few years. Let's take a look at five players that could potentially represent Canada at some point prior to the Olympics.
Matt D'Agostini: It's hard to believe that D'Agostini was close to hitting 50 points back in 2010-2011 with the St. Louis Blues, considering he only managed to put up 36 points combined over the last three years he spent in the NHL. A former Calder Cup champion with the AHL's Hamilton Bulldogs, D'Agostini has curved out an impressive few seasons in the NLA, which included leading the league in playoff goals in 2015 with seven.
D'Agostini previously represented Canada at the 2015 Spengler Cup, scoring a goal and adding an assist in Canada's eventual championship run. Hockey Canada definitely knows his name, and with 15 points in 17 games played with HC Ambri-Piotta this season, he's had a chance to show his worth. He has better NHL numbers than a lot of the players that will represent Canada in Finland, and statistically, he's the second top scoring Canadian in the competitive Swiss league. D'Agostini never really excelled when given a bottom six role in the NHL, and a similar role may make it tough to justify if that's his case for Canada, but he brings a dynamic scoring ability and solid speed set to make him a threat on the bigger ice.
Dustin Jeffrey: Canada will be bringing some key players from previous Spengler Cup teams to the Olympics, given how some of them have put up strong performances when it matters for their country. Dustin Jeffrey is an example of a guy who had a good Spengler, but hasn't actually been given a call yet for Canada in pre-Olympic action.
Jeffrey's NHL career, while quiet, spanned 131 games with the Pittsburgh Penguins and the Dallas Stars. Jeffrey was a strong producer at the AHL level, putting up 292 points in 336 career games. But with only 33 points at the NHL level, he found himself to be a journeyman in the final years in North America. In Switzerland, Jeffrey has found his calling, with 61 points in his first 64 games over two years with Lausanne. The team is a little thin down the middle and Jeffrey's biggest strength may in fact be his face-off ability. A potential fourth line offensive forward? Don't count him out.

Darren Dietz: He missed almost a full month of action with an injury, but the former Montreal Canadiens prospect has been on fire in his first season in the KHL. A member of Barys Astana, Dietz started the season with three goals in the first four games, making him one of the most dangerous offensive defencemen in the league. Despite missing nearly 10 games, Dietz still sits fifth in league scoring, trailing former NHLers Staffan Kronwall, Philip Larsen, Matt Gilroy and former LA Kings prospect Patrik Hersley.

Dietz never really made much of an impact in the NHL to earn a full-time spot, but the play-making blue liner still managed to record five points in 13 career games with the Habs. This season, he's one point short of his professional career-high season in points, with his 17 points in his AHL sophomore campaign with the Hamilton Bulldogs leading the way. Dietz would bring a tremendous offensive upside to the blue line, and while he does leave the back end exposed at times, pairing him with a more stay-at-home option like Carlo Colaiacovo could prove to work well for Canada, assuming they give him a chance.

Devin Setoguchi: It's hard to remember sometimes that Setoguchi once put up 65 points for the San Jose Sharks. But like Jonathan Cheechoo, it was quite easy to put up solid point totals when you were playing alongside Joe Thornton and Patrick Marleau in their prime. After a couple of seasons of OK numbers on the second and third line, Setogouchi found himself bouncing around teams in an attempt to stay in the NHL.
Setogouchi has rebounded nicely from a previous alcohol substance abuse issue, playing in 45 games with the Los Angeles Kings last year before signing with Adler Mannheim in the DEL. Setogouchi got off to a rocket start to the season, putting up eight points for Mannheim in Champions Hockey League action before grabbing another 10 in his first 13 DEL games. Sure, those numbers won't blow anyone away, but he's proven he can put up decent numbers and that his hard shot and decent skating abilities make him a force. He's a longshot to make the team, but it would be hard to believe he hasn't gotten at least some consideration this season.

Steve Pinizzotto: You may be thinking, how could a 33 year old with only two career NHL goals really have a chance to represent Canada at the Olympics? Well, he's an unlikely candidate at this point, but the Mississauga, Ontario native has been off to a rather strong start this season.
With 17 points in his first 15 games with the DEL's EHC Munchen, Pinizotto currently finds him in third in league scoring, training teammate Keith Aucoin and Krefeld's Marcel Muller. Pinizzotto has never been much of an offensive player in his career and his best season in the DEL only saw him put up 18 points in 42 games. His previous lack of production likely doesn't help his chances, and sure, he has had some good line mates this season, but you have to give a shot to a guy who's been hot recently. And what do you need at the Olympics? Players playing their best now.
Follow me on Twitter, @StevenEllisNHL.

Czech Rep.: Tipsport extraliga | 1.liga | 2.liga

Slovakia: Tipsport Extraliga | 1.liga

Sweden: SHL | HockeyAllsvenskan
Other: EBEL | Belarus | Croatia | Denmark | Estonia | France | Great Britain | Iceland | Italy | Latvia | Lithuania | MOL-liga | Norway | Poland | Romania | Serbia | Slovenia | Spain | NHL | AHL |
League standings
Game fixtures
League leaders
After a long career Russell Cowley of Coventry Blaze retired last season and the club decided to retire his shirt. Read more»
Sweden's hockey Olympics took an unprecedented nosedive today as the Women's team lost to Japan 2 -1 in the Classifications (5-8) match. It is the team's third loss in a row and they face a final Classifications match against the hosts ... Read more»