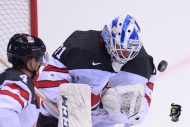 Canada Pummels HC Sochi in Puchkov Tournament Opener
Canada had to wait to play their first game, but that didn't stop them from beating HC Sochi at the Nikolai Puchkov Tournament in St. Petersburg, Russia.
Canada had to wait after seeing their matchup against SKA St. Petersburg moved from Monday to Wednesday. On Tuesday, they made the wait worth it by beating HC Sochi by a score of 5-1 to open the 2017 Nikolai Puchkov Tournament in St. Petersburg, Russia.
Former Nashville Predators forward Taylor Beck was the star for Canada, leading the way with two goals and assist. His first goal opened the game up just six minutes into the battle, with Sean Collins scoring four minutes later to finish the first period with a 2-0 lead.
Sochi was outmatched for most of the contest, but did take advantage of Canada's Andrew Gordon being in the penalty box. At 12:57, Ilya Khokhlov scored on the power play after sneaking a shot up high on Kevin Poulin, giving his Russian club some life.

But it didn't do much to change the complexion of the game. Taylor Beck would score his second goal from a tough angle on a power play opportunity with four minutes remaining in the second, only to have Jonathan Matsumoto pot one less than a minute later.
Canada would score another one before the game was over, with Beck getting his third point off of a Jacob Micflikier tip, with Marc-Andre Gragnani taking the shot on net. It marked the final goal of the contest, with Canada securing the 5-1 victory and eliminating HC Sochi from medal competition in the process.

Canada will look to force their way into Thursday's final contest with a 12:30 PM ET meeting against SKA St. Petersburg on Wednesday. St. Petersburg came second place in last week's Sochi Hockey Open, losing to Russia in the finals. Canada will be looking to make the finals this time following a third-place finish in their first tournament of the Olympic hockey season.
Follow me on Twitter, @StevenEllisNHL.

Czech Rep.: Tipsport extraliga | 1.liga | 2.liga

Slovakia: Tipsport Extraliga | 1.liga

Sweden: SHL | HockeyAllsvenskan
Other: EBEL | Belarus | Croatia | Denmark | Estonia | France | Great Britain | Iceland | Italy | Latvia | Lithuania | MOL-liga | Norway | Poland | Romania | Serbia | Slovenia | Spain | NHL | AHL |
League standings
Game fixtures
League leaders
As we approach the new year, one of ice hockey's most anticipated and prominent events lingers on the horizon, the men's ice hockey tournament at the Winter Olympics. ... Read more»