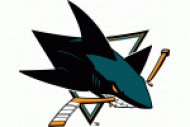 Marcus Sörensen enjoys his rookie season in NHL
Ty Dilello spoke to Swedish 24 year old Marcus Sörensen after one of the game in his first season with the San José Sharks.
WINNIPEG, MB − Looking to make a name for himself during the San Jose Sharks' late season charge is 24 year old rookie Marcus Sörensen.
Initially drafted by the Ottawa Senators in the fourth round (106th overall) of the 2010 NHL Entry Draft, Sorensen was signed as a free agent by the Sharks during the past summer.
For San Jose, it looks like they got him for a steal. With 34 points in 43 games with the Sharks AHL affiliate, Sorensen was a no-brainer call-up for the Sharks who were looking for another skilled forward on their third and fourth lines.
Now eight games into his NHL career with three points so far to show for it, Marcus is just taking the whole NHL experience in. "It's really fun," Marcus said. "It's a good team and it's really awesome being in the NHL. There's just so many great players in the locker room so I'm just happy for every opportunity I get."
It seems a long time ago now, but Marcus started his hockey playing days as a youngster on the outdoor rinks of his hometown Södertalje that is not too far away from the capital Stockholm.
"In Södertalje, my uncle used to play hockey in the 2nd division in Sweden so I was following him," said Sörensen, "And I always idolized Peter Forsberg."
Marcus followed in his uncle's footsteps and was on the road to becoming a professional hockey player. He played for Södertälje's juniors before moving to the well more known Djurgården in Stockholm. It was in Djurgården that Marcus made his Elitserien debut in 2010-11.
That's around the time too that Marcus first thought he was good enough to maybe play hockey for a living. "It was pretty late," Sörensen recalls. "I always say day to day, game by game. I don't know if I thought about that too much. I just love hockey so much and it was all that I knew."
After a few seasons of topping the 30 point barrier with Djurgården, Marcus decided it was time to try his luck in North America, and when San Jose offered him a contract he readily accepted. "I had a good season in Sweden the year before and I'm always looking for a new challenge so it was a great opportunity to come to North America and see what I can do here."
Sometimes the transistion from coming to North America from Europe can be difficult, adjusting to the smaller ice surface and what not, but for Marcus it has looked to be a very smooth transistion from his point production. Being the modest young man he is however, he claimed the first twenty games were a bit of a learning curve, and after that he started to get into the funk of the North American game.
And what's been Sörensen's 'Welcome to the NHL Moment' you might ask. Marcus simply smiles and says, "Just being in the locker room!"

Czech Rep.: Tipsport extraliga | 1.liga | 2.liga

Slovakia: Tipsport Extraliga | 1.liga

Sweden: SHL | HockeyAllsvenskan
Other: EBEL | Belarus | Croatia | Denmark | Estonia | France | Great Britain | Iceland | Italy | Latvia | Lithuania | MOL-liga | Norway | Poland | Romania | Serbia | Slovenia | Spain | NHL | AHL |
League standings
Game fixtures
League leaders
Winning 2-1 against host Rungsted, Yunost keeps the perfect record proposing as favourite for the Superfinals Read more»
The final continental cup group game took place in Rungsted between Sheffield Steelers of Great Britain and Kurbads Riga of Latvia. Read more»