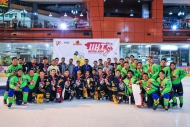 Q&A With Indonesian National Team General Secretary Wiwin Salim
You can't watch hockey on TV. Resources are quite limited. But still, Wiwin Salim is trying to make hockey work in Indonesia.
With hockey being mainly a two-continent sport still, it may be tough for some people to believe hockey is actually beginning to grow around the world. Asia is a perfect example of this, with 20 teams getting entered in the 2017 Asian Winter Games (with Bahrain eventually having to pull out due to costs). There has never been this much hockey representation in the large continent, but it's one that never really grasped the sport in the first place.
Now, Indonesia is ready to put their ring in the hat. Fresh off of a handful of exhibition games against teams in the country, Indonesia played their first game on January 19th, 2017 against the Jakarta Dragons, falling by a score of 2-1. The team then went on to win their first ever game, a 5-3 victory over a local team called EH.
Indonesia will be playing in their very first ice hockey tournament at the 2017 Asian Winter Games, set to take place from February 18-25th. They will be in Group B of Division II, facing off against fellow newbies Iran and Turkmenistan, as well as Macau and Malaysia.
Indonesia's General Secretary at the National Federation of Ice Hockey in Indonesia, Wiwin Salim, talked to Steven Ellis from Euro Hockey about the history of hockey in the nation, preparing for the Asian Winter Games and the goals down the road.
EH) Introduce yourself and explain your role with the Indonesian national team.
WS) I am the General Secretary at the Federasi Hoki Es Indonesia (FHEI), the National Federation of Ice Hockey in Indonesia. My main job is an ice rink manager at BX Rink, located at Bintaro, South Tangerang. My role in Indonesia National Team is to supervise the progress of the team and prepare ice time.
EH) Little is known about hockey in Indonesia, can you tell us about its history?
WS) Ice hockey was introduced here in 1996 in Jakarta. People played ice hockey but the sport didn't grow and regeneration wasn't good until 2013. From 1996-2012, there was only one ice rink in Jakarta and one ice rink in Bandung. Several ice rinks in big cities were open and later closed during that time. The problem was mismanagement. In 2013, a new ice rink called BX Rink was open and I became the rink manager. I want BX Rink to focus on a winter sports academic program and get approved by the board of directors, so we started to have good communication and setup a National Federation. We also started sending junior teams and senior team to play in overseas competition, and we conduct hockey camps three times a year.  

EH) How many teams play in the country?
WS) We have six adult teams and four junior teams. 
EH) On the management side of the team, what are the backgrounds of the people involved?
WS) It is mostly players who want to help national team with their individual capacity, skill and network?
EH) Does Indonesia have any partnerships with other hockey nations?
WS) We do have good cooperation with our fellow neighbouring countries in Southeast Asia. We are planning to have a Southeast Asia Cup every year.
EH) Where does funding come from?
WS) Funding was a big issue from us. Federation funding only came from membership fees. Everybody is doing volunteer work. 
EH) In regards to the national team, how did the team come together?
WS) We opened the registration for everyone. After that, we had several physical tests. We provide free practice 3-4 times a week and then the head coach picked the team. 
EH) Is hockey shown on television there?
WS) Not at all.
EH) With no hockey on TV, what is being done to attract young kids to play hockey?
WS) We promote ice hockey to schools through extracurricular curriculum with private ice hockey lessons. We have kids hockey sessions three times a week and junior hockey league two times a year.
EH) How did Indonesia get involved with the Asian Winter Games?
WS) As the newest member of IIHF, we were invited to join the Asian Winter Games. 
EH) What are the expectations for that tournament?  

WS) We didn't want to put any pressure on our players since this is the first experience for everyone. We hope our players can play as a team, show all their skill and give their best performance. But of course, winning one or two games will be a great bonus for everyone.
EH) The Challenge Cup of Asia is quickly becoming a bigger development tournament. Will we see Indonesia there in the near future?
WS) We were invited to join the 2017 Challenge Cup of Asia in Kuwait this year, but we didn't join. The reason is we have two multi-event tournaments going on this year, Asian Winter Games in February and the Southeast Asian Games in August. A lot of preparation and funding will be needed to send the team, so we hope we will able to join CCOA next year.

EH) What needs to be done to help promote the game of hockey over there?
WS) We are trying to have a good cooperation with national media. I think they are the key to make people interested in playing ice hockey. Next thing is a qualified coach and proper arena. We hope we can send several coaches and referees to IIHF development programs to get more experience. I believe, with a good coach and referees, it will keep skaters playing hockey for a long time.
EH) Anything else you would like to get across?
WS) We try to get rid of the stigma that ice hockey is a dangerous sport. We hope with more publicity of ice hockey competitions and events, people will let their kid try this amazing sport. This is our biggest challenge to grow a winter sport in a tropical country. People are always afraid of things that they don't know.
You can check out Indonesia's website here, and like them on Facebook.
Follow me on Twitter, @StevenEllisNHL.

Czech Rep.: Tipsport extraliga | 1.liga | 2.liga

Slovakia: Tipsport Extraliga | 1.liga

Sweden: SHL | HockeyAllsvenskan
Other: EBEL | Belarus | Croatia | Denmark | Estonia | France | Great Britain | Iceland | Italy | Latvia | Lithuania | MOL-liga | Norway | Poland | Romania | Serbia | Slovenia | Spain | NHL | AHL |
League standings
Game fixtures
League leaders
As we approach the new year, one of ice hockey's most anticipated and prominent events lingers on the horizon, the men's ice hockey tournament at the Winter Olympics. ... Read more»