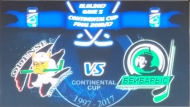 14 seconds to kill a dream
Odense Bulldogs waste the possibility to compete for the Cup allowing goals at the last gasp of third period and overtime: now the trophy it's a Italo-British affair
Odense Bulldogs makes its duty beating eliminated Beybarys closing with 6 points an excellent Superfinals campaign that could become historic if tonight Renon win against Nottingham, handing the silver in the hands of Danish team.
Bulldogs have forward Henrik Nielsen, as well as Asger Petersen, out for injury, while Beybarys goalie Adam Svoboda, collided with Nottingham player Chris Lawrence yesterday, figures as back-up but unable to play, giving room for Artem Mikhusin, author of a good performance yesterday.
After a good save by Galansky on Vishnyakov, in less than a minute Odense opens the score with positive Robin Strandberg, assisted in front of the crease by Rasmus Bjerrum. In a period with few shots, both goalies shine: Galansky on Malyushkin and Sherbatov and Mikhushin with a difficult save on Tony Romano.
In the second period, after a good chance for Sherbatov and a save of defender Tsirulev on the goal line, Odense doubles the score on power play at 34:36: Mikkel Nielsen finds the right path in the traffic to beat Mikushin. The goal that keeps the Kazakh hopes alive comes one minute after the second siren: Aleksei Rizhikh scores a beautiful goal finalizing a Zubkov pass. The first period is a true siege of Beybarys on Danish crease, the best chances are for Baranov and Eli Sherbatov three times, one at 57 denied by Galansky with a great save. Coach Istomin pull off the goalie in the last minute for the max pressure and the deserved goal scored with 14 seconds remaining in the period, after defender Rasmus Lyo has to be carried off the ice following a brutal hit on the board: in a complete mess in front of the cage Galansky denies twice with amazing saves but can't stop the third rebound, netted by Maxim Korobov. The goal means Odense can say goodbye to the dream of winning the plate without waiting for Renon – Nottingham result: the dream becomes a nightmare in the overtime, when Odense, as in the third period, showed fatigue, conceding the lead of the game at Kazakh team that scores the winning goal 25 seconds before the shootouts: Eli Sherbatov serves Albert Vishnyakov, the best player of the team beats Galansky with a one-timer that means the first victory for Beybarys but most of all the elimination for the title race of Odense. Danish team commits a real suicide not playing the third period, dominated by Beybarys that closes a campaign with many regrets and without defeats in the regular time.
Now the plate becomes a Italian – British affair
MVP: Artem Mikushin - Tadeas Galansky


Czech Rep.: Tipsport extraliga | 1.liga | 2.liga

Slovakia: Tipsport Extraliga | 1.liga

Sweden: SHL | HockeyAllsvenskan
Other: EBEL | Belarus | Croatia | Denmark | Estonia | France | Great Britain | Iceland | Italy | Latvia | Lithuania | MOL-liga | Norway | Poland | Romania | Serbia | Slovenia | Spain | NHL | AHL |
League standings
Game fixtures
League leaders
The ten member teams of the EIHL in the U.K. have outlined a roadmap for a return to ice hockey. Read more»
There are a few reasons Ice Hockey has taken the world by storm in recent decades. Namely, the improvement of the sport and the refinement of the culture that surrounds and props it up. ... Read more»