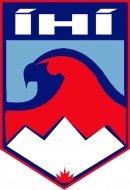 Iceland dreaming
Can Iceland can get the same success in ice hockey as they did in the Football's Euro 2016? Eurohockey.com talked to Emil Alengård, one of the leading players in the Icelandic national team.
There's been a lot of buzz over the Icelandic National Football team competing at the 2016 EURO Tournament in France. The tiny island nation of 330,000 people has outdone themselves just by qualifying for the tournament, and then tied tournament favorite Portugal 1-1 in their opening game to really get the people going.
Iceland also has a hockey team, although you might not know so because they've yet to ever qualify for a major international hockey tournament. This of course isn't counting the Junior Peewee Goodwill Games in the Emilio Estevez movie D2: The Mighty Ducks where they were led by the big sniper Gunner Stahl.
The real life Gunnar Stahl is 28 year old Emil Alengard, the most prolific scorer in Icelandic ice hockey history. Born and raised in Linkoping, a hockey city of 100,000 people in the south of Sweden, Emil started playing his hockey there and eventually joined Linkoping's U18 and U20 teams in the Junior Elitserien. Alengard represents Iceland because of his mother is an Icelandic national.
During the 2006-07 season with Linkoping HC J20, Emil led his team in scoring with 44 points in 41 games. A couple of his teammates that year have since gone on to play in the National Hockey League, Carl Gunnarsson and Oliver Lauridsen. In 2008, Alengard left for the United States where he spent two years playing Division III NCAA college hockey with New England College.
Upon returning to Europe in 2010, Emil has been in Sweden ever since playing for different teams in Sweden's Division 1 men's league. During his whole career he's also been a regular fixture on the Icelandic National Team. Emil's always been his team's best player on the international stage, scoring rapidly every tournament he plays in. For example at one World Junior tournament he scored 29 points in 4 games. 20 of those points were goals!
Alengard's been well over a point a game player for the National Team, and will look to keep up with his scoring ways at next year's Division IIA Worlds.
EuroHockey.com asked Emil Alengård some questions.
How did you start playing hockey and at what age? I believe I was seven years old when my parents first sent me to a hockey practice.
Describe your playing style? My playing style is all-around forward I guess. I do not have any outstanding part of my game but am just solid in many parts. I love to work and skate hard.
What have been some of the best games in your career/Best moments? My best moments as a hockey player was when I played with Vita Hasten for a year. That season taught me a lot about what I needed to do to become a professional hockey player.
Iceland isn't exactly known as a hockey country, do you see hockey getting more popular in your country? Hockey in Iceland is getting more and more popular. Although many other sports are bigger, mostly because of its tradition and simplicity. Some examples are football, handball, and basketball. In some way there must be an easier path to start playing hockey in Iceland to get more people involved.
Talk about being Swedish born and how you are able to represent Iceland internationally? Well it's not that complicated. My mother is Icelandic and the Icelandic Hockey Federation asked if I wanted to be a part of them. I felt I couldn't say no. During this time I was a sixteen year old on the edge of competing for a spot on the Swedish Junior National Team but I went with Iceland instead.
What was it like scoring 20 goals in four games once at a junior World Championship? It wasn't the most fun games to be playing in...
How did playing College Hockey in the states for a few years help progress your career? College Hockey was of course a new experience. Before coming there I played one year of men's in Sweden, so it was more of a step-back career wise to play NCAA III. There was not a lot of thinking and the playing style in the league was a bit like the junior style of play, but it was a great experience to play in a small rink and it taught me to make quicker decisions for when I came back to Sweden to play.
How have you enjoyed playing in the Swedish League all these years? I have loved playing in Sweden. The ambition is of course to play good enough that I could advance to the next level, but it's still a good hockey culture here with really tough competition. I haven't made it in hockey yet where I want to, but I'm really happy for all the years I've played division one in Sweden.
Was playing Juniors with Linkoping the best season of your career so far? Linkoping was a good year, but not my best. My best was with Vita Hasten. It's easy to just look at the points per season, but it's not really the whole story of your achievements as a hockey player and the role you had for your team during that specific season.
Do you have any regrets in your playing career? I regret that I didn't practice harder at the sport during my career.
Did you know at a young age that you were talented at this sport? When I was young I was not really talented, I just had a strong motivation to become good at hockey. During juniors I started to practice harder and became pretty good, while in men's I continued to practice hard, just not hard enough I guess.
Talk a little about the latest World Championships? We were not satisfied with this year's World Championships. We felt prepared but got outworked during the tournament. We were not athletic enough to put up a strong game when we needed to during that intense week.
How nice is it to represent the National Team on such a regular basis? Representing Iceland has been the best choice I have made in my career. There is a core within the team that has played together for a very long time, and everybody else who works around or within our hockey program is just incredible! They do an enormous amount of work with very small resources. I have always loved to be a part of this program and to contribute the best way I can. I learned a lot from the best team captain I ever had in Ingvar Thor Jonsson, as well as from other players and coaches. The leaders I had around me during my youth are the ones that formed me to be a good hockey player. 
What are your hockey plans for next season and going forward? I'm hopefully going to become a coach when my career is done with.
FAVOURITES:
NHL Team: Nashville Predators
Childhood Idol: Eidur Gudjohnsen
Video Game: Call Of Duty
Movie: The Office
TV Show: Entourage
Pump-Up Song: Travis Tritt - A Great Day To Be Alive
Activity Away From the Rink: Have fun

Czech Rep.: Tipsport extraliga | 1.liga | 2.liga

Slovakia: Tipsport Extraliga | 1.liga

Sweden: SHL | HockeyAllsvenskan
Other: EBEL | Belarus | Croatia | Denmark | Estonia | France | Great Britain | Iceland | Italy | Latvia | Lithuania | MOL-liga | Norway | Poland | Romania | Serbia | Slovenia | Spain | NHL | AHL |
League standings
Game fixtures
League leaders
The Czechs wins the first EHT tournament of the season after three straight wins Read more»
October 26th was a momentous day for a long serving Sheffield Steeler , Jonathan Phillips as he recorded his 1000th EIHL game. He is the first player to have reached this milestone. ... Read more»