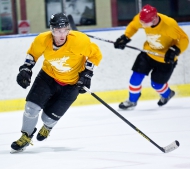 Malloy Captures Gold In Australia
Starting his sixth AIHL (Australian Ice Hockey League) last weekend now a dual citizen of Australia (United States) Rob (Bert) Malloy couldn't find a better way to head into a new season.
Playing on the Australian National Team-The Mighty Roos they recently won the IIHF Division II Group B gold medal in Mexico City winning all five games and scoring 59 goals in the process elevating Australia back to Division II Group A status.
In an exclusive e-mail interview Malloy expressed his sentiments on this major hockey achievement for the developing Australian hockey program nationally.
Getting the gold medal helps you achieve your goal for having gotten Australian citizenship to play in international competition. Were you surprised it happened so quickly ? What is the next international tourney for Australia ? 
"Looking back its crazy how fast everything has happened in the past six years. That goal is achieved, but there are more on the horizon. We move back up into the higher pool, not sure where yet. It will probably be announced in the next few weeks."
Did you guys really have gold as your goal or you just wanted have just a better showing than last year ?
"Yeah, everyone was on the same page, anything other than gold would have been a disappointment. We didn't play well last year and we knew we could do better." 
Besides the time difference, what were some of the biggest differences you  and your teammates had to deal with ?
"The elevation and air/water quality was difficult to adapt to. We had our training camp there for a week in Mexico City to become climatized to the environment which turned out to be a very good move. The other teams were on oxygen tanks between shifts."
How was the ice surface at the arena, the Ice Dome in Mexico City not your traditional hockey venue ?
"The arena and facilities were really nice, much better than we had anticipated."
The first game was very tough going to overtime with the host country Mexico. The Mexicans came back on you guys down 4-2 was tough I'm sure !? Getting two shorthanded goals including Weheba Darge overtime  game winner provided the difference !!
"That first game was wild. It was the opening ceremonies against the host country, the place was packed. We were up two going into the third and blew the lead. We then took a penalty in overtime making it four on three powerplay.
It was a gritty performance with a beauty game winner by Darge. The overtime winner ultimately gave us the gold medal."
Then you beat Bulgaria 14-0 you had three assists and a shot on goal and were a plus seven. Teammates Darge and Cameron Todd were a plus eight. Were you surprised to beat Bulgaria that handily ?
"We really didn't want to take anyone lightly. We had a game plan and we executed it well. Because these tournaments are round robin - the medals could come down to goal differential. Once we got up, there was no looking back. It looks bad on paper the score,but those are the rules we have to play with."
Then you beat Israel 11-3. You had one assist on the fourth goal, a PPG by Richard Tesarik. Israel has had some good teams again surprised by the score ?
"Again, we didn't really know what to expect. Any team could beat any team on any given day. It comes down to who shows up."
Then beating North Korea 22-1 had to be a shocker ever been in a game with a score like that ? You had two goals, four assists and six points, five shots on goal and just a plus two !
"They had beaten New Zealand two days before. They were a better team than the scoreline showed. The stats are never 100% correct," said Malloy being as charitable and diplomatic as one can be with a score like that.
Playing North Korea that had to be a unique experience. What was the interaction like playing against a team from the most closed society on the planet ?
"It was...different that's for sure. They could skate really well, but their skates and equipment shall we say was old, worn out gear !! We understood their situation though, we wound up giving them some backup sticks and tape to help them out after it was all said and done. Our contribution, I guess to growing hockey worldwide even for North Korea."
The gold medal game against New Zealand was special in many ways.
The Southern hemisphere's biggest rivalry is kinda like the rivalries in the States he grew up with the Yankees-Red Sox, Rangers-Islanders, Giants-Redskins all rolled in one ! The two countries compete hard in rugby and soccer and now hockey.
Malloy had four shots on goal,but no points how was your play in the big game ? The Mighty Roos got two goals in the first and four in the second and kept control of the game.
"It's a huge rivalry. It was a physical game and we knew it would be, there is no love lost between us. Our gold medal was on the line, so we knew we had to set the tone from the very first shift. I played alright, I was pretty exhausted by the end of the tournament,but happy to have that gold !"
The tourney representing a real wide swath of hockey culture and the team uniforms ranged all over the place in style and colors,but Malloy remains loyal and partial to the Australian uniform.
"I have to give it to the green and gold. I may be a bit biased, but I love our jerseys." 
The team was scheduled to have Australia's premier player available for the tournament in Nathan "Stormy" Walker, a Washington Capitals draft pick currently playing with the AHL Hershey Bears .
"Stormy is at the end of his regular season going into AHL playoffs (with Hershey) so he was unavailable. Will all play with Stormy sometime in the near future I think,".
Did you guys get a parade or appear at a rugby or soccer match to be honored ? Was your family able to make the trip from Connecticut and Australia for the tourney ?
"Nah, no parade, but a ton of messages through social media. This will help us gain a better world ranking. My family wasn't able to make it this year, they will use their vacation days to come down to Australia in November."
Your starting your AIHL season next week what a great way to begin with gold and to defend the Goodall Cup title you won last year ! What are the expectations with Newcastle this season ?
"No doubt, its a great way to start the season. I'm stepping in as the captain in Newcastle this season. We are hoping to repeat, anything else is a disappointment in my book."
He and his North Stars teammates kicked off the AIHL season in fine fashion winning the opener on the road against Perth, the heart of Australian wine making country with a sweet 3-2 shootout win as Malloy assisted on Connor McLaughlin's goal that gave them a lead of 2-1.
Malloy's attempt in the shootout was stopped.
Then got a 2-1 victory for their second win the next night. Newcastle opens the home portion of their schedule this weekend in a Goodall Cup rematch against the Melbourne Ice.
Malloy's Australian adventures looks to have a few more chapters added in the near future.

Czech Rep.: Tipsport extraliga | 1.liga | 2.liga

Slovakia: Tipsport Extraliga | 1.liga

Sweden: SHL | HockeyAllsvenskan
Other: EBEL | Belarus | Croatia | Denmark | Estonia | France | Great Britain | Iceland | Italy | Latvia | Lithuania | MOL-liga | Norway | Poland | Romania | Serbia | Slovenia | Spain | NHL | AHL |
League standings
Game fixtures
League leaders
Sheffield Steelers (EIHL) added a second defenceman as injury cover. Read more»
As Elite Ice Hockey in the United Kingdom 2019/20 season is still in its infancy, one thing is clear – the sport in the UK is in rude health. Read more»