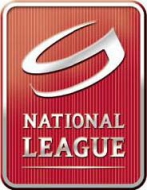 No National League A qualification this spring
EHC Biel's management and team must have felt some kind of relief after HC Ajoie won the best of 7 series against Rapperswil-Jona in 6 games.
Biel's coach Kevin Schläpfer told the media a few days ago that he would prepare his team for a qualification series against Rapperswil. Two days later Biel's team can book their holiday early. After loosing the 6th game 4:2 to Ajoie in the Patinoire Voyeboeuf in Porrentruy, the Rapperswil-Jona Lakers were denied a date with the NLA representative.

Ajoie, who never had the aspiration to play in the NLA and therefore didn't apply for a licence in Switzerland's highest league at the time, just wanted to win the NLB and remain there, mostly for financial reasons.

The question is, has this saved Kevin Schläpfer from losing his job in Biel? Right not it looks like it. Any other team would have fired their coach after such a season that saw the team add 17 wins and 33 losses with a -47 at the bottom of the league. A fall to the NLB would have definitely cemented an exit of a coach that has managed to keep the "Seeländer" in the top league but somehow lost the magic this season.

Rapperswil will get a new chance next season to get a promotion to the NLA but for now, it seems that a year in the minors has helped build a strong team with a fan base that appreciates what they have been presented. In addition, the team removed the heinous home colours (now back in red), something that was much appreciated by the fans.

Current events
External links

Czech Rep.: Tipsport extraliga | 1.liga | 2.liga

Slovakia: Tipsport Extraliga | 1.liga

Sweden: SHL | HockeyAllsvenskan
Other: EBEL | Belarus | Croatia | Denmark | Estonia | France | Great Britain | Iceland | Italy | Latvia | Lithuania | MOL-liga | Norway | Poland | Romania | Serbia | Slovenia | Spain | NHL | AHL |
League standings
Game fixtures
League leaders
Ahead of the coming World Championships the EIHL is to host a new mini series. Read more»
A short Cup competition involving four teams is to be played from next week in England. Read more»