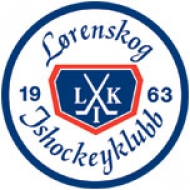 Lorenskog's hot streak downs Oilers
In Norway's top game Lorenskog could keep its winning streak alive and beat the leading Stavanger Oilers 6-3. With one game in hand they can get close to the Oilers in the standings as well.
With a winning streak of 8 games Lorenskog IK entered the top game at home against Stavanger and they were determined not to have it snapped by the same team that could defeat them last. On 10th of october Stavanger came out victorious from the tilt with LIK and defeated them 6-2. Since then Lorenskog only gave up one point in a shootout win in Manglerud.
Nathan Longpre opened the scoring tonight for Lorenskog after 12 minutes, but it was not yet the time to run away as the Oilers could strike back four and a half minutes later through Rudolfs Balcers. The second period even started quite promising for the leading Oilers. 6 minutes in, Philippe Cornet scored the go ahead goal for Stavanger. It marked the last time during the night in which Stavanger was anywhere close to a win.
In the next 8 minutes Lorenskog scored four goals through Alexander Larsson, Robin Sterner, Jonas Djupvik Lovlie and Steffen Thoresen. This meltdown was too much to come back from for Stavanger, although the league's scoring leader Josh Soares added a powerplay goal late into the last period for the 3-5. But Tony Romano's empty net goal set the game to a final 6-3 in Lorenskog's favour and kept Romano tied with Soares in scoring.
In the standings LIK is now in reach with only 2 points difference left to the top. They will look to get even closer on sunday, when Lorenskog hosts last placed Kongsvinger Knights, who could only win twice this season, while Stavanger has to travel to Frisk Asker, the team in 4th position.

Czech Rep.: Tipsport extraliga | 1.liga | 2.liga

Slovakia: Tipsport Extraliga | 1.liga

Sweden: SHL | HockeyAllsvenskan
Other: EBEL | Belarus | Croatia | Denmark | Estonia | France | Great Britain | Iceland | Italy | Latvia | Lithuania | MOL-liga | Norway | Poland | Romania | Serbia | Slovenia | Spain | NHL | AHL |
League standings
Game fixtures
League leaders
After two years of preparation, next November the new multi-national tournament will see the light Read more»
KHL President Alexei Morozov said non-Russian clubs will start the season in Russia and may stay there until the issue of crossing borders between states is resolved. Read more»