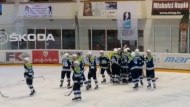 Latvian fiesta
Despite an horrific start, Mogo won against Jaca and now is very close to semifinals
Mogo Riga earns another three points and sees closely the finish line that means the semifinal group. Jaca didn't represented a tough opponent as Miskolc was in the first game, but Spaniards especially in the first part of the game, before technical and athletic gap leaving its mark, were a proud opponent, shocking the Latvians with a great start, scoring twice in the first four minutes, always with Gaston Gonzalez, served by Frederik Di Sei for the first one, after a good slalom through the Mogo defence, and by Adrian Betran for the diagonal shot in the second. The Hungarian fans on the stands obviously cheers for Jaca and not believe their's own eyes and so does coach Olegs Sorokins, immediately calling a time-out. Without injured defender Renars Demiters, MVP of first game, Mogo seems less full of spirit. Sorokins also switched goalies, giving the chance to start at Renars Kazanovs, not guilty in the second goal, but unable to block the first shot, not really irresistible
At minute nine Corbo has the chance for third goal but his shot is inaccurate, while on the other side Anders Alcaine doesn't have much work in the first 10 minutes, except a deflection on a shot by Zelubovskis after a coast-to-coast. At 19 same Zelubovskis serves Janis Ozolins with a smart pass, but Alcaine is reactive deflecting with the leg. Latvians pressurise the Jaca defense but the first 20 minutes pass without goals.
The few but noisy Spanish fans try to push the team also in the second period, opened by the first goal of Mogo, scored with a precise shot by Miks Lipsbergs. Alcaine makes two excellent saves on Ozolins and Kurmis to keep Jaca alive until when Pol Gonzalez pretends to shot but creates instead a wonderful pass for Pablo Pantoja who has just to finish in the open cage. Miks Lipsbergs pokes Alcaine from the distance twice at the half of period but Mogo needs a mistake in the position of Jaca defence to score the second goal: after an attack finished by Corbo on Kazanovs, the quick counter-attack finds the defensive zone open and it's simple for Janis Ozolins to finish scoring.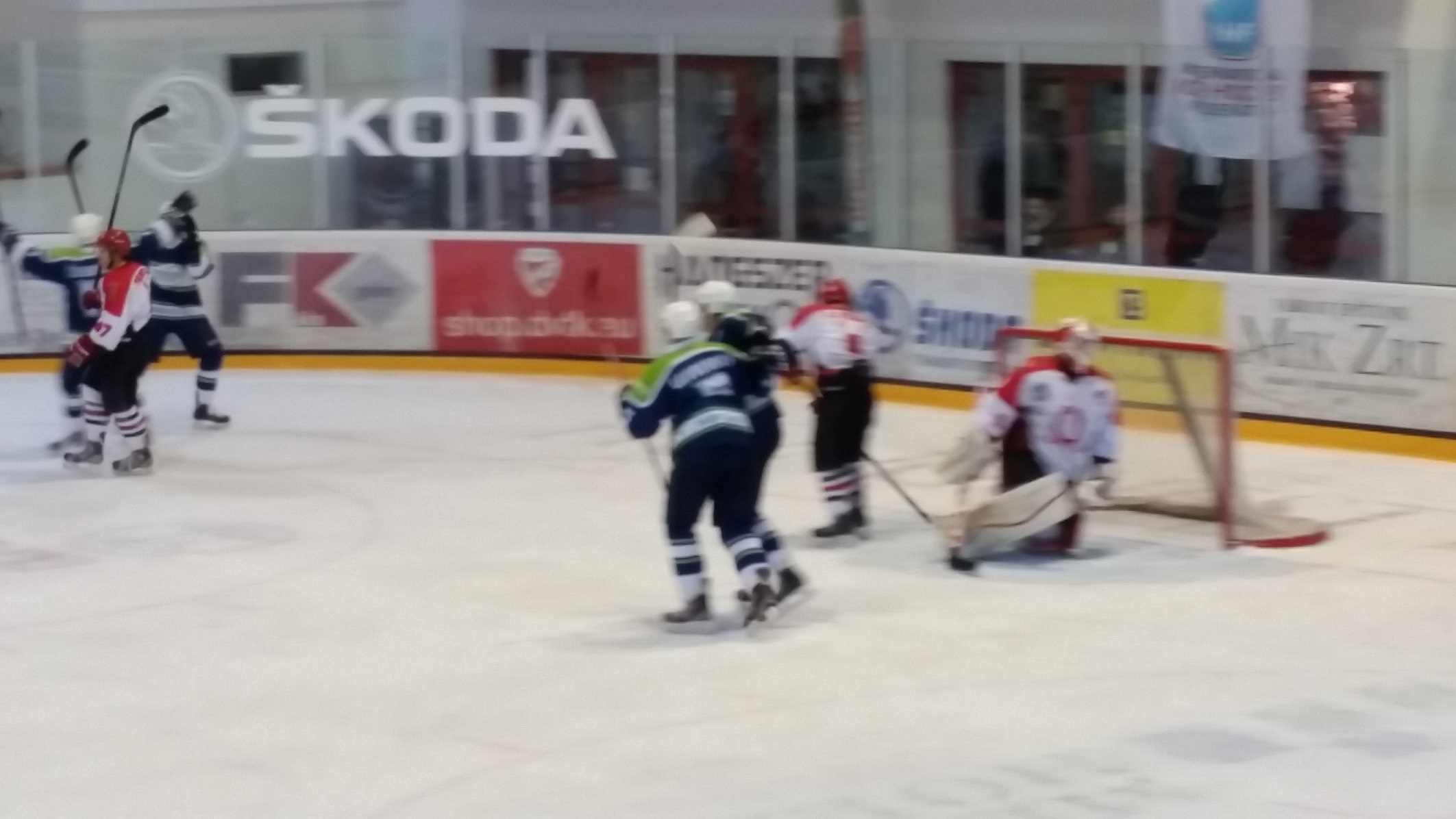 Janis Ozolins scored the second goal for Mogo

Mogo completes the comeback at 38:40 when Jaca plays bad a power play situation allowing an easy counter-attack finalizing by Durdins. The goal is decisive for the morale of both teams and before the second siren Mogo finally finds the fourth goal mainly credited to Miks Lipsbergs: the forward shots and taking the rebound serves from the back Edgars Lipsbergs for the easy finishing.
After 4 minutes in the last period Jaca has the best chance to tie game, but Montreuil alone in front of Kazanovs looses the right moment to shoot before another mistake coming out from its quarter costs Jaca the fifth goal scored by Miks Lipsbergs with a nice move around the goalie. Period finishes with Jaca bravely looking for the fourth goal: in the last minute Kazanovs dos a great save on Montreuil and in the same action captain Sergejs Durdins seals his good performance with the last goal.
Differently from first game against Jesenice, today Jaca shows good character and some nice actions, but also the usual physical gap. Mogo probably started the game underestimating the opponent and needs about 30 minutes to solve the question. Now Latvians are very close to semifinals but can't relax against Jesenice to avoid a thrilling final

MVP: Edgards Lipsbergs - Frederik Di Sei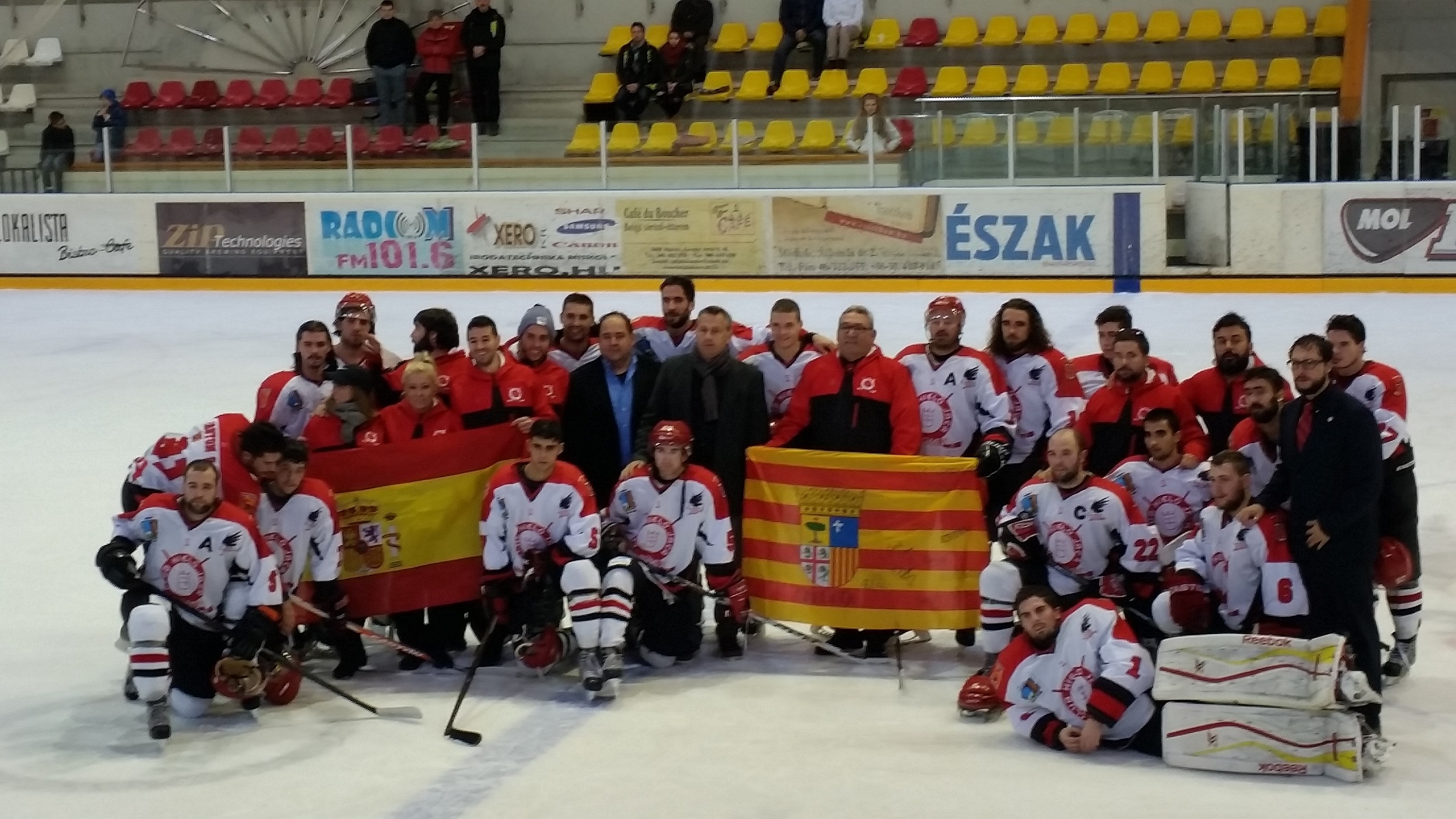 CH Jaca poses after the game


Czech Rep.: Tipsport extraliga | 1.liga | 2.liga

Slovakia: Tipsport Extraliga | 1.liga

Sweden: SHL | HockeyAllsvenskan
Other: EBEL | Belarus | Croatia | Denmark | Estonia | France | Great Britain | Iceland | Italy | Latvia | Lithuania | MOL-liga | Norway | Poland | Romania | Serbia | Slovenia | Spain | NHL | AHL |
League standings
Game fixtures
League leaders
EIHL bosses have agreed the final part of the jigsaw to formally close off the 2019/20 season. Read more»
After a desperate tentative to finish the season, the Kontinental Hockey League closed the door. Also VHL stopped activities Read more»