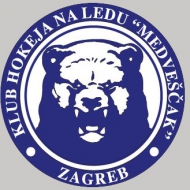 Medveščak Zagreb reigns in Croatia
Main Croatian team won its third consecutive title dominating finals, but Croatian hockey fans can celebrate many improvements
KHL Medveščak
won it's 15th and 3rd consecutive title of
Croatian ice hockey league
. In finals they beat the regular season winner KHL Mladost with a clear 3-0 in the series.
Croatian national league started in early October - the earliest start of the championship in last decade - and lasted till late March. For example, competition the year before started in early December and was finished in late February. Two months longer hockey championship was a step forward for Croatian ice hockey. Four teams played in the championship, just like every season. Three teams from Zagreb (Medveščak, Mladost, Zagreb) and one from Sisak (Sisak). Regular season had 18 fixtures which were played once a week. In first nine fixtures all games were played in Zagreb, in only two indoor ice rinks in Croatia. In that time KHL Sisak played all its games on away ice in Zagreb while the next nine they played at home, on outdoor ice rink in Sisak.
KHL Mladost
won the regular season with 43 points. Their roster was mostly composed from couple of experienced players who played the Slohokej league season before. The rest of the team were juniors. Their best players were Mario Novak, Tomislav Čunko and Marko Tadić. All of them are regular in Croatian national team. They were consistent through all regular season, only "mistake" they made was an OT lost in Sisak which was considered as little miracle.
KHL Medveščak finished second with 41 points. They lost first place in last few games. It's important to mention that their roster in regular season was totally different than Medveščak's EBEL roster. They played Croatian league with domestic players who weren't good enough to make the EBEL team. Only two players from EBEL roster played in regular season: youngsters Dominik Kanaet and Mislav Blagus. The main reason for their failure in regular season were losts against direct opponents from Mladost who were much better in those games. Medveščak used 37 players in regular season and most of them played only few games. In that conditions best players were defenders Mario Sertić and Nikša Trstenjak who played almost all games.
KHL Zagreb
finished third with 22 points. Guys from Zagreb are the brightest surprise in this season. They had only few senior players on the roster while the rest of the team were young and talented juniors. Czech coach Jozef Halouszka is one of the most deserved for good season. They beat Medveščak one time and lost in OT one game with Mladost which is pretty good success for their young team. They also had the league's best scorer and that's Lovro Šišeta who had 43 points (24+19) in 18 games. Ozren Šegavić was second best scorer with 23 points.
KHL Sisak
finished on fourth place with only two points. It would probably be considered as bad season anywhere in the world. But not in Sisak. Their biggest succes is that they played all games of regular season regularly while their two points were only cream on the top of good season. Why is that so? Sisak has no ice rink in their town till December. So, they weren't able to have trainings on ice during the first part of the season. Result of that were heavy losses from three other clubs, often with more than 20 goals margin. But as season was going to it's end Sisak played much better and had some good games. The best of them was OT win against Mladost 8-7 but they also had one good game against Medveščak when they lost 4-1. Most of the games they played with only two full lines, only on games played at home they had more. Their best scorer were Dejan Dejanović and Ivan Stančić. In only win against Mladost Dejanović scored 4 goals.
Playoffs started in early March with best of three semifinal series. First seeded Mladost should had easy job with 4th Sisak. In game one they had 27-1 lead with only seven minutes till end. In an incident caused by Sisak's goalie Batnožić, Sisak players weren't satisfied with referees so they left the game which was counted as 27-1 Mladost win. In game two which was also played in Zagreb, Sisak came with less than minimum number of players for one game, 10. Seven of them played friendly game with Mladost while the game was officially counted as Mladost 5-0 win. Too bad that Sisak couldn't finish great season on nice way.
In other semifinal matchup, second seeded Medveščak didn't have any problems with Zagreb. With two wins (11-4, 11-3) they easilly clinched the finals. Finals weren't exciting at all. The main reason for that is KHL Medveščak and their decision to use players from EBEL roster in the finals. In that Medveščak was already eliminated in EBEL playoffs. With John Hecimovic, Joel Prpic, Wacey Rabbit and others from EBEL roster Medveščak was very dominant in three final games with Mladost (10-1, 10-2, 12-9). Only in third game Mladost managed to make a decent result although they weren't so subordinated at all.
There is impression among Croatian fans that Medveščak didn't do a right thing when they strengthened the team with players from EBEL roster. Young Croatian players who played for Medveščak during the whole championship didn't get a chance to play in the finals. Instead of them fully professional players from EBEL roster played in the finals where they played without passion against amateurs from Mladost.
But beside the "controverse" final series everything in Croatian league this season was organized on good level and what's the most important relevant people in Croatian hockey showed that they can do good things when they want to. Everyone in Croatia hopes that this championship will only get better in the upcoming years.

Czech Rep.: Tipsport extraliga | 1.liga | 2.liga

Slovakia: Tipsport Extraliga | 1.liga

Sweden: SHL | HockeyAllsvenskan
Other: EBEL | Belarus | Croatia | Denmark | Estonia | France | Great Britain | Iceland | Italy | Latvia | Lithuania | MOL-liga | Norway | Poland | Romania | Serbia | Slovenia | Spain | NHL | AHL |
League standings
Game fixtures
League leaders
EIHL bosses have agreed the final part of the jigsaw to formally close off the 2019/20 season. Read more»
After a desperate tentative to finish the season, the Kontinental Hockey League closed the door. Also VHL stopped activities Read more»